Series Preview: VMI, Wofford battle for third in SoCon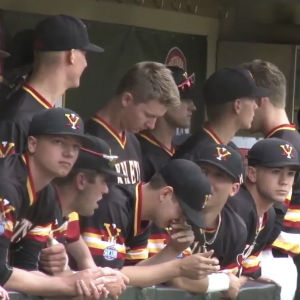 VMI baseball returns to action from its exam break with the first of two key weekend SoCon series pitting the Keydets (24-21, 10-8 SoCon) against Wofford (31-19, 11-7 SoCon).
VMI, currently fourth in SoCon play, finishes up the regular season next weekend on the road at second-place Samford (28-22, 12-6 SoCon), leading into the SoCon Tournament in Greenville, S.C., May 22-27.
Josh Winder (4-4, 4.46 ERA) gets it started for the Keydets on Friday night opposite Wofford ace Adam Scott (7-4, 2.44 ERA).
Winder, a projected top-10 round pick in the upcoming 2018 MLB Draft, has been lights-out over his last three starts, with a 1.84 ERA in 24.1 innings of work, striking out 27, walking four and allowing just 15 hits in wins over Western Carolina, Furman and Mercer, the latter a complete-game 4-1 road win in which Winder struck out 10, didn't walk anybody and surrendered just five hits.
Scott has wins in two of his last three starts, including a dominant effort in a complete-game win over SoCon leader UNCG on April 27 in which he struck out 17, one of four starts this season in which Scott has reached double-digits in Ks.
The Saturday matchup pits VMI righty Zak Kent (5-3, 5.00 ERA) against Wofford lefthander Austin Higginbotham (5-3, 4.73 ERA), who is coming off his best outing of the season, a 7.1 inning outing at Samford in which he gave up two runs, one earned, on five hits, getting a no-decision in a game that the Terriers ultimately won in extras.
Sunday's matinee has VMI senior lefty Kyle Staats (4-4, 7.50 ERA) going for the Keydets. As of this writing, it would look like Wofford would be going with Scottie Wallace (0-3, 6.75 ERA), who moved into the weekend rotation two weeks ago.
Storylines: VMI
Matt Pita (.379/.454./.653, 9 HR, 39 RBI, 21 SB) is the linchpin of the VMI offense. Collin Fleischer (.291/.410/.553, 10 HR, 29 RBI) has been torrid since April 1, notching all 10 of his home runs since the flip of the calendar.
Leftfielder Matt Dunlevy (.351/.474/.578, 7 HR, 31 RBI), centerfielder Will Malbon (.315/.417/.521, 6 HR, 33 RBI) and catcher Peyton Maddux (.303/.415/.458, 5 HR, 33 RBI).
VMI won't have third baseman Nathan Eaton (.298/.418/.556, 8 HR, 24 RBI, 31 SB) on Friday as he serves a one-game suspension for arguing a call in VMI's win over ODU last week.
Storylines: Wofford
Mack Nathanson (.335/.483/.642, 10 HR, 45 RBI, 19 SB) is the focal point for the Wofford attack. Also watch out for McClain Bradley (.357/.417/.488, 4 HR, 35 RBI, 18 SB) and Colin Davis (.306/.370/.576, 8 HR, 39 RBI, 12 SB).
The Terriers run a lot, and that's an understatement. Nathanson is one of six players in double-digits in stolen bases, led by Brett Rodriguez (27 steals in 31 attempts). VMI catchers have had trouble throwing out baserunners, allowing 73 steals on 87 attempts in 2018, so that's a storyline to keep an eye on this weekend.
Preview by Chris Graham
Comments