Sports
Scott Ratcliffe: Steelers really miss T.J. Watt, may need to move on from Mitch Trubisky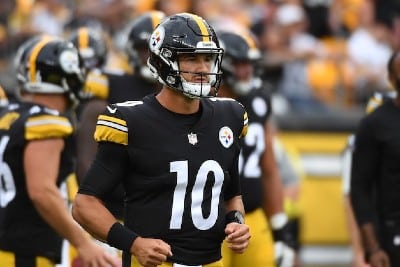 After snatching victory from the jaws of defeat in Week 1 against the defending AFC champion Cincinnati Bengals, the Pittsburgh Steelers essentially did the opposite of that in Sunday's home-opening 17-14 loss to the Patriots.
Pittsburgh (1-1) wasted a handful of opportunities — in all three phases — to take control of the game late in the second half. There was a game-changing mistake on special teams, a gift-wrapped interception that was dropped by the defense, and a failure by the offense to move the ball when it mattered most.
"I thought that even though we weren't in control of the game, we had an opportunity to win the game in the fourth quarter," said Steelers coach Mike Tomlin, "but we didn't get necessary stops on defense and we didn't get necessary drives put together on offense."
Missing T.J.
The most glaring observation of Sunday's loss at Heinz Field (err, ahem sorry, Acrisure Stadium) was just how much the Steelers miss reigning Defensive Player of the Year T.J. Watt, who exited the field in the closing seconds of the Cincinnati game with a pectoral injury.
Watt, who matched the NFL's single-season record of 22.5 sacks — in just 15 games — in 2021, was placed on the injured-reserve list and will be out for at least three more weeks, although it's expected to be as many as five weeks, or possibly more.
Watt's absence was heavily apparent against the rival Patriots. After recording 7 sacks, 9 tackles for loss and 11 QB hits on Joe Burrow and the Bengals in last week's 23-20 overtime win, there was little-to-no Steelers pass rush to speak of Sunday.
Against New England, Pittsburgh recorded zero sacks and just three hits on QB Mac Jones all day, and only one tackle for loss.
Jones enjoyed a clean pocket pretty much the entire contest, as he was barely touched and hardly even moved around.
One of the few times the Steelers even got close to applying pressure on Jones, he threw an interception to Pittsburgh safety Minkah Fitzpatrick late in the opening quarter.
Down 10-6 late in the third, Jones was again chased out of pocket and was throwing on the run, and the Steelers could've (should've) had another pick, but cornerback Cameron Sutton dropped the ball through his fingertips around midfield.
Granted, the defense was on the field a lot because the offense wasn't producing (more on that momentarily), but there just simply wasn't enough pressure applied throughout, as the Patriots milked the clock and played keepaway at the end.
New England converted on several crucial third downs (9-for-17 on the afternoon), including one with 1:51 to go that sealed the game.
In addition, things took a turn for the worst when former Patriot Gunner Olszewski — Pittsburgh's new punt returner — muffed one late in the third quarter, which gave the Patriots an easy 10-yard touchdown drive and the Steelers an 11-point deficit.
The Steelers won last week with their defense, but lost this week with their lack of defense. Yes, the unit held the Patriots to just 17 points, but allowed countless first downs and large chunks of yardage at critical moments.
Mitch, please
So how does Pittsburgh ultimately replace Ben Roethlisberger? Well, it was worth a shot, but it might be time to move on from the Mitchell Trubisky experiment after just two weeks.
Already considered somewhat of a journeyman, playing for three teams in his first four years, Trubisky was never thought to be the long-term answer, but his time as a starter may be running out, especially after leading the offense through a pair of disappointing three-and-outs in their final two possessions with game on the line.
Steeler fans were chanting for hometown rookie Kenny Pickett by game's end, and it may just be time to hand over the keys and see what the kid can do.
When asked about the "Kenny! Kenny!" chants Monday, Tomlin said, "I didn't hear that, but I've got a lot going on."
We saw glimpses of the Pitt product's potential in the preseason — Pickett completed 13-of-15 for 95 yards and two scores, including the game-winner, in the first exhibition game against Seattle. He was also 6-for-7 for 76 yards and a touchdown pass against Jacksonville's starters in the second warmup, then completed 10 of 14 for 90 yards against the Lions in the preseason finale. Yes, he's still getting his feet wet as a rookie, but just how long will he have to wait for his chance to lead the offense?
Trubisky almost refuses to take a deep shot down the field. Whether that's by preference or by the design of offensive coordinator Matt Canada, it's usually not going to win you many ball games when you don't throw a long ball, like, hardly ever.
Especially considering having three dynamic receivers in Diontae Johnson, Chase Claypool and rookie George Pickens, as well as a talented group of tight ends, but it seems as if Trubisky is more content with short, dink-and-dunk passes to running backs Najee Harris and Jaylen Warren.
The only somewhat-deep shot by the Steeler offense on Sunday was a 23-yard completion to Pickens (his only reception) late in the first half. Other than that, no other pass play went for more than 17 yards, and most of the time that's not going to get it done.
It might be okay to throw to a back a few times a game early in a series, but not on multiple occasions when you're facing a third-and-8 late in a close game. With about 6 minutes left in the third quarter, Trubisky's dump-off to Warren lost a yard, and the Steelers punted.
Then, after cutting it to three early in the fourth quarter on a touchdown pass to TE Pat Freiermuth and two-point pass to Johnson, the Steelers then failed on another important third-down conversion, throwing short to Harris for maybe two yards.
The defense was able to get a quick stop and the Steelers had another chance to tie or take the lead, but on third-and-2 with less than 7 minutes left in the contest, Trubisky tried to lob one up for Harris along the sideline, and despite a nice effort to come down with it, the pass fell incomplete and the Steelers wouldn't get the ball back again.
As Tomlin admitted Monday, "Boy, we didn't get it done down the stretch."
Trubisky was also sacked on third down on his first trip to the red zone in the second quarter, which at least got Pittsburgh on the board with a Chris Boswell field goal.
Fans in Pittsburgh have been vocal for quite some time regarding Canada's play-calling predictability, and there's no more blaming it on Big Ben not being able to scramble like he used to.
Trubisky was believed to be brought in as more of a mobile quarterback that ideally would be used in more rollout-type formations, as opposed to predominantly staying put in the pocket, but that hasn't necessarily been the case through two games.
Still, Tomlin isn't reaching for the panic button, and he appears to be sticking with Trubisky for at least one more week, based on his comments from Monday's press conference.
"I've liked a lot from him, to be quite honest with you," Tomlin said when asked about Trubisky's performance thus far as a starter. "I just think he's done a good job of doing the things that come with the position, the intangible things, the leadership things, the communication things. Detailing and communicating the offense, working hard to execute our agenda, the things that we want to work on."
Tomlin also said that despite only coming up with two offensive touchdowns through two games, he doesn't place all the blame on Trubisky's shoulders.
"We hadn't scored enough points here the last couple of weeks, but that's a collective, not just the quarterback position, not just the players," said the coach. "It's all of us that are responsible for ringing up the scoreboard."
Harris is doing all he can under the circumstances, but with a run-game that ranked 29th last season not getting the blocks up front by a relatively inexperienced offensive line (LT Dan Moore Jr.; LG Kevin Dotson; C Mason Cole; RG James Daniels; RT Chukwuma Okorafor) and no real downfield threat, defenses can stay home more often, and you saw that on Sunday.
With all that being said, the AFC North is still wide-open and up for grabs after the Ravens (1-1), Browns (1-1) and Bengals (0-2) all lost on Sunday as well.
"We don't care about the noise," Tomlin said. "We're just working on the things that are within our control to have good days, to continue the progression of this group from a developmental standpoint, knowing that the outcome is going to be what we desire if we keep doing those things."
The Steelers don't have much time to prepare for their quick turnaround in Cleveland on Thursday night (8:15 p.m. ET, Prime Video). Without Watt's leadership on defense for at least another month, and with somewhat of an early QB controversy on their hands, Tomlin and his staff will need to continue making adjustments if Pittsburgh wants to remain in the postseason conversation moving forward.
Tomlin, who said he doesn't yet think "significant changes" need to be made, sees the big picture and understands it's a work-in-progress, but insists he will remain patient for the time being.
"You learn from these lessons, whether you win or lose, particularly the early stages of the year," Tomlin pointed out. "We better be a group that learns, and learns in a hurry."