Top News
Scientists' search for 'noise-canceling' gene networks supported by new NSF grant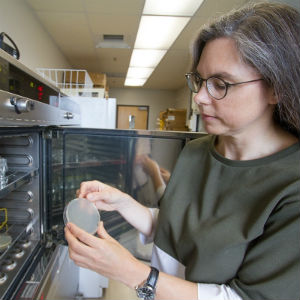 Look closely at the raw materials that make up any group of cells and you'll notice some "noise," a term scientists use to describe natural variations in cellular composition.
A little noise is normal. If a cell produces slightly above-average amounts of a particular protein, common processes like reproduction can continue to operate smoothly. But when things get too noisy, our cells' machinery starts to misfire. These malfunctioning cells frequently produce mutant offspring that may die off immediately or contribute to the long-term growth of certain forms of cancer.
Now, a team of Virginia Tech researchers is leading an effort to learn more about the mysterious genetic factors responsible for regulating cellular noise levels, backed by a $500,000 grant from the National Science Foundation.
"Our previous research has shown that some of our body's key communication networks require signaling proteins to be present in very particular amounts in order to function properly," said Silke Hauf, a Biocomplexity Institute fellow and assistant professor in Virginia Tech's College of Science. "We're trying to determine how those limits are set and enforced on a genetic level."
Hauf's group will begin by analyzing gene networks associated with a cellular failsafe known as the mitotic checkpoint, a mechanism that ensures two genetically identical offspring are produced during cell division. This checkpoint is of particular interest to researchers due to its low level of noise-tolerance, meaning it can operate effectively only when signaling protein concentrations stay within optimal levels.
"We believe a deep dive into these gene networks has the potential to reveal two key insights," said Hauf. "First, it may help us decode how cells are instructed to produce specific levels of a particular protein. Second, it may reveal why some systems are resilient in the face of variation while others simply break down."
Answering questions about protein production in cells may assist researchers in developing treatments that can work effectively across noisy cell populations — a condition seen in elderly patients, as well as those suffering from autoimmune disorders and cancer.
In addition, learning more about cell resiliency could lead to major advances in the field of synthetic biology, where scientists are required to design robust organic systems "from the DNA up." To function properly outside the highly controlled conditions of a lab, these synthetic organisms must have well regulated constitutions, capable of thriving in highly variable environments — genetic traits Hauf and her team are attempting to identify in their studies of the mitotic checkpoint.
"This project could have implications for a wide variety of fields, so we're taking an interdisciplinary approach from the very start," Hauf said. "Our team is already collaborating with Lenwood Heath, professor in Virginia Tech's College of Engineering and Jing Chen in the College of Science."
Hauf hopes to engage a broad audience through these studies in addition to providing hands-on research experiences for Virginia Tech undergraduates. The team's findings may find a second life as a public art installation where visitors can "tune" noise levels in a model cell and see how their changes alter its functions.
"Cell division may seem like this very technical topic, but the more you learn about the intricate components involved and how precisely coordinated they have to be, the more it starts to resemble a kind of orchestra performance," Hauf said. "Art is another tool we can use to help people understand the incredible insights this process has to offer us."