Salem Red Sox win via walk-off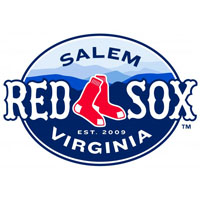 Andrew Benintendi was hitless in his first five plate appearances, but a single in his sixth sent the LewisGale Field fans home happy as the Red Sox scored a walk-off win over the Wilmington Blue Rocks 8-7, Friday night.
With runners at first and second and one out, Benintendi pulled a grounder through the right side. Pinch runner Deiner Lopez sprinted home and just beat the tag of Luis Villegas to give Salem its first walk-off win of the season.
The Red Sox (25-10) jumped out to an early lead in the bottom of the first against Blue Rocks (10-24) starter Matt Tenuta, when Yoan Moncada led off with a single, stole second base and scored on a Mauricio Dubon double. Two batters later, Nick Longhi stroked a double to bring home Dubon and give Salem a 2-0 advantage.
Salem added a trio of runs in the third inning, when Longhi and Benintendi executed a double steal of second base and home, and then Danny Mars walloped his first home run of the season to put the Red Sox ahead 5-0.
Jalen Beeks got the start for Salem and worked in and out of trouble for the duration of his start. Beeks lasted 4.0 shutout innings, allowing six hits and walking four while striking out four and stranding 10 Blue Rocks on the bases.
David Sopilka touched up Tenuta for a solo home run leading off the fourth inning, as Salem took a 6-0 lead.
Wilmington began their comeback against German Taveras in the fifth, scoring two runs without a hit thanks to three walks and two wild pitches. Taveras was removed after walking the first two batters he faced in the sixth.
Taylor Grover relieved Taveras and allowed both inherited runners to score and yielded a tally of his own as the Blue Rocks cut the deficit to 6-5. Grover settled down and went 3.0 innings, allowing just the one run on four hits, striking out four and not issuing a walk.
The Red Sox added an insurance run in the bottom of the sixth against Blue Rocks reliever Matt Alvarez when Benintendi was intentionally walked with Moncada on third to bring up Longhi, who promptly singled to make it 7-5 Red Sox. Longhi finished 4-for-4 with a double, a walk, a stolen base, a run scored and two RBIs.
Austin Maddox came in for the ninth and with two outs, allowed a wind-aided triple to Humberto Arteaga which scored two runs as the Blue Rocks tied the game at 7-7. Maddox (1-0) kept the game tied into the 10th, when Benintendi's heroics sealed the win for Salem.
Mark McCoy went 3+ innings in relief for Wilmington and had the game-winning run charged to him as he got the loss, falling to 0-3 on the season.
The Red Sox four-game series with the Blue Rocks resumes Sunday afternoon. First pitch is scheduled for 4:05 pm. Salem will send Dedgar Jimenez (1-1, 6.58) to the mound, countered by Josh Staumont (0-3, 3.71) of Wilmington. Sunday continues the Weekend of Giving at LewisGale Field. For tickets and more information on how to give back with the Sox, call (540) 389-3333 or slide to www.salemsox.com.