Salem Red Sox shut out Lynchburg Hillcats in series opener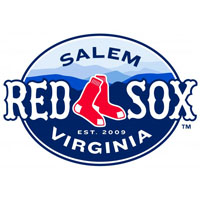 The Salem Red Sox began their final regular-season series of the year with a 2-0 victory over the Lynchburg Hillcats Friday night at Calvin Falwell Field.
Despite the Red Sox and Hillcats having the two most potent offenses in the Carolina League, pitching ruled the day, as Luis Lugo of Lynchburg (83-54, 38-29) and Anyelo Leclerc of Salem kept the game scoreless through five innings.
Salem (85-51, 42-25) broke through against Lugo (8-5) in the top of the sixth. With one out, Luis Basabe singled, and Rafael Devers reached on an error putting runners at first and second. Nick Longhi grounded a base hit through the left side of the infield to plate Basabe.
Mike Meyers singled to centerfield to load the bases, and with reliever Leandro Linares in the game, Jayce Ray walked to score Devers, giving the Red Sox a 2-0 lead. Meyers recorded a pair of hits in four trips to the plate, including his 17th double, in the contest.
Leclerc (4-3) was masterful for Salem on the rubber, turning in the best start of his professional career. He lasted a career-high 7.0 innings, without allowing a run on three hits, striking out four and walking only one.
The Hillcats brought the tying run to the plate with one out in the eighth inning against reliever Jamie Callahan, but the righty buckled down and struck out the next two batters to face him to escape the jam.
In the bottom of the ninth inning, Anthony Santander led off by reaching on an error, but Callahan retired the next three batters in order to earn his seventh save of the season.
With the victory, Salem set a new Red Sox-era record for most road wins in a season with 39. The club has already set new Red Sox-era records for home wins (46) and first half wins (43). Salem is one win away from tying the 2013 Carolina League championship team for the most second half wins. The 85 total wins are tied for the second-most in franchise history.
Salem continues the series at Lynchburg on Saturday night at 6:30 pm. LHP Daniel McGrath (7-6, 4.15) will get the start for Salem, while LHP Sean Brady (12-5, 4.78) leaps to the hill for Lynchburg. Follow along with all the coverage on the Salem Red Sox Baseball Network, with pre-game coverage beginning at 6:15 pm.
Comments