Salem Red Sox rally fails in loss to Myrtle Beach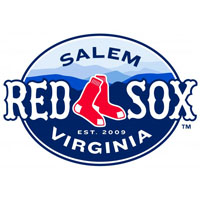 The Salem Red Sox were unable to come back late and fell to the Myrtle Beach Pelicans, 7-4 Tuesday night at TicketReturn.com Field. The win extended the Pelicans' season-long winning streak to 10 games.
The Pelicans (64-51, 28-17) struck against Salem starter Matt Kent in the bottom of the first, when a Yasiel Balaguert single scored Charcer Burks to hand the club an early 1-0 lead. The inning was ended on a spectacular play make by Jordan Betts, tumbling into the first base camera well to catch an Ian Rice foul ball.
The Red Sox (67-45, 24-20) knotted the score at one in the top of the second against Jake Stinnett (8-4), when Mike Meyers scored on a Jordan Procyshen sacrifice fly.
In the top of the fifth, Salem grabbed the lead on a two-run single by Jayce Ray plating Jose Sermo and Deiner Lopez. The next batter, Rafael Devers, doubled to plate Ray and hand Salem a 4-1 lead. With the base-hit, Ray extended his hitting streak to nine games, and Devers extended his streak to 11 games.
Kent retired the first batter of the bottom of the sixth, but then two walks and a single brought home a run. He was removed in favor of Yankory Pimentel, who allowed both inherited runners to score, as well as an additional unearned run to hand the Pelicans a 5-4 lead.
Despite the hiccup in the final inning the lefty starter pitched well – something not fully reflected in his final line. Kent finished 5.1 innings, allowing four runs on four hits, striking out three and walking a career-high four.
Pimentel (8-6) slipped in the bottom of the eighth inning, allowing a solo home run to Balaguert and an RBI double to Bryant Flete extending Myrtle Beach's advantage to 7-4. Pelicans closer Ryan McNeil recorded a four-out save, his Carolina League leading 18th save of the season.
Salem's offense pounded out 11 hits, reaching double-digits for the fourth straight game. Sermo collected three hits, and Danny Mars' two base-knocks gave him his 15th multi-hit game in his last 24 contests.
The Red Sox continue the series with Myrtle Beach Wednesday night at TicketReturn.com Field. First pitch is scheduled for7:05 pm. Salem will send lefty Trey Ball (5-5, 3.99) to the mound, while Myrtle Beach counters with righty Trevor Clifton (6-7, 3.15). Follow along with the action on the Salem Red Sox Baseball Network, with pre-game coverage beginning at 6:45.
Comments