Salem Red Sox homer four times as Potomac falls, 10-7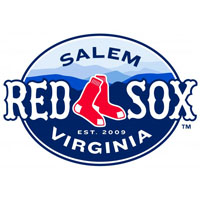 A night after they were stunned with a four-run ninth inning, the Potomac Nationals (54-45, 20-11) lost three separate leads in a 10-7 loss to the Salem Red Sox (60-40, 17-14). Potomac led 2-0, 6-5, and 7-6, yet fell for the second straight night to the Red Sox.
Potomac led 2-0 through four innings, as RHP Travis Lakins (ND) gave up a solo home run to RF Drew Vettleson in the second inning and an infield RBI single to C Raudy Read in the third frame. Opposite Lakins,LHP Matthew Crownover (ND) was very good through the first four innings, but struggled in a five-run fifth. Lakins allowed six earned runs over five innings, while Crownover allowed five earned runs over five frames. Both starters surrendered two home runs.
2B Jose Sermo led off the fifth inning with a home run over the right field wall. After the next two men reached, DH Joseph Monge hit a three-run home run, which put Salem on top 4-2. CF Danny Mars doubled, and two batters later, RF Nick Longhi made it 5-2 Salem with an RBI double.
The P-Nats answered immediately and plated four runs in the bottom of the fifth inning. Lakins retired the leadoff hitter, but then went walk, single, walk, which loaded the bases for Vettleson. Vettleson made it 5-3 with a sacrifice fly, while 3B Austin Davidson followed with his first Potomac home run, a three-run blast that put the P-Nats back on top 6-5.
Both teams then scored a single run in the sixth inning, as SS Deiner Lopez scored on an RBI single by Mars against LHP RC Orlan (L, 5-4), while 2B Max Schrock put the P-Nats on top 7-6 with a fielder's choice groundout against RHP Yankory Pimentel (W, 7-5).
With Potomac on top 7-6 entering the seventh inning, Orlan remained in the game and gave up back-to-back singles to Longhi and LF Mike Meyers to start the frame. 1B Jordan Betts tied the game with an RBI groundout, while Sermo followed with a two-run home run over the left field wall. Sermo's second home run of the game put Salem ahead 9-7. In the ninth inning, Sermo homered over the batter's eye in centerfield off of RHP Wirkin Estevez, as the second baseman had the first three home run game in the Carolina League since 2014. RHP Jamie Callahan (SV, 3) pitched a perfect ninth inning against the middle third of the Potomac order and secured the Salem victory.
For a second straight night, Potomac allowed a season high 17 hits. Eight of the nine Potomac starters had at least one hit, while 1B Jose Marmolejos had two hits and Schrock had three. Seven of the nine Salem starters recorded at least one hit, while there were six different Red Sox hitters who had multiple hits, including Mars' game-high four. One night after the teams left a combined 22 men on base, they totaled 17 Tuesday night.
In an effort to avoid a sweep, Potomac will turn to RHP Whit Mayberry (2-1, 4.50) Wednesday afternoon. The Red Sox are set to counter with LHP Daniel McGrath (4-4, 3.79). The two met on July 16th in Potomac's 5-4 win, as Mayberry earned the victory while McGrath was tagged with the loss. First pitch Wednesday is set for12:05pm.
Comments