Salem Red Sox hang on for Friday night win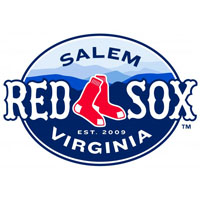 The Wilmington Blue Rocks made it interesting late, but the Salem Red Sox were able to hold on for a 7-6 win Friday night at LewisGale Field.
The Red Sox (69-47, 26-21) jumped on Wilmington starter Zach Lovvorn in the bottom of the first, taking a 1-0 lead when Rafael Devers singled to score Joseph Monge.
Salem pounded Lovvorn (2-14) in the bottom of the second, plating four more runs highlighted by a two-run double from Nick Longhi with the bases loaded. The Blue Rocks' right-hander was removed from the game after only 1.1 innings pitched, and was charged with five runs on eight hits.
In the bottom of the fourth, Wilmington reliever Jake Kalish allowed two unearned runs to come home following an error and a Jayce Ray single, as Salem extended its advantage to 7-0.
Wilmington (43-74, 16-32) struggled against Salem southpaw Daniel McGrath, who allowed only one unearned run in his six splendid innings. McGrath (6-5) tossed his seventh quality start of the season, allowing only three Blue Rock hits while striking out four.
The Blue Rocks would not go down quietly as in the top of the seventh against Jeffry Fernandez, Wilmington tallied a pair of two-out runs courtesy of a Samir Duenez double to cut the deficit to 7-3. In the top of the eighth, the Blue Rocks plated another run against Fernandez on a Robert Pehl sacrifice fly, but Mario Alcantara entered and allowed only one inherited runner to score, narrowing the gap to 7-5.
Alcantara ran into trouble in the ninth, hitting two batters before an RBI single from Mike Hill made it 7-6 Red Sox and put the tying run on third with one out. He retired the next two batters without allowing a run to secure his second save of the season.
The Red Sox tallied 11 hits in the game, marking the fourth straight game at LewisGale Field that Salem has collected double-digit hits. Overall, the club has accomplished the feat in five of its last eight contests.
The Red Sox continue their series with the Blue Rocks Saturday night at LewisGale Field. First pitch is scheduled for 6:05 pm. Salem sends flamethrower Michael Kopech (2-1, 1.08) to the mound, while Wilmington counters with Corey Ray (6-6, 5.55). For tickets and more information, call (540) 389-3333 or slide to www.salemsox.com/tickets.
Comments