Salem Red Sox even Carolina League series with Pelicans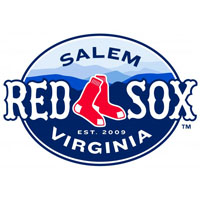 In a must-win game, the Salem Red Sox took care of business Thursday night, defeating the Myrtle Beach Pelicans 5-1 at LewisGale Field. The victory for Salem ties the best-of-three South Division Championship Series at one.
The Red Sox (1-1) got in front in the bottom of the second when Jayce Ray launched a solo home run on the first pitch from Preston Morrison. The long ball was the first for Ray as a member of the Red Sox organization. Rafael Devers contributed an RBI single in the third inning, plating Joseph Monge, to give Salem a 2-0 advantage.
Myrtle Beach (1-1) had a difficult time solving Trey Ball through the first three innings, but after the first nine batters were retired in order, the Pelicans struck for a run on a David Bote RBI single in the fourth to cut the deficit to 2-1.
Salem got the run back immediately in the bottom of the fourth when Jose Sermo doubled and later scored on a wild pitch from Morrison (0-1). In the bottom of the fifth, Devers clobbered a 1-1 fastball over the right-centerfield wall for a two-run home run, giving Salem a 5-1 lead.
Ball (1-0) was fantastic for the Red Sox, rising to the occasion to spin 5.2 innings of one-run baseball. The southpaw allowed just three hits and struck out three, and left the field to a standing ovation from the fans.
Mario Alcantara closed out the sixth, and tossed a scoreless seventh as well. In the eighth, the Pelicans put runners on first and third with two outs, when Jamie Callahan was summoned from the bullpen to retire Yasiel Balaguert.
In the ninth, Callahan walked Jeffrey Baez and allowed a single to Andrew Ely with one out. The righty struck out pinch-hitter Daniel Spingola, but Bryant Flete singled to right field to load the bases and bring up Charcer Burks representing the tying run with two outs. Burks flew out to right to end the game and strand the bases loaded.
The Red Sox offense collected 10 hits against the Pelicans, with Monge, Basabe, Devers and Ray all tallying two each. The game also marked the first occasion that Salem hit two home runs in the same game since August 11, also coming against Myrtle Beach with Morrison on the mound.
The decisive winner-take-all Game Three of the SDCS will take place Friday night at LewisGale Field at 7:05 pm. Salem sends LHP Matt Kent (10-7, 3.69) to the mound, while Myrtle Beach counters with RHP Duane Underwood (0-0, 1.93). For tickets and more information, call (540) 389-3333 or slide to www.salemsox.com/tickets.
Comments