Top News
Right to work constitutional amendment reported to Senate floor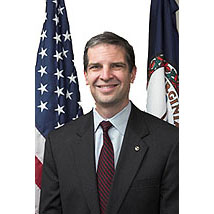 The Virginia Senate Privileges and Elections Committee voted on Tuesday to report a resolution from Senator Mark Obenshain (R-Harrisonburg) to insert Right to Work into the Virginia Constitution.
Senator John Edwards (D-Roanoke) said, "This is my 21st year in the Virginia Senate and I have yet to see a bill attempting to repeal Virginia's Right to Work laws. Right to Work has been on the books for 70 years and no one is trying to change that. Our state constitution is a sacred document and we have no reason to amend it under these circumstances."
Senator Adam Ebbin (D-Alexandria) said, "The fiscal impact of putting this to a referendum is estimated at $131,000. That's 131,000 taxpayer dollars that would be better spent strengthening our schools or fixing our roads. There is no need to amend the Constitution to reflect what current Virginia law already says and has said for the last 70 years."
Right to Work laws have been in effect in Virginia since the 1940s. A resolution addressing a constitutional amendment on this subject passed both chambers in 2015. If it passes both chambers again in 2016 it will be on the ballot this November.