Richmond Raiders sign three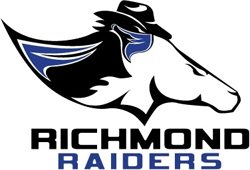 The Richmond Raiders Professional Indoor Football Team announced today the signing of Kirk Belgrave, and a 6' 1' 205 lb defensive back, Brent Trice, a 6' 3″ 214 lb linebacker, and Brandon Grier, a 6' 5″ 270 lb offensive and defensive lineman.
Kirk Belgrave hails from Norfolk where he was named all-district on both offense and defense while at Granby High and led the Comets to a district championship. Belgrave played in college at Kent State and was signed as an undrafted free agent in 2011 by the Atlanta Falcons, but was released prior the season. Raiders' Head Coach James Fuller said of him, "Belgrave is a talented defensive back who has had a couple looks from the NFL. We are always trying to improve as a team and on defense. Signing Kirk brings us closer to where we want to be."
Brent Trice, a native of Barboursville, who went to Fork Union and played college ball at Vanderbilt, returns for his second season with the Raiders. Trice led the Southern Indoor Football League (SIFL) in tackles in 2011 and was named to the all-league team. Coach Fuller said, "We are glad to have Trice back. He was one of our most consistant players on defense last year. We look for him to be a leader both on defensive and of the team."
Brandon Grier, a Philadelphia native who played at Virginia State, also returns for his second year with the Raiders. Fuller said of him, "Grier was a solid two-way player for us last season. It's hard to find good lineman, let alone one wo can play both ways. I expect good things from him this year." The coming season will be Grier's third in arena football.
The Raiders 2012 season home schedule begins March 10 at the Richmond Coliseum and runs through June 16. The team has joined a few past season rivals and some new additions in the newly-formed Professional Indoor Football League (PIFL). Their competition will include the Albany (GA) Panthers, the Alabama Hammers, the Louisiana Swashbucklers, the Columbus (Ga.) Lions, and the Knoxville Nighthawks.