Sports
Richmond Raiders add veterans at quarterback, wideout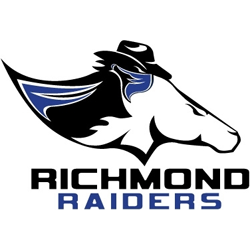 One of the most glaring statistics Richmond Raiders head coach James Fuller looked at during the team's off-week was the offense's production over the first four games: a league low 25.8 points and just 164 yards per game.
"The biggest negative I see as of right now is the offense struggling. We have some decisions we're going to have to make as far as personnel," he said.
In an effort to spark the offense to a higher level of production, Fuller brought in quarterback Jonathan Bane and wide receiver Daron Clark.
Bane (Dakota Wesleyan) was a four year starter behind center and set school single season and career records for passing yards and touchdowns. He threw for over 9,000 yards in his career and logged 78 touchdowns. A three time all-conference selection, Bane threw for 457 yards in a 2012 game to set the school record.
"Coming out of a bye week, you have to reevaluate every position and I think right now where we're hurting is having our quarterbacks play a lot better," Fuller said.
Bane will battle with Steffen Colon and Phil Konopka for the game day roster spots this week and the rest of the season.
Clark (Stillman) has extensive pro experience in the AFL, having played for Orlando, Spokane, and Cleveland, as well as the CFL and UFL. He was a dangerous receiver and kick returner at Stillman, and was named all-conference punt returner. After participating in Cleveland Browns minicamp, he played a season in the UFL before signing with the eventual Grey Cup champion Montreal Alouettes. His speed and familiarity with the 50-yard field should make him an immediate part of the mix at wide receiver.
The Raiders will play the Trenton Freedom in two straight games – in Trenton this Saturday, and in their next home game May 17. Tickets for the May 17 game, as well as the rest of the regular season, are available on the Raiders' website, www.RichmondRaidersProFootball.com, or by calling 1-855-GO-RAIDERS or 804-780-0430. Additionally, fans can contact the Richmond Coliseum box office or visit ticketmaster.com.