Richmond cosmetology students offer free beauty services for cancer survivors on June 5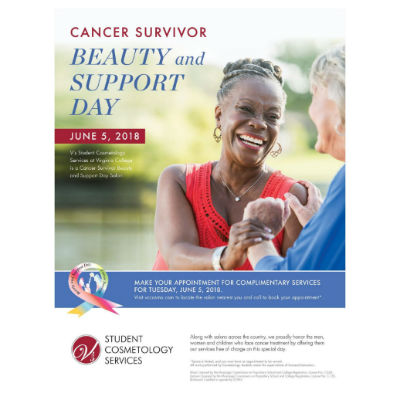 Students from V's Student Cosmetology Services at Virginia College in Richmond are finding ways to use their gifts and talents to make a difference in honor of those affected by cancer.
As a part of national Cancer Survivor Beauty and Support Day™ (CSBSD™), the Cosmetology students at the campus will offer complimentary salon services Tuesday, June 5 from 10 a.m. to 1 p.m. at the campus located at 7200 Midlothian Turnpike, Suite C.
Appointments are not required, but survivors interested in receiving services can call (804) 977-5142 to ensure availability. Light refreshments will be served.
CSBSD™ is a volunteer event held on the first Tuesday in June. Members of the beauty and related industries in all 50 states offer complimentary services to all men, women and children who are cancer survivors, regardless of their type of cancer or when they were diagnosed.
All cancer survivors are invited to participate, and for many, CSBSD™ is the only time during the year that they receive a little extra personal kindness, warm support and tender pampering.
Comments