Registration open for Valley Businesses Give Back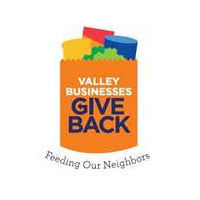 Valley Businesses Give Back is an annual food and fund drive that gives Shenandoah Valley businesses the opportunity to engage in a friendly competition of who can raise the most money and collect the most non-perishable food for hungry neighbors in need.
Companies and organizations can register now through May 25.
VBGB began in 2011 and helps stock the shelves of the Blue Ridge Area Food Bank during the summer months. We are grateful for the continued partnership and support of this effort from the Greater Augusta Regional Chamber of Commerce, Lexington-Rockbridge Chamber of Commerce, and Harrisonburg-Rockingham Chamber of Commerce.
Hershey Chocolate of Virginia has taken a lead role every year since its inception, as well. Over the past six years, local businesses and organizations have donated more than 57,000 pounds of food and collected more than $28,000 for our neighbors in need, equal to over 158,000 meals.
Visit www.BRAFB.org/VBGB to register your company or organization.
About the Blue Ridge Area Food Bank
Founded in 1981, the Blue Ridge Area Food Bank is the largest organization alleviating hunger in western and central Virginia. Headquartered in Verona, VA, the Food Bank serves 25 counties and eight cities through distribution centers in Charlottesville, Lynchburg, Winchester and Verona. The Blue Ridge Area Food Bank distributes nearly 25.3 million pounds of food annually to 105,100 people each month through a network of 212 community partners – food pantries, soup kitchens, shelters, schools, churches and other non-profit groups. The Food Bank is a member of Feeding America, a national food bank association that supports 200 food banks across the United States. For more information, visitwww.brafb.org.
Comments