Local
Reading takes out Richmond, 4-1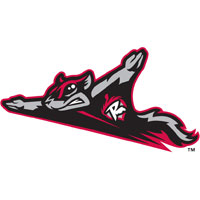 The Reading Fightin Phils (36-46) rolled past the Richmond Flying Squirrels (40-42), 4-1, on Monday night at FirstEnergy Stadium.  It marked the sixth victory for Reading in the last seven meetings between the two clubs.
Right-handers David Buchanan and Craig Westcott dueled through three scoreless innings at the outset.  Buchanan worked a scoreless fourth inning and Westcott finally blinked in the bottom of the inning.  Sebastian Valle notched a single with two outs, bringing Anthony Hewitt to the plate.  He clobbered a 3-2 breaking-ball, blasting his ninth home run of the year to left field.  The two-run shot put Reading in front, 2-0.
Westcott answered for himself in the top of the fifth.  Batting with the bases clear and two outs, he mauled a solo-home run to right field.  Westcott's first of the year pulled the Squirrels within a run, 2-1.
However, Westcott was hampered by the two-out long-ball in the bottom of the inning.  Albert Cartwright lifted a solo-home run to left field off Westcott with two outs.  His sixth of the year stretched the Reading lead back to two runs, 3-1.
Westcott was touched up for one final run in the seventh inning, also knocked in by Cartwright.  He was the unfortunate loser for the Squirrels once again, despite a sturdy outing over 6 1/3 innings.  He was charged with four earned runs on six hits.  He walked one and struck out eight.
Buchanan (5-8) was seldom tested, and earned the win over a season-long 8 1/3 innings.  He conceded just the lone run on five hits, walked three and struck out five.  Right-hander Mike Nesseth entered to record the final two outs of the ballgame, earning his first save of the year.
Game two of the three-game series is scheduled for 7:05 p.m. at FirstEnergy Stadium on Tuesday night. Richmond LHP Jack Snodgrass (7-3, 2.67) makes the start against Reading LHP Austin Wright (3-4, 7.00). The Flying Squirrels Pregame Warmup will begin on Sports Radio 910, SportsRadio910.com and IHeart Radio at 6:35 p.m.