Psychologist Zanna Clay to speak at W&L Questioning Intimacy series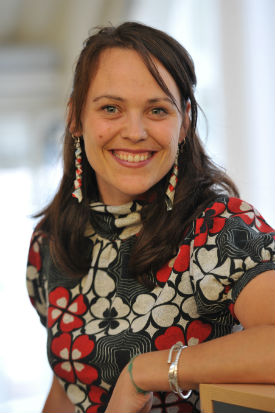 Zanna Clay, assistant professor in the psychology department at the University of Durham, U.K. is the third speaker in Washington and Lee University's yearlong Questioning Intimacy series. Her talk will be Nov. 2 at 4:30 p.m. in Stackhouse Theatre in Elrod Commons. The event is free and open to the public.
Clay uses a comparative approach with primates to investigate the evolution of human behavior. She is a leading specialist in great ape behavior, and her primary interests include the evolution of empathy, language and cultural cognition which now extends to studies of human children.
"Dr. Clay has extensive experience researching the communication and social development of one of our closest living relatives, the bonobo or dwarf chimpanzee," said Paul Cabe, professor of biology at Washington and Lee. "She has recently expanded her research to include humans, and her work provides a comparison that helps us understand what it is to be human."
Clay conducted her doctoral work investigating vocal communication in bonobos and language evolution. In her post-doctoral research, she worked with Frans de Waal a professor at Emory University, to examine empathy and its development in bonobos. She studied social awareness and communication in wild bonobos at the University of Neuchatel in Switzerland.
Comments