Press Conference: UVA talks Elite Eight matchup with Syracuse
UVA coach Tony Bennett and a group of Cavs players talk with reporters on the eve of the matchup with Syracuse in the Elite Eight on Sunday.
Q. Malcolm and Anthony, we talked about being aggressive and having that mindset. Does it change now that you're a win away from a Final Four? Does the pressure change? Is it harder to kind of control your mindset?
ANTHONY GILL: That attitude doesn't change. I think it's something that we've instilled in this program that we're going to go after it, we're going to try our best to do what we can do in order to advance as far as we can. That's just something that's not going to change. The emotions are high right now after that win last night, but it's time to get it back down to earth, and after practice today we really addressed some things in practice that are going to be good for the game tomorrow.
MALCOLM BROGDON: Yeah, you know, I think pressure is a distraction. We're not feeling pressure. We're enjoying this moment. We're excited to play. We're not really worried about the Final Four right now. We're worried about tomorrow's game and taking care of business.
Q. Tony, I was intrigued yesterday, you mentioned the door knockers that you pack for the road. Can you elaborate on that?
TONY BENNETT: It's just something that ever since these guys have been here, every home game and every road game it's just hanging on a wall, just a simple door knocker, and we just before these guys go out and the coaches go out for a game, everybody just knocks on it, and it's just symbolic of just keep knocking. Sometimes the door gets slammed in your face, sometimes maybe you open it an inch or you get your foot in the door or your shoulder, but all we're in charge of is continuing to knock and maybe we can get that foot in the door. It's something I used to do at Washington State but I really like that mindset, and I think these guys embody that, just that ability to knock away.
Q. In the three games you guys have played against Syracuse these past three years you've shot the ball pretty well against their zone. Can you pinpoint any reasons that you maybe have had that success, and does it give you any confidence now going into this game?
TONY BENNETT: Well, it's a good zone. You have to be able to attack it in different ways. You have to knock down some shots. The ball has to move, you have to dent it off the dribble, get on the glass, different kinds of things. I just think I have the guys that have the right spacing and the right mindset, and these are the guys who have made the shots and made the plays. It's a challenging zone, no doubt, but I think some experience against it makes you respect it even more, knowing you have to be aggressive but you can't be unsound because they get live-ball turnovers and that hurts, but if you just are too hesitant or passive against it, you can have trouble. We had a lot of trouble, I remember there last year early on and then picked it up.
Q. London, could you talk about the assist-turnover ratio for the three guards yesterday? Did you notice it? I know you're not really that big on stats but that's pretty impressive.
LONDON PERRANTES: Yeah, we took care of the ball extremely well. We wanted to get good shots. We didn't want to settle. It just goes to show that our teammates knocking shots down, we're playing with a lot of confidence, and I feel like that goes into that.
Q. Malcolm, Jim Boeheim compared you to Klay Thompson. I guess that's a high compliment. But what can the zone do to maybe make you not look like that, and I know you've had success against the zone in the past but what kind of threats does it pose?
MALCOLM BROGDON: Coach Boeheim recruits guys that fit the mold to play that zone, athletic, and they're very active, so they challenge a lot of shots. I think the trap that the zone presents is shooting quick shots, shooting your first open shot, not getting them moving and just settling. Not settling and getting the shots that you want later in the shot clock I think is the key.
Q. Anthony, you kind of had I guess a little bit less production towards the end of ACC play than you did at the beginning. What is happening now in tournament play that is making you have these big games? Has something changed?
ANTHONY GILL: I can't call it. It's pretty much my teammates are just finding me, and I'm not really doing anything too special. They're just really looking for me, and I'm just happy right now. That's it.
Q. Anthony, last night after the game I asked you about the emotions after the game and how you guys really controlled those. We didn't see a lot of celebrating, and you said that's something you guys have worked on this season. I'm wondering if you could just expand on that and tell me how much thought you guys have really given to bigger picture outside of just making it to this point?
ANTHONY GILL: We handle one game at a time. It's something that Coach Bennett is always drilling into our heads, just handle one game at a time, because we don't want to look too far ahead or be harping on the last game we played, and that's something that, it helps us really understand where we need to be mentally, and it helps us out a lot in that way because you don't want to get too up or too down for a certain game or be looking at the past game and saying we're going to live off that past success or anything like that.
Q. London and Devon, I know you guys like to find Malcolm off screens a lot. In terms of playing against the zone where there are not really many screens, how does that change, finding him and finding other guys when you guys can't really screen that much?
DEVON HALL: Yeah, I think Malcolm moves well without the ball, so being able to get him in the middle and him being able to make plays in there is really big for us.
LONDON PERRANTES: Malcolm will be a huge part of getting into the middle of the zone. Yeah, we may not be able to set as many screens, but we have some playmakers with and without the ball. I think we'll be able to find a way to get them the ball.
Q. Isaiah, you've had some pretty good success when you go up against zones because of your passing ability, running the high-low with Anthony. Do you enjoy playing against zones? Do you feel like you kind of thrive off that a little bit?
ISAIAH WILLIAMS: I really like to be in the high post area. I feel like that's where I'm most comfortable and that's usually where I am when we play against the zone. When I get there I'm kind of looking for Anthony but it's also going to be finding shooters on the outside and then taking my shot when it's there.
Q. Anthony, I know you don't like to look past the next game, but are you looking toward April 8th at all? Does that ever come up, the wedding? Do you think about that?
ANTHONY GILL: Yeah, I think about it every day, mainly because my fiancé won't let me forget about it. But it's something I'm really looking forward to. At this moment March Madness is really something that I'm in the moment with right now, but I know that there's something special at the end of all this.
Q. Tony, after last night's game, Coach Boeheim said that you're one of the best coaches he's seen, and he's seen a lot of coaches. I wondered how you would react to that. And if you could elaborate on how you feel about Coach Boeheim as a coach.
TONY BENNETT: Yeah, he's buttering me up. I understand that. No, he's a Hall of Fame coach. That was one of the things that was so appealing about coming to the ACC and I think that's why these guys were so excited to come and play in this league. You get a chance as a coach to challenge yourself against the best, and as players you're going against the elite players and talent, and that's exciting. What those guys have done for us younger coaches, Coach K, Coach Williams, Coach Pitino, and obviously Coach Boeheim, it's unbelievable.
You know, you hope you get chances. We always talk about that. You hope you get chances to go against them and have a chance at we always say title fights, to get in those and go toe to toe with the best. Like I say, that's very kind of him and that's humbling, but our program isn't to where some of those programs are yet, but we're knocking. That's what that's all about. We continue to knock.
I think what he's done — we always talk about simplicity with execution, and that's what he does. He does things that he knows what he's going to do and he's mastered it with his defense and his offense, and it's why they've been so good over the years.
Q. With this season specifically, that first match-up with Syracuse to now, what you've seen on film and how the team has grown into the point they are right now and what you can say about Mike Gbinije because Jim is giving a lot of credit to Malcolm Brogdon, as well.
TONY BENNETT: Yeah, they've improved, some of those young guys. Lydon, he's gotten a lot better. Gbinije, he's a fifth-year, so his experience, his ability to play off the dribble, Richardson, they're better, Howard is playing more. I think they've improved and gotten better, but triple-threat guards for sure. They can score off the bounce. They catch and shoot and good size. He's from Richmond, Virginia, Michael is, and we tried to recruit him real hard, so we know how good he is and he's really been a key and led that team and taken them obviously to this point, which is special.
Q. I love the story that you told about the advice that your dad gave you about don't tiptoe into this game, and obviously we saw the way it affected the players, how quickly they came out, how strong they were. With you on the bench, we don't always get to watch the way that a message like that might affect you in a game, and I'm wondering how did that motivate you yesterday in the game?
TONY BENNETT: Oh, it was great. I just was so thankful I got to spend a special time with my dad and to hear that story about my grandfather, his father. Those are those moments that you cherish forever. There are so many things, experiences that I have with these guys in special settings that you just hold onto. It just gives you kind of a peace and a great feeling going into that, and that was great to hear that. I didn't know that. Just him taking the time, and he's such a wise man, and he's had a huge influence — I mentioned that yesterday. It was powerful. He actually was at the game yesterday. He hardly ever comes. I don't know if he'll come tomorrow, but he was there, and that was pretty good. We thought we heard him yell once, which was probably a miracle that we only heard one yell something once.
Q. What did you hear him yell?
TONY BENNETT: Build the wall, I heard him yell on transition defense. Build the wall. I've heard that many times.
Q. Coach, Malcolm mentioned yesterday the pillar of unity. I was wondering the five pillars you've built this program on, was that something you got from your dad, and if so where did he come up with that whole philosophy?
TONY BENNETT: Yeah, it's like Wooden's Pyramid of Success. They're biblical pillars. There are five of them: Humility, passion, unity, servanthood and thankfulness. I guess it was like 30-some years ago, my father, he said his faith was important to him and he said, somehow, some way, I want it to play out in how I coach and I want to study the Bible and see what he thought were principles that would make for great team basketball and even great individual players. So they're not his pillars, it's just humility, know who you are. Don't think too highly of yourself. Don't think too lowly of yourself and how they apply to us as a team, and they're not lip service to us. They're really important and they help us, and go down the list and explain each one.
But it's just kind of a legacy he's left behind, and they're just such a guide for us and they help us and help me a lot, so they started way back then. I know he's passed those on to some other teams, some real good teams have used those, and I think obviously they're bigger than just basketball, but they help us on the basketball court and of course after. Like I said, these guys honor the pillars, that's the greatest gift I can have as a coach, to see them do that, and I think it's become for the four years or five years they've been here part of the fabric of our program for sure.
Q. When you guys played them the first time, Richardson had a pretty good game, had 23. What impressed you about him then and what makes him a difficult guard?
TONY BENNETT: Yeah, as a first year, as a freshman, he was good, as I said, off the bounce where he could take a couple dribbles, freeze you, rise up and shoot it. He could shoot it off the catch. I think he's driving better, good size, and he's going to be — he is a very good player, and he's going to be a real, real good one as you can see, but he can go get his shot with his size, good stroke, and plays the game for sure. You've got to respect what he can do off the catch and off the bounce.
Q. London, Devon and Isaiah, obviously there's a lot of reasons to want to win this next game but is there any pressure on you or thought of wanting to win for Anthony and Malcolm, and talk about what those guys have meant to you.
ISAIAH WILLIAMS: Yeah, basically these guys have kind of taken me in since I've been here and helped me on and off the court, things like that. And I feel like we're all bought in and we're trying to win for each other at this point, so I just go out and play hard for these guys.
DEVON HALL: Yeah, I think to speak to their leadership is really key on the court, even off the court. They lead us each and every day in practice, and they bring it, and they actually practice what they preach. Being able to go out and give for these guys is really big for us.
LONDON PERRANTES: Yeah, definitely want to at least come out and get something for them. It's huge. But I think we all want to get it for each other, not only these two, the coaching staff, and even our younger guys. We just want to get it for everybody in this program.
Q. At the end of '13 you lost a couple really close games to sort of take you guys off the bubble. I'm curious at that time as you evaluated where you were as a program, just what were your thoughts about sort of trying to break into the top part of the ACC, and what was the biggest bridge to get from there to where you are now?
TONY BENNETT: Yeah, that was the year we went to the NIT. I remember that was a valuable experience. We thought we had a pretty good year in conference.
But it just — I've been fortunate to be part of programs that have had a start and really rebuild. I watched my father do it at Wisconsin where they're not strong when he got there. I saw him do it at Washington State, where they hardly won any games, and just build it.
And I think what it taught me is how diligent you have to be, and no matter what people are saying on the outside, you have to know what matters to you and stay with it. I know as a young coach, I don't think — had I not experienced that, I would have been like, oh, we can't do it the way we're doing it. We've got to quick fix it, and we said, no way, I watched it work. I knew we were close. I knew we were getting better and better, and I knew it was just a matter of time. That's our pillar of thankfulness. Let's be thankful for what we are learning through this adversity because eventually, when we apply that, we're going to be successful.
There's no guarantees. It's a fine line. We were 2-3 this year, and it's just a fine line between being really good and just kind of average. I knew it was coming, because I've seen it happen as a player when I played, as an assistant coach at those places I've mentioned, and that experience is everything. If you didn't have that experience, I think you would have doubted it a lot more, and I didn't because I knew what I thought was going to come.
Q. Obviously Syracuse likes to play pretty slow on offense, as well. How are you guys going to attack that?
TONY BENNETT: I mean, I think it's just about getting a quality shot. Offensively you've got to work — good defenses are hard to break down. Their zone is hard to break down. You can't just one pass, shot. I mean, if it's a great shot, we take it, and we try to make it hard to get quick shots early, so it's just getting a quality shot, and sometimes it takes a little longer to work to break it down. You just battle, and you don't get caught up if it's longer possessions. You know you've got to lock in and be ready for that offensively and defensively, or it's quicker pace.
But I think you have to be able to play both ways. But you just don't get broken down too quickly. Defensively, hopefully we don't. They're not like that, and sometimes that lowers the possessions, but if that's the game, that's the game.
Q. Tony, you've got some experienced players here, and I'm curious what your thoughts are on one-and-done players and if you'd ever be willing to fill a team with them?
TONY BENNETT: Yeah, I think our program, the formula always has been get these guys a bunch of experience, and when they have that experience, they're going to be able to play against the best.
We haven't ever been in a spot where we could recruit one-and-done players. It's just our program isn't at that spot. I'm not saying I never would, but I so enjoy watching these guys develop, and that's made our team strong. I think if you're going to get one-and-done players, you'd better be able to back that up and do it year after year. I have no problem with that. A lot of programs have been successful. We're just not in that the spot. But if a guy has a chance, absolutely, having played professionally, I'm fine with that. I just think you've got to be ready for that. That's a big jump. I know I've enjoyed the maturity of this team and watching them go through some of the being on the bubble, the hard things to become a team that is contending for some special things.
Q. What has impressed you most maybe about London developing his game as a passer, point guard and player?
TONY BENNETT: Well, he has a great feel for the game. We saw that when we were recruiting him. He just ties things together. I mentioned a guy that I had at Washington State named Taylor Rochestie. When he came into our program we were talented and good but he just took us to another level, and I think London has done that with these guys. He understands how to get guys look. He has great feel, and I think his game has improved, and I think that's what his high school coach told me, too. He sort of was so unselfish early, but then as he got into his upperclassmen years he started to become more aggressive and aggressive and understand when and when not to, and that is such a key. All these guys have such specific roles, but his maturity is beyond his years as a player. We've really taken off since he's been here.
Q. Coach, what have you kind of done to be successful against a guy like Trevor Cooney, and what did he do last night differently in terms of getting to the basket and being a different type of player?
TONY BENNETT: Well, with really good players and really good teams, it comes down to the same stuff: You just try to make them earn. They have to earn their looks. You don't allow them to the best of your abilities to get easy looks. It's just that mindset, if they're going to hit shots, it's got to be contested shots, and that was our mindset against Iowa State. They're good enough and talented enough offensively to score against our defense at times, so let's take out all those breakdowns that give them the easy ones. Again, against players like that and their guys, it's just make them earn. That's kind of the mantra or the mindset.
Q. Jim Boeheim said that he coached against your father.
TONY BENNETT: Yeah.
Q. I wonder how many of those coaches are still out there that coached against both of you, and do you think you will have a conversation about Coach Boeheim in Syracuse with your dad?
TONY BENNETT: Yeah, they played in the NCAA Tournament when my dad was at Green Bay. I remember that was a very good game, and then when my father was the head coach at Wisconsin they coached against each other. Sure, I'll talk to my dad, but I know my father has great respect for him, of course. Coach Williams, there's a number of coaches that have coached against my father.
Q. This is kind of coming off the whole thing with Mike Krzyzewski and Oregon, that kind of stuff. Do you have rules on your team, sportsmanship rules? You talked about the Wooden pyramid, but do you have rules? Have you talked to your team about sportsmanship, in other words, when the game is kind of out of hand and you've got the game out of hand, what are the rules? If you're up, do you tell your kids don't shoot? What are some of the rules of sportsmanship?
TONY BENNETT: I mean, I don't really have any rules. I mean, just respect the game. I've always been brought up, try to respect the game. Mistakes are going to happen. I made so many mistakes, sometimes you get caught up in the heat of the moment. But try to respect the game. Everybody has different philosophies on it. But I guess those pillars of ours, they try to represent having respect and those kinds of things.
Is there a specific — I don't know if I'm answering that the way you want.
Q. In other words, when the game is out of hand, let's say one of your kids takes a shot and you're up by 20, do you have a rule that says don't do that, if we're up by this much —
TONY BENNETT: Sometimes coach will say, hey, don't take a shot at the shot clock. If the shot clock is going to expire, sometimes you can take one, but I don't really have a hard and fast rule. I think most coaches are fine with that and have that. We always try to run out the shot clock. If you're up and the game is out of hand and there's 20 seconds and you get the ball, some would say, hey, don't shoot, but sometimes kids get excited. You're trying to say, hey, don't let one go. You have some of the guys on the bench, some of the walk-ons, and they want to fire one up. Sometimes that happens, but there's no hard and fast rule.
Q. Do you have a rule about maybe your — you're a younger coach but as an older coach, do you think it's okay if one of the coaches, a pillar of the game, a caretaker of the game, is it okay if he might say something to one of your players?
TONY BENNETT: Yeah, I remember Coach Knight after a game coming and talking to my father's teams and just saying, hey, well done on a team or even if you lost a tough one. Guys like that who have been through it all and seen it all and done so much for the game, you have to honor that and respect that. I have so much respect for — coaching is a unique profession, but I don't even know — I'll be honest with you, I don't know quite what you're talking about. I have not watched any games, so I don't know if you're getting at something specific.
Q. The specific one was yesterday after Oregon had pulled away from Duke, the game was over, and their kid Brooks just let a three-pointer go, and it went, and he kind of — so after the game as they were shaking hands, Mike kind of stopped the kid and essentially said, listen, you're too good of a player for that. You don't have to show off, blah blah blah, and after the game with this situation, somebody asked the kid what happened, and he said, oh, this is what happened, then they asked Mike about it, and Mike said, no, that didn't happen. Well, of course CBS picked up the audio, and it did happen, so today Mike put out a statement saying I'm sorry, I shouldn't have done it. He apologized to Dana. You coach your team, I coach mine. That's what happened.
TONY BENNETT: Making a mountain out of a molehill. Now I know.
Q. How would you compare the group that you have right now to the group out there in Pullman?
TONY BENNETT: Yeah, those guys were awesome at Washington State. They were brought in similar to come and be a part of trying to build something special where maybe people don't think you can do it. Similar in character. That's why we try to recruit guys that are servants. They're humble. They're passionate. They understand — I mentioned this after the game, that they're very talented individually but their way to touch greatness is in concert with each other, and not many of us — we always talk about that can individually — there's the Jordans and there's the Alis and some of those great ones, but most of us have to do it with others, and I think our guys have understood that.
That's what that group is, and that's what this group understands.
I said it, too, they mean more to so many people than just basketball. I've watched them, and I know every coach says it about their players, but I've watched their influence on our community and at our school and how they carry themselves and what they're about, and that's been special to me. That makes me so happy and thankful that I've gotten to coach them. They're going to be successful after their careers are done because they're about the right stuff, but similar, and that's the best stuff about coaching, without a doubt.
Q. Terry Holland mentioned so often, the sports psychologist you guys have, laying on the floor and visualizing, from when he was taking those teams to the Final Four. Do you do anything right now to manage the pressure or do you lay on the floor in the dark and visualize the next day?
TONY BENNETT: At night I lay in the bed at dark and sleep, but no, I think everybody has their own things that they do. Yeah, Dr. Rotella, he's phenomenal. He actually sends me texts and he's talked to our guys at different times. No, we have routines that we go through stuff, but there's nothing, I don't think, like that that we're doing. I know Coach Jackson here probably did some cool stuff, some meditating stuff, but we just try to prepare, and I'm probably pretty basic when it comes to that stuff. But I think you feel each guy, and they're allowed to do their own things if they need to, but nothing that's noteworthy. We listen to a lot of music. How's that? When we warm up for practices.
Q. When asked about Syracuse's improvement since January, you mentioned the three freshman. How much do you think they've been reaping the benefits of a tough ACC schedule?
TONY BENNETT: Yeah, the ACC it shows itself to be real strong. You play in this league, and there's so many good leagues in the country, but there's so many kinds of systems and styles and the talent and the depth, and I think it does, it battle tests you. It can break you a little bit at times, but you see a lot, and it does toughen you up, and for sure, those experiences you can't get unless you're going into certain venues and playing in intense settings and going against that talent. Yeah, they've just gotten better and better, and to see what they did last night, that composure to stay with it in a game like that and come away with it was impressive.
Q. I may be reading a little into this, but with Syracuse they have so many moving parts this year, Michael Gbinije playing point guard for the first time, DaJuan Coleman coming back from injury, do you think it was important for them to go through that gauntlet?
TONY BENNETT: Well, I think you have to. That's the way — we try to play a real tough non-conference schedule wherever you're at, mature, immature, young, you have to be tested in that moment, so I think it's very important. Yeah, I think it was great for them, the fact that they hung tough and even lost a tough game in the ACC Tournament, but how they've played in the NCAA Tournament, they're playing good ball. We knew they were talented and good when we played them. We were fortunate to — it was a one-possession game late in that game. You need that. If you can survive this league, it does prepare you if you get good match-ups and you're right to make a run in this tournament, and that's why I think the league is good, and you have opportunities to get multiple teams in, which is great.
Q. Do you think at all about the possibility of joining your dad as having coached a team to the Final Four at all, or do you not allow those thoughts right now?
TONY BENNETT: I never wanted to coach. I've told this before. I thought I was going to play in the NBA for 10, 12 years and never coach. My sister was a coach at Indiana and Evansville and different places. My uncle and my dad, and I said that is the last thing I want to do. It's way too much of a roller coaster ride so I had no interest in it. But then I ended up overseas, and I kind of became — I got injured and became a player-coach, and I said, you know what, I know my dad is going to retire soon. When I come back I think I'd just like to be by his side and watch him finish out his career, so my first year I was a volunteer manager for Wisconsin. That was the year in 2000 when they went to the Final Four, and I said, hey, this is pretty fun, this is pretty easy, get to the Final Four in your first crack at it, I think I might like to do this. I was bit at that point, like wow, I saw that magical run, I saw the excitement.
And again, for me the most gratifying thing was to see my father reach what was a dream of his, and that was the best. When you see people you love achieve a desire like that, that's as good as it gets. That was special, and yeah, that would be great, I guess, to join him. I haven't really thought about that, a father and son both getting to coach in it. But if we're fortunate enough to get there, we'll have some good conversations.
Q. Does it surprise you at all to look down and see that it's Anthony and ACC Player of the Year, who's leading in scoring right now. Is that like totally natural to you that those guys would switch off in that role and then I think Coach McKay was at the game last night. How meaningful was that for him just to have him there and for him to get to see that win?
TONY BENNETT: Well, our balance has been so important for us, and even seeing other guys, but what Anthony has done, he's been so efficient, and guys got him the ball. When he had some offensive rebounds, some of those plays at the end of the press and Malcolm is getting really guarded hard, but no, Anthony, he's capable. He's real aggressive, and you can see that, and Malcolm and Anthony and even London is.
But those two are wired to score and be aggressive. Absolutely not.
No, it was great. Coach McKay and I got to spend a little time. Our staff, I've been so fortunate, I have an unbelievable staff, and his hand is in this team. We were together for six years, friends before that, and just to do life together for that amount of time, be friends like that, and then I know how happy he is, and I'm so glad that he's a head coach again. I knew he would be. But to have him here was special.
Q. I was wondering what you just mentioned with regards to your dad and the injury, it seems like a lot of people coming up through this profession, while they kind of get a lot of time on the bench to kind of observe during injuries, I know Phil Jackson kind of had that same experience and I think Luke Walton had a similar thing under Phil, how much did that help you and how much do you think that had an impact on your decision to want to coach?
TONY BENNETT: Yeah, I think growing up in a coaching home, again, it was really — I didn't want to coach. I had thought, that's not for me. I was too up and down and I'd rather do something else that's a little more steady and enjoyable. But once you get done playing, I realized I loved playing. That was the best. Then I became like a player-coach when I was injured. I was like, you know what, this is the next best thing because you're still part of the excitement of the game. You still can have those relationships and hopefully make a difference, and it's what you know.
And so I think that part was good. Obviously just growing up understanding the game and watching, seeing my father go through it, my sister, uncle, all those things obviously was a big part in it. I'm sure a lot of people said, oh, he's going to coach, but I promise you, nope, I didn't want to, but I realized, I really like this, and maybe I was kidding myself, but there's a joy in playing that you can't touch. I know that.
But coaching can be — there's a bad side of it, and I've seen that side of it, and there's some wonderful sides, too. It's just, like I said, the thrill of victory, the agony of defeat, but it's a unique profession.
Q. When you look at the rule change at the beginning of the season to lessen the shot clock and then you look at the teams that have left over the last week or so and the fact you're going to play Syracuse, another team that slows the pace down, do you feel there's been any unintended consequence or is it kind of coincidence that a couple of the slower teams are still left and if they have an advantage because they're more comfortable with the game?
TONY BENNETT: Hard to say. I think if you want to advance and be a good team, you have to be solid defensively. Like that's really important. And I think good defensive teams, as I mentioned before, sometimes the pace slows down because they're hard to score against right away, so that just lowers it.
You know, you just have to choose a style for your program and yourself that gives you the best chance to be successful, and it may not appeal to everybody. That's okay. That's what's the beautiful thing about this game. There are different ways, different styles, different paces, and I think that's — I know what I think works and gives us a chance, and I think these young men do, and they've bought into it. I just know defense is really important. You have to be good offensively. You have to be efficient. But in any sport at any level, if you're not at least strong in that, I think it's hard to be real good.
Q. Tony, Jim was talking about the ACC schedule, and while the ACC has gotten a lot of teams into this year's tournament and they've had some success, like Florida State beat Notre Dame, Syracuse and Virginia, I think, this year but didn't get into the tournament. I felt better scheduling, that the ACC could actually get more teams in. What do you think about the ACC schedule this season and the past couple years?
TONY BENNETT: Yeah, I guess because I'm a younger coach, I don't have the experience that Coach Boeheim does. We really — when we have our head coaches' meetings, we try to get as much information from those more experienced and seasoned coaches, but that have been in the Big East when they had so many teams in, and that is a goal of your conference: How can we get as many teams as possible. You're always work being towards that. I don't know if that's a perfect answer, and it's changing a little bit. But that's stuff I'm sure we'll address when we meet and say, okay, we took a step in the right direction, and we got seven teams in, right? Yes, seven teams this year.
Maybe it would have been eight with Louisville, but how can we get more, and it's good to see they advanced. I hope this helps, that there's even more respect. I don't know if the committee looks at it that way, but it's a great league, and yeah, some teams are well-deserving because it is a gauntlet in the conference. I think that's maybe the one thing that's being shown. You ask anybody, what's the toughest league in America, the one you're in. I think every coach says that. It's a statement that's kind of true. But this isn't a tiptoe league to use something we talked about yesterday. It's a big-boy league, and there's a few of those, and it's hard and it's a fine line between being in the upper echelon and not being there, and we've got to figure out ways to get as many as we can into the tournament.
UVA Basketball Fans!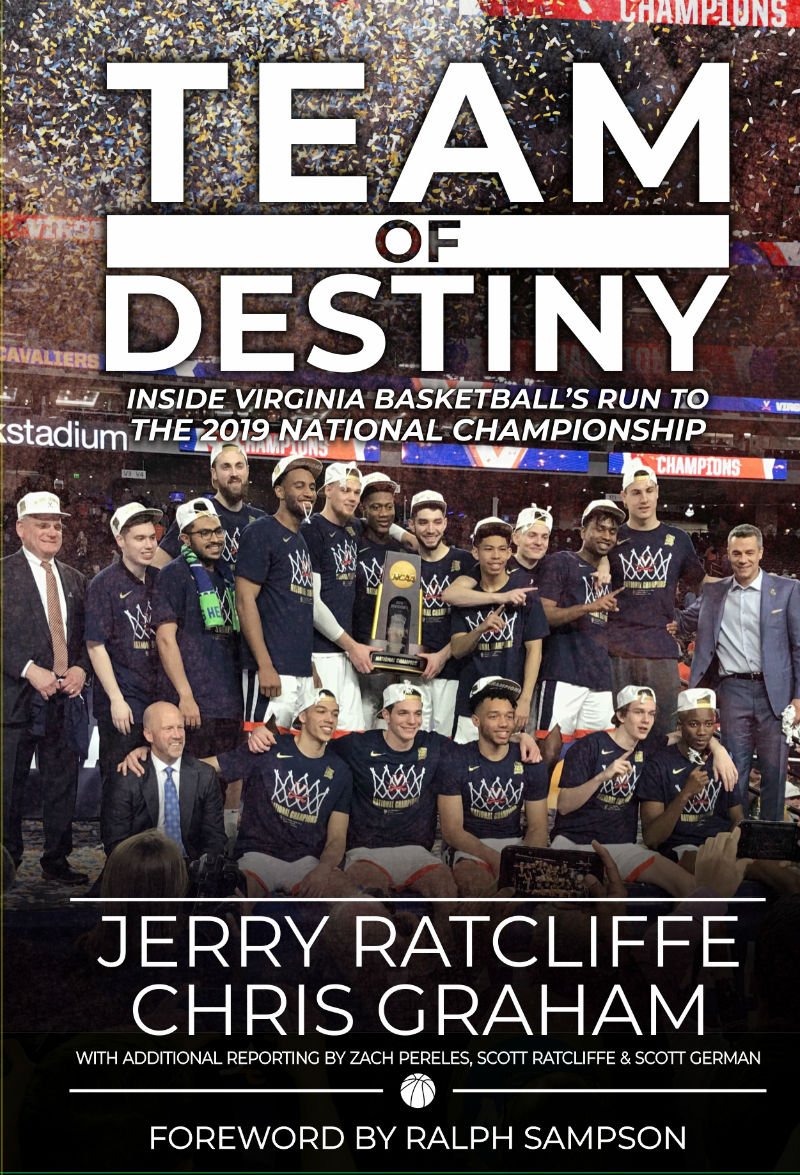 Team of Destiny: Inside Virginia Basketball's Run to the 2019 National Championship
, by Jerry Ratcliffe and Chris Graham, is available for $25. The book, with additional reporting by Zach Pereles, Scott Ratcliffe, and Scott German, will take you from the aftermath of the stunning first-round loss to UMBC in 2018 through to the thrilling overtime win over Texas Tech to win the 2019 national title, the first in school history.
Dick Vitale on Team of Destiny:
"This is a hoops story you will LOVE! Jerry and Chris capture the sensational and dramatic championship journey by Tony Bennett and his tenacious Cavalier team. UVA was Awesome Baby and so is this book!"
Ralph Sampson on Team of Destiny:
"Jerry and Chris have lived and seen it all, even before my time. I highly recommend this book to every basketball fan across the globe. This story translates to all who know defeat and how to overcome it!"
Feedback from buyers:
"Got the Book in the Mail Saturday, and could not put it down! Great read and great photography as well! Love all of the books I've received, but hands down, this is my favorite!" – Russell
Buy here.
Comments