Press Conference: UVA basketball at the Sweet 16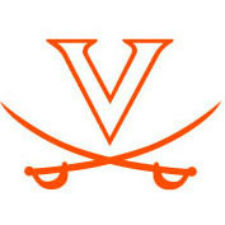 UVA basketball coach Tony Bennett and Cavs players Malcolm Brogdon, Anthony Gill and London Perrantes talk with reporters in Chicago on the eve of the Midwest Regional.
Virginia (28-7) plays Iowa State (23-11) in the Sweet 16 Friday night.
Q. I don't know if you guys read Vogue magazine, but I don't know if you're aware that yesterday an article came out saying that Coach Bennett is the Georges Clooney of the NCAA Tournament. I just wonder what you guys' reaction to that might be.
ANTHONY GILL: I don't have a comment on that one. I'll let Malcolm handle it.
MALCOLM BROGDON: I don't have a comment.
LONDON PERRANTES: I did not read that article, either, so I think AG should handle this one.
Q. Anthony, can you just address how often do you think back on the past NCAA Tournament losses? I know going into this year you talked about the motivation you take from it. On a daily basis do you think back to that stuff or is it now behind you?
ANTHONY GILL: You know, we think about it every now and then, just going into the tournament knowing that you could be out at any moment. That's really the only time we really think about it, just going back and looking at the mentality that we had coming into the tournament last year and the mentality that we have this year coming into the tournament, it's totally different, and I think we're in a better place this year.
Q. What's changed?
ANTHONY GILL: Just the way we approach it. This year we're going after it, we're attacking it, whereas last year we just kind of sat back and let it come to us. We didn't really go after it like we needed to.
Q. Malcolm and Anthony, do you remember when you guys first met each other, and what were the circumstances, and what do you remember making of the other guy when you first got to know him?
MALCOLM BROGDON: Yeah, I remember meeting AG. He was on an official visit here. I think it was the summer between my freshman and sophomore year. I just remember him being a very playful guy but very serious, very determined. He reminded me a lot of myself, and then once we got on the court, I realized how hard he worked and his work ethic, and I realized with his talent, with his work ethic and leadership, he'd be able to help us take this program to another level.
We've always been great friends off the court and on the court we're great teammates, as well.
ANTHONY GILL: I'll take it back a little further for me and Malcolm. I actually met him at an all-star game in Florida in high school, and that was pretty much where we met then, and I sort of helped raise him from that point on. (Laughter).
But me and Malcolm, we have a great bond, as well as London. All of the guys on our team, we're like brothers, so we just love each other, and it's just a chemistry thing that we have that we love.
Q. Anthony, where do the wedding plans stand right now?
ANTHONY GILL: I did three things. I picked out my groomsmen, I tasted the cake, and I picked the shoes that I was going to wear, and that's about it, and then I know I get married on April 8th, so then I'll be there.
Q. Malcolm, are your plans to go to the NBA after this year or do you want to do other things?
MALCOLM BROGDON: I want to play in the NBA.
Q. Tell me about the caliber of play in the ACC this season and how it has prepared you to be at the tournament and be a top seed and so forth.
LONDON PERRANTES: I think it's huge to be able to go in night in and night out during the ACC regular season and to be able to play all the good teams night in and night out has definitely helped us. Having six ACC teams in the Sweet 16 right now is huge, and it goes to show that we can play with anybody, and we're trying to take that confidence into the games that we have tomorrow.
Q. You have started almost every game since you've been at UVA. You appear to be completely unflappable. Is that a matter of California cool or is that the way you've always been?
LONDON PERRANTES: I think it's just how I've been since I started playing basketball. I've always been taught to just be level-headed, be even-keeled, and play the way you want to play and don't let anybody change that.
MALCOLM BROGDON: I can't say if it's Cali cool or how he's been raised to play, but I know that's how he is and that's who he is on the court. He provides that composure for us. When things get a little rowdy, he's the primary ball handler, and when you're the primary ball handler, you want to be composed, you want to be poised in times of chaos up and down. He's been a great point guard for me and for my teammates while I've been here, and I'm excited to see what we can do going down the stretch.
Q. Malcolm, I know you said you'll reflect on some of the accomplishments when the season is over and Player of the Year and all that, but do you have a sense that if you guys don't advance further in this tournament that your career will have come up short? Do you look at it in those terms?
MALCOLM BROGDON: No, honestly I'm not even thinking about it in that regard. I'm thinking about trying to lead, trying to have this team advance as far as we can go. That's really where my mindset is right now.
Q. I had one player tell me that the way that you guys play, it sort of lulls the other team to sleep. It's almost like their rhythm is kind of thrown off by what you guys do. How much can you guys sense that pulse? How much can you sense when your rhythm of trying to slow things down affects the other guys?
ANTHONY GILL: Yeah, I think that's something we pride ourselves on. We really try to impose our will on the other team and make them play the game that we want to play. Defensively and offensively, our offense is designed to make the other team work on defense, and it's just something that most teams can't keep up with throughout the whole game, and that's credit to Coach Bennett and the way he's established his program and got us running the offense that we do.
Q. You guys have faced scorers like Blossomgame and Cat Barber throughout league play. Does that make preparing for a player like Georges Niang easier?
MALCOLM BROGDON: He's a special player for sure. He's one of the great college players of this year, and he presents his own challenge for sure. Blossomgame is probably the closest thing we've played to them, but still, their games is very distinct. But it's going to be a team effort and that is what our strength is, is team defense, is playing the pack line as a team. We've been able to frustrate most everybody that we've played, and hopefully we can do the same tomorrow night.
Q. Malcolm, the last time Virginia made it to the Elite 8, 1995. Can you put into words just how special, how big of an accomplishment this would be if you guys can win this game and advance to the Elite 8?
MALCOLM BROGDON: It would be a huge accomplishment. You know, it would be very exciting for the team, for the coaching staff, for our university, for Charlottesville. But I'm not sure that's something that can be put into words until we get it done. We've got to go out and we've got to be focused from the first 20 minutes of tomorrow night's game. We've got to go out and get it done.
Q. Malcolm, what made you come back this year for your graduate senior year? Can you take us through the whole process and what was the thing that made you want to come back?
MALCOLM BROGDON: I felt like — I talked to Coach Bennett, and we sat down and had that conversation, and it really struck me when he said I could have it all. I could finish my legacy here, I could do something special with my teammates the last year, and I could also get my master's degree and just finish what I started. I'm a guy that's all about not trying to take the easy way out or get out of things too early. I want to finish out. I want to finish what I start, and that's what I wanted to do.
Q. Have it all, you probably feel like you still have stuff missing? If it ends tomorrow night, do you feel like it was — there's things left for you to accomplish?
MALCOLM BROGDON: I think there are things more that me and my team could have accomplished, but honestly, if that's the case then it wasn't meant to be, then God had a different plan for me and my teammates. That's really how I see it.
Q. London, you guys don't come across as a bunch of basketball junkies who stay up all night watching other games. How much have you seen Iowa State over the course of the year? Do you know much about them?
LONDON PERRANTES: I've actually seen a lot of them. I actually do watch a lot of basketball. I kind of am a basketball junkie. But I've seen a lot of Iowa State. First 10 seconds offensively want to get up some quick shots. Anybody can push the ball up the floor from Niang to the point. Offensively they have a lot of firepower, but our defense is what we pride ourselves on.
Good defense versus good offense, that's what we're going to go for.
Q. London and Malcolm, Anthony sometimes tells us stories that are maybe not completely true —
MALCOLM BROGDON: Outrageous stories.
Q. Does he do that to you guys, and can you recount a prank or something he told you that you bought, fell for?
LONDON PERRANTES: Well, if you're talking about The Onion story with Malcolm, that's true. That's not a fable. Magic, I don't know if I heard that one. But it's probably true, too. But he's definitely told us a lot of stories, but that's just his character. He's always trying to be lighthearted, and we love him for that, although it can be outrageous, but that's just him.
Q. Anthony, you're a lighthearted guy, you seem to be a pop culture guy. If there was someone who was going to be compared to George Clooney in this tournament, would it be Coach Bennett?
ANTHONY GILL: You know, I'm not sure. If anybody, I would say if somebody was going to play my life in a movie if that's what you were asking me, if that's what I got out of it, I would pretty much go with Denzel Washington, Will Smith, and any other like mainstream actor that girls love. That's probably who would play me in a film.
Q. Malcolm, you had a broken foot that kept you out for a year, a very difficult time for you. Looking back, was it an advantage now?
MALCOLM BROGDON: I think so. I think that was a blessing in disguise for me. I had great support from my family, from my coaches, from my teammates. I worked extremely hard to get back, and really turned that into a blessing and really have success from it.
Q. There's always this push-and-pull discussion about in a one-and-done tournament, is that how teams or coaches should be judged; how do you reconcile it when you guys have accomplished so much, yet you haven't gone as far in the tournament? Does it feel like there's something missing or that you haven't fulfilled what you should have given where you've been seeded and how you've done in the regular season?
TONY BENNETT: Yeah, I told our guys, and I think nothing can take away the success that they've had for the amount of time, for this group of seniors, especially for the years, what they've established with conference championships and the regular season and even in the ACC Tournament. I think that's a test. Then you come to this, and it's both and. You want to do well, what a finishing piece for this group to advance. This is our second Sweet 16 in three years. We won a game last year. But of course, what a desire for us to advance past that. That's also the goal.
But I think they're both very important, but I don't think — there's not any value in what you do during the regular season in 30-plus games and in leagues like we're in, I think that's tremendous value, and that's the test. But of course this is important.
I don't know if that answers your question, but I think it's a both and is what I'm getting at.
Q. Was your last pro game against the Bulls, and if it was, was it here?
TONY BENNETT: Yep.
Q. What do you remember about the game and what was it like leaving the court after that?
TONY BENNETT: Well, one funny story, I remember playing in Chicago Stadium, and one of the first times getting to play against Michael Jordan, but I think it was our second time there, and a gentleman came up and he gave me this great picture of myself and Michael Jordan, it was an action shot, we were just in the frame, and he's like, you're going to want this some day. I remember looking at it thinking it was cool, but I left it in the locker, and we got on the bus and I remember we were pulling away and I was like, I'll get a bunch more of those, no big deal. And I always regret that, because I don't have a great picture of Michael Jordan. I'm playing against him here and in Chicago Stadium. Those are my memories that are phenomenal, obviously playing against the best.
But that was the last game of my pro career. I remember making a couple threes. I can't remember exactly. But this is such a great arena. I've coached here as an assistant with Wisconsin in the Big Ten tournaments, and again, great memories, and when you grow up in the Midwest and in the era I did watching Michael Jordan build something here and being in this building is obviously memorable.
Q. Did you know that was your last game?
TONY BENNETT: Did I know — no, because I thought I'd still play. I suffered some injuries after that and never returned. That was at the end of my third year.
Q. Some teams are very hung up on their past tournament failures. They talk about it. They use it as motivation. Other teams kind of bury it, a new year is a new year. You've had more of that new year is a new year message, but do you think the guys, that is something that drives them, that they feel like they've come up short?
TONY BENNETT: Yeah, I think experience is — you have to use that. It's a great teacher. Again, last year playing Michigan State in the round of 32 and getting outplayed against a tough team, that makes you hungry to — if we're fortunate enough to get to that spot again, to try to advance. And again, two years ago we went against Michigan State again, played a heck of a game in the Sweet 16 and Michigan State got the better of us. Again, the ability to — it doesn't take away what's been built, what's been established all those games before, but it's an opportunity to be at this spot and take the next step, and that's exciting, and that's challenging, and again, you use the experience from the past, of course, but you don't dwell on it. It's here in the moment. Anybody will tell you that. It's about locking in but using what you learned.
Q. When you look at all the players that you lost, the talented players you've lost off the last two teams, does that speak to how much this team has maximized its potential?
TONY BENNETT: They've done a terrific job. I remember when we were 2 and 3 in the ACC and had lost some tough games, I remember thinking to myself, I just want them — and I've told you this in games, just whatever that line is for them, I want them to get to it to reach their full potential. That was my desire. If that's good enough to put us into the NCAA Tournament, then great. If it's good enough to go beyond, I just want them to maximize. So at that point looking back and seeing how different guys have improved and our main guys have become more efficient and better, that part is gratifying to see that, and now you come into this game and it's another opportunity to have to be at your best, obviously, to advance.
But from that point on to where it is, yeah, I think they've done a terrific job of maximizing or getting a lot out of that potential collectively and individually.
Q. Tony, Matt Thomas was talking about how close he came to going to Virginia. Could you just talk about that process of recruiting him and also keeping an eye on him over the last few years?
TONY BENNETT: Yeah. Really wanted Matt. Being from Wisconsin and him being there, he's a terrific player, again, represented all that we try to get in student-athletes at Virginia, just the character, his competitiveness, his completeness as a player. They did a great job with him at Iowa State. I think the distance was somewhat of a factor.
But always pulled for him, hoped that he would have ended up at Virginia, but have seen him really improve, and then obviously watching film and seeing how he's become a heck of a player, I certainly respect that.
I've recruited so many good players, but he really fit what we were trying to do, and we put our best foot forward to try to get him, and weren't good enough.
Q. The phrase imposing your will gets kind of used a lot in sports, but in this game, teams with two such contrasting styles, do you think it really will boil down to that?
TONY BENNETT: Well, I think you're not going to reinvent yourself at this stage, and I told our guys, it's going to have to be our best against their best. So the ability, I think, to be at your best — they're terrific offensively. They're so efficient, how they can score, how they can stretch you with their balance, with Niang, everybody talks about that. But we're going to have to be really good at what we do, and try not to yield and of course make them earn everything and be as efficient as we can offensively, and of course they're going to try to do their thing. That's always at stake when you start the game and you just battle away, your system, your style, and there has to be some freedom to make plays, all that stuff.
But they're one of the best offensive teams I've seen for sure.
Q. I'm sure you've seen a lot of Georges Niang. What makes him so dominating, and who do you compare him with that Virginia has played this year?
TONY BENNETT: You know, he's a triple-threat player. His ability to — he'll sometimes lead the break in transition. He'll shoot the three. 39 percent, I think, in Big 12 play. Puts it on the floor. Terrific passer, driver. He's so gifted offensively, and he's good with his fakes. Real smart, real competitive. Good size, too.
We've played some really good 4 — he mostly plays the 4, sometimes the 5, but no one quite like him. He's unique. The game against Butler, a different version, No. 45, Andrew, and I don't want to get his name wrong — anybody got it for me?
Q. Chrabascz.
TONY BENNETT: He was really good. He could shoot the three, he could pass, he could spinning. Ingram for Duke, Blossomgame for Clemson, LeDay for Virginia Tech. Those are some really good 4 men that can go inside-out. He has this innate ability to find people with his passing and then create baskets from different spots on the floor, posting or putting it — shooting the three.
That obviously puts pressure on your defense, and those are challenges to us, so we're going to have to be at our best with that. But he's gifted.
Q. In talking to TJ this afternoon, he said that you were kind of his idol when he was growing up as a kid. Can you go back over your history with TJ?
TONY BENNETT: Yeah, I paid him some money to say that so it looks good — no, T.J. Otzelberger who has obviously had a big part in Iowa State's success in recruiting and getting a lot of these players, he's from Wisconsin, he used to — I'm getting old now, I'm 46, so he used to watch me when I played and followed my father's teams at Green Bay and then when he was the coach at Wisconsin and just have always stayed in touch. He was so eager to get in the business and just whether it was through a letter or conversation, seeing him, we just would communicate that way. Even when I was at Washington State, we had always stayed in touch. I've always followed his career and consider him a friend and have been so impressed with the job he's done and obviously his part with Coach Hoiberg and obviously Coach Prohm and as far as what they've built at Iowa State.
Q. There was an article posted on the Vogue website yesterday saying you were the George Clooney of the NCAA Tournament. Just wondered what you might have thought about that and what your wife might think about that.
TONY BENNETT: I heard you're the Anderson Cooper of journalism. I didn't read the article. I don't know. Someone sent me a text and was messing with me and said they're about to puke, that's what they said. It was our tennis coach actually Brian Poland, so he's always twisting the knife. But I didn't read it. I didn't read it and am not interested in reading it, really.
Q. On a related subject, Anthony gave us a list of actors who could play him in a movie. Could you talk about just what he's brought from a — London described him as outrageous and he's been described as a goofball. Does it help to have a guy like him who can lighten the mood?
TONY BENNETT: Sure. I think of the word joy in the journey with him, and he has great joy inside of his heart and just in his being, what he represents. I know he draws that a lot from just his perspective. He's a strong man of faith, and that encourages me to see that.
He's getting married real soon, but he loves life, and there's great joy, and I've seen him have some hard times, but how he responds to that, and I love that about him. That overflows to his teammates and to his coaches. I'll be honest with you, when you see people who love life like that, who have a true joy about them, who have a peach and a perspective, to me that kind of passes understanding in some ways, and I love that, and I think it's great. I've seen him be a mentor, influence our younger players, his peers, and of course we all have flaws, but that's such a powerful thing. I'm the better for getting to work with him for coaching him on the floor for three years but being with him for four years in his year he sat out. Again, we talk about Malcolm so much who represents what's right, but there's a lot of stories like that on our team and our teams, and that's the best stuff about coaching, the relationships and the influence and the impact that you see them have that maybe the outside world doesn't, and I'll cherish that regardless of how this plays out.
Q. Your second-half offensive numbers are really good. Do you like to have — if you had your choice, would you rather have your team shooting in front of the bench in the second half or defending?
TONY BENNETT: Oh, I guess it's — I think it's almost always — they're always on offense, I don't know, unless a home team changes it. But I guess that's just what I'm used to. I think there's probably advantages to both things you can communicate, and the bench is there so they get their encouragement in the first half hopefully defensively, but I don't know if I have a preference.
Q. To go back to Anthony, he sometimes tells us tall tales and stories that maybe aren't exactly true. Does he do that with you guys? Does he ever start telling you an anecdote and you have to pause and think, is he just making this up?
TONY BENNETT: Not really. I mean, he likes just to have fun and screw around a little bit, but he's respectful, too. I mean, he's not like that. And he just enjoys and doesn't take himself too seriously.
UVA Basketball Fans!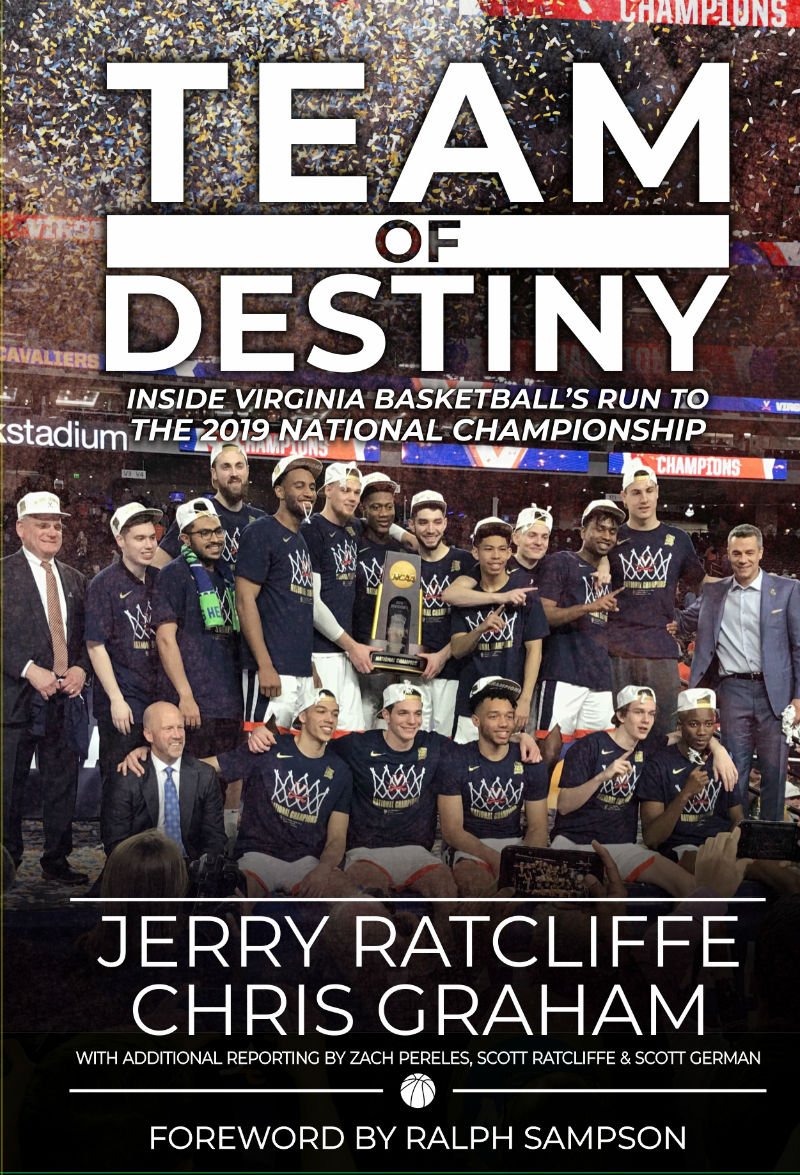 Team of Destiny: Inside Virginia Basketball's Run to the 2019 National Championship
, by Jerry Ratcliffe and Chris Graham, is available for $25. The book, with additional reporting by Zach Pereles, Scott Ratcliffe, and Scott German, will take you from the aftermath of the stunning first-round loss to UMBC in 2018 through to the thrilling overtime win over Texas Tech to win the 2019 national title, the first in school history.
Dick Vitale on Team of Destiny:
"This is a hoops story you will LOVE! Jerry and Chris capture the sensational and dramatic championship journey by Tony Bennett and his tenacious Cavalier team. UVA was Awesome Baby and so is this book!"
Ralph Sampson on Team of Destiny:
"Jerry and Chris have lived and seen it all, even before my time. I highly recommend this book to every basketball fan across the globe. This story translates to all who know defeat and how to overcome it!"
Feedback from buyers:
"Got the Book in the Mail Saturday, and could not put it down! Great read and great photography as well! Love all of the books I've received, but hands down, this is my favorite!" – Russell
Buy here.
Comments