Press Conference: UVA basketball coach Tony Bennett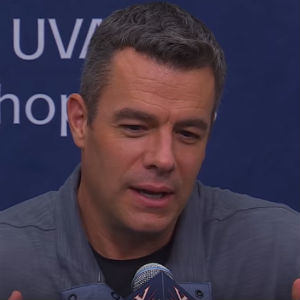 UVA basketball coach Tony Bennett talks with reporters at his first press conference of the 2017-2018 basketball season.
Bennett is 188-83 (.694) in eight seasons at Virginia, with back-to-back regular-season ACC titles in 2014-2015, an ACC Tournament championship in 2014, a Sweet 16 appearance in 2014, and an Elite Eight berth in 2016.
The Cavs were 23-12 in 2016-2017, with an 11-7 record in ACC play, and advanced to the second round of the NCAA Tournament, the fourth straight season UVA has recorded at least one win in NCAA play.
Video: Tony Bennett
Comments