Press Conference: North Carolina football coach Larry Fedora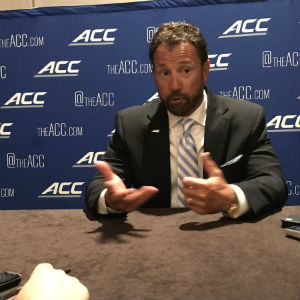 North Carolina coach Larry Fedora talks with reporters ahead of the Tar Heels' game on Saturday against UVA.
Opening statement prior to the Virginia game
"We continued to look at the film, evaluate it, try to dissect it, figure out what we need to do to continue to put these guys in a position. We are tweaking things constantly and will continue to do that. I think our defense is making progress. They've showed progress the last three weeks. They've been pretty efficient in the things that we've asked them to do, and we'll continue to hopefully get better."
On getting rid of the beard
"Just a changeup. That's it. Just a changeup."
On maintaining confidence despite frustration
"I can assure you they're all frustrated because they all want to be successful, and they're all working hard, and they're putting the time and the effort in, and they're doing the things that we ask them to do. It's more about just getting them to continue to believe in each other and continue to work hard, and they're doing those things. There's not been a situation where I've been concerned about their attitudes or their effort or any of those things. We've got some really good leadership, some guys that are making sure that the locker room is good, and we'll continue to look for ways to put them in a position to be successful so that they can have success."
On who the leaders are on the team
"M.J. [Stewart] and Donnie Miles are the two on defense that are the most vocal, but there's other guys that are underlying. It's lead, and then be a good teammate and buy into what the leadership is saying – and those guys are doing that. On offense, Cam Dillard is really the one offensively that has stepped up and is doing a lot of that."
On Chazz Surratt's dip in passing efficiency
"It's a combination of a lot of things. A lot of people give a quarterback a lot of credit, and then they give him too much blame because it's going to take the other 10 guys for him to be successful – whether you're getting pressure or whether you're not getting pressure; whether you're creating separation on routes or whether you're not creating separation on routes. So, there's a lot of things. I would say part of it is personnel. Part of it is what we're doing with him in some situations, and that goes back to personnel and how we've limited what we can do in the playbook."
On Surratt being hit a lot in recent games
"He's a guy that likes to be aggressive with the football. He likes to run. Contact is not something that he really worries about. He likes being physical. He likes that. There are times where I have to tell him that I don't need him to do those things, but I'd rather it be that way than the other way."
On Brandon Harris adapting to his role on the team
"I think he's done a tremendous job. He really has. He's been a great teammate. He's been positive. He's got a smile on his face. He comes out there and practices hard every day. You haven't seen any problems with him. I mean he really has. He's been very supportive of Chazz and the other quarterbacks, and they're all supportive of each other. He's doing a great job of leading from that position."
On what it will take for Brandon Harris to play
"It's still about putting the guys on the field that are going to give us the best opportunity to win. That's it. That's all we're concerned with right now. If Brandon continues to grow, and continues to get better, and continues to give me confidence in practice, then there's no reason why I wouldn't put him out there."
On why the first several drives of the game were not successful
"We went through it with a fine-tooth comb. If you make a little mistake here, and you get behind the chains, and then you struggle to convert on third down – and that's what it is in every one of those scenarios. We picked our tempo up when the drives that we did have some things going and we got some continuity getting that first first down, and getting things going gives those guys some confidence, and then we are able to get moving."
On problems with the run game
"The running game is going to be basically about the offensive line, but you've still got tight ends that have to block at the point of attack. You've got perimeter blocking that's very important because people are getting safeties involves in the run game, and so all of those things are important, but the majority of it's going to go on the offensive line. We've got to do a better job of playing up front. There's no doubt about it if we're going to be able to run the ball efficiently."
On overall play from the wide receivers
"I think in some scenarios they've done a really good job. There's been some times where we've been able to stretch the field and those guys have made plays for us. Then there's been times where we haven't created enough separation. So, we've got to continue to do that. We really work hard on trying to come up with ways to be able to create those things for them, and so we've got to continue to do that as a staff."
On members of the wide receiver group that have made significant progress
"You saw Josh Cabrera out there for the first time the other day. You've got Dazz Newsome, who now will be back 100 percent, that we'll get more involved. Roscoe [Johnson] – that was his most extensive playing time, and he did some nice things in the game for us. It may not have been as productive, but the things that we was doing were the things that we needed him to do."
On the decision to be aggressive on the drive that resulted in a safety
"One, we've done it before and been able to hit those, and I thought we might have that opportunity with the double move. Then it was, okay, we didn't hit it so let's go ahead and run it out and get out of here. Probably looking back on the play, the only thing we probably would have been able to do was just get under center and go quarterback sneak because we wouldn't have been able to hand the ball off if we would have blocked any play the way we blocked it there.
On his individual frustrations with the offense's struggles
"I take a lot of pride in what we do. I do get frustrated. I want our guys to be perfect, and I want to put them in a position where they can be perfect. Understanding we'll never get that, but what we're seeing right now is a whole multitude of issues that we've got to get cleaned up. The frustrating thing is we're making some of the same mistakes over and over. That is the most frustrating thing. But even though there are levels of frustration, I can't remember a time that I don't go through a season without being frustrated. It's just my nature. It's just another level. To me, if things aren't going the right way, you work even harder, if that's even possible. We're trying not to leave any stone unturned to try to give these guys another opportunity to be successful."
On if there were any positives to take away from Saturday's loss
"Oh, yeah. There were some really good things on defense. Cayson Collins played probably the best game he's played since he's been here. Myles Dorn probably played the best game of his season. We had some guys who really, really played well, and we had some really good plays. There were some offensive plays where guys did what they're supposed to do and we got good, positive yardage. It's just too much inconsistency. We gave up the one punt return for about 23 yards, which is not something we've done in a long, long time. And part of that had to do with ball placement, hang time, getting off blocks. That's something we can't allow to happen because we've been pretty solid on are special teams."
On the strides Cayson Collins has made
"Just a lot of confidence. He knows what to do so now he's just turning loose and playing. You see his natural athleticism. He's a big guy who can run, and he's really athletic and he's physical – he likes to hit. He's a good player."
On his reaction to Virginia's win over Boise State and what the Cavaliers have done this season
"Bronco (Mendenhall) has always had success everywhere he's been. They go in last year and you know it's going to be a building year for them. And now these guys understand what they're trying to do on offense and defense. I think where they are right now, I think they're playing with a lot of confidence. There's no doubt they're playing well, they feel good about where they're at and they're going to come in here and I'm sure they can smell some blood in the water and they're going to play really hard and get after us."
On what makes Virginia's defense effective
"They're multi-, multi-, as far as their defensive fronts. They get into just about every front you can. Some of it is a little bit different, so your guys have to be able to recognize those things. They do the same thing on the back end. Their safeties are going to be heavily involved. They're not afraid to play man coverage or Cover-1 or Cover-0. So it's a little bit different in the way you have to approach it and the way you see it. They've given everybody they play problems with it."
On his level of satisfaction with the play calling and his involvement with it
"I have been and will be even more so. Not necessarily in the words coming out of my mouth going to the signal guy. But I'll be much more involved in when we are in between series and those kinds of things and what I would like to try to do. I don't know that will be the answer, but it's something I feel like where I can help the most. So that's where I'm going to be."
On if he's already started doing that
"I've just started into it, but we'll be going more as we go forward."
On not weighing in too heavily earlier in the season
"I'm not saying I'm taking over the offense. I'm not saying that at all. I'm just going to be more involved in what we do."
On the process of relaying the plays to the signal caller
"In between the series, before we go out and the offense is on the sideline, we're basically talking about what we want to go with on the next series so all of the coaches can talk it over with the players so they have an idea of what's going on. Those are normal down-and distance calls. Third down and short, we're going to go to our third-and-short (calls), what we have planned for the game. But any normal down-and-distance calls, we give about three or four plays where we're like, 'Hey, this is the way we want to start this series.' From there, they talk it over, we get into the series and (Keith Heckendorf) is making the call to the signal guy, the signal guy is signaling. That's all there really is to it."
On the challenge of contending each year
"The thing is there's never a time when you can relax and say you've arrived. You're constantly dealing with issues all of the time. There's a lot of variables involved, and you've got to stay on top of every single one of them all of the time to be able to play at a certain level. Right now, for whatever reason, we're not playing at that level. I've said before that's my job to figure that out and put us in the best position possible."
On how realistic that is given the team's injury situation
"The only thing I look at is how we perform on Saturdays. It's not what's realistic and what's not realistic. One of the excuses that we can't do it. It's how do we get it done. We've got to find a way to get it done. The focus is just on this week. Actually, the focus will be on tomorrow, just having the best Tuesday we can possibly have and then the best Wednesday. I know people don't want to hear that. But really, that's the only way to get out of this is to focus one day at a time and try to be better than we were the day before. And then when we get to Saturday, pour it all into Saturday and take it out then."
On the growth of younger players
"Every rep they get is a learning experience that's going to pay off for them, and they'll get better as they go. We've just got to get better now. That's the problem. There's no patience involved. We've got to get better now, you've got to play good now, you've got to do your job now."
Comments