Press Conference: Michigan State after upset win over UVA in NCAA Tournament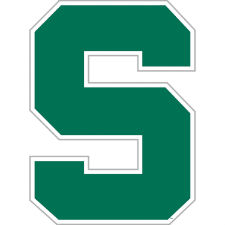 Michigan State coach Tom Izzo and players Branden Dawson, Travis Trice and Denzel Valentine talk with reporters after the Spartans' upset win over UVA in the 2015 NCAA Tournament.
COACH IZZO: I can't tell you how proud and excited I am for these guys. Especially the seniors, juniors, the guys that have been through a lot. I'm not sure of all the great teams we've had, I've ever had one in a day that change what we do on a game plan and execute it as well as they did. I'm just proud of them, excited for them and looking forward to moving on.
MODERATOR: Raise your hand, please.
Q. This is for Trav and Branden. Early on you scored 13 quick and, Branden, you were big at the start of the second half. As two seniors, was part of that, did you guys talk about not wanting this to be your last game and, I don't know, I guess coming out big and carrying the game early?
TRAVIS TRICE: It's funny that you say that. Draymond Green actually this morning said don't let this be your last game and I texted him back and said, I won't. But that was our mindset coming in. We knew they were a great team, we had to jump out on them early.
BRANDEN DAWSON: Coming to the locker room after the first half, we just kept telling each other that we definitely want to practice tomorrow and coming to this game, myself and Travis and Denzel, but being that Travis and I are seniors, we just kept telling each other hey, we definitely don't want this to be our last game, so we kept playing hard and we just kept playing with passion.
Q. For either Branden or Denzel, when you look at what Travis has done from where he was last year to this year scoring 23 points in a game like this, is it hard to believe how far he's come?
DENZEL VALENTINE: No, not really, he's always had that capability. We just had basically a three year starter in Keith Appling playing in front of him, so Travis was always ready but it's his senior year and this is his time to shine. He always just stayed humble his three years and always calm and he just kept working and now he's shown what he can do.
BRANDEN DAWSON: Just playing with Travis since AAU basketball, those shots that Travis made throughout the Big Ten tournament and shots he made in the regular season, a few of the shots he made in today's game just shows Travis is a bigtime player. He's been in moments like this plenty of times and the shot he made, I think, late, I knew it was going in for a fact. That's just what type of player he is. Big-time players make big-time plays, that's what Travis did.
Q. Follow-up with Travis. Denzel said it, you waited your turn. How hard was that to wait until your senior year and did you ever have doubts?
TRAVIS TRICE: To be honest with you, there were a lot of things that played into it. If you look early on I had a lot of injuries. I mean, I lost out on two summers and that's really when you improve so I think that played a major key into it. At the same time I've always had great players around me and all I care about is winning, whether that's playing a lot, scoring a lot, not even playing at all, that's all I care about.
Q. Question about Branden for you. Matt Costello said right before the game, usually through the huddle when you guys are jumping around, and he jumped in and kind of took over and Tony Bennett said they just couldn't match his energy. Can you talk a little bit about Branden gave you today and how he changed the game defensively early on there?
DENZEL VALENTINE: Yeah, funny you said that, because we're usually jumping around in our huddle or whatever, I'm usually the one that takes it over and is encouraging guys. B.J. just took it over for some reason so I was like oh, he ready to play. So when he did that, I knew he was ready to play. B.J., he just came out like a monster and he did what he's supposed to do. At half-time, I stayed in his ear. I knew if I couldn't be in the game, I had to stay in his ear. I just kept encouraging B.J. and he pulled through.
Q. Travis, what was going through your mind the first five minutes when you went on your hot streak? And then later, there was a transition opportunity when Branden ran the floor. Costello went first, and Branden came fast. What did you see in Branden on that one? How key was that play and what did you see from Branden as that was developing?
TRAVIS TRICE: It's funny, I actually caught the ball around half court and once I got it, all I hear it B.J. yelling my name Trav, Trav. And he just separates and goes down and finishes, gets the and-one, and I think that was one of the major plays of the game because that changed the momentum, honestly. It really got him going, too. So after that we were just rolling with him.
Q. Travis, did you ever kind of just feel snakebit considering the injuries you went through, at one point even your blisters had a blister in it?
TRAVIS TRICE: I haven't had any surgeries but I've probably had every injury in the book that would make you shake your head. I just think everything happens for a reason. I just thank God for literally just bringing me through it. It's made me a better person, honestly, just all the things I've been through.
Q. Travis, you just talked about your start, the first five and a half minutes scoring 13 out of your team's 15 points to give you an 11 point lead, how that felt and what you were thinking, starting the game?
TRAVIS TRICE: To be honest with you, it started off, my teammates did a great job of getting me open looks. I think B.J. or Zel threw me a breakout. I got a dunk and then I got a layup from one of the two, and then Denzel hit me with a great pass on the 3. I have to give my teammates credit for that because they did a great job of finding me early on.
Q. It's really a question for all three of you guys. Coach Izzo said that he asked you in a day to change something significant about the team's personality, and I'm sure he'll eventually tell us what that is. But when he comes to you and says to you we're going to do this thing that's totally different, give us a little bit of insight into how you digest the fact that the coach is asking you to be totally different.
DENZEL VALENTINE: Well, at this point in the season we're playing teams that we're not familiar with. So if we got to do something that's uncharacteristic of us, then we just have to do it and we've got to trust in the coaches that they're being right. Obviously they were right because our defensive concepts, it worked today. Our coaches do a great job of preparing us for this.
BRANDEN DAWSON: Yeah, just what Denzel said, we've been playing in this tournament we've been playing teams that we're not familiar with, so you have to follow the Coach's game plan and that's what we've been doing. Our coaching staff, our managers, they do a great job of getting us prepared, but when you have trust in Coach and the things that he tell us to do, then that's when things fall into place. Like for instance, Coach told me during this game that I can't go for any steals, I can't gamble, and I didn't go for any steals. So, Coach, I listened to you.
COACH IZZO: (Claps hands.)
TRAVIS TRICE: I think you've just got to give our coaching staff a great hand. Not only coaches, but our assistant coaches. They're staying up until late hours of the night preparing us for our game. I think it just speaks to how great that really are. They literally told us a totally different game plan from some of the things we've been taught for four years honestly and for them to be able to display that to us and for us to pick it up, I just think it shows how great of coaches they are.
Q. Travis, you mentioned your teammates getting you those open looks earlier, but it seemed like you had a very aggressive mindset. Did you see that as a chance to seize control of the game and once you had that lead, does that change the complexion from there on out just because of the type of game that it was?
TRAVIS TRICE: Yeah, I think of the way Virginia plays, they're a team where if it's a slowdown game, the momentum's in their hands just because of the way they play. Early on our thing was attack from the getgo, not just myself; everybody. We need to try and attack, get a lead and it gives us kind of a cushion. At the same time, you have to give Virginia a lot of credit, and most of that was because of the way they play.
Q. You guys are probably one of the most dangerous teams within this bracket and you're a 7 seed. Do you feel that there's less pressure as a 7 seed? Is there an us against the world type of mentality that you enter this tournament with?
BRANDEN DAWSON: Well, just throughout the season, we definitely had an up and down season. We had some losses that in my mind we shouldn't have. Coming to this tournament we just told each other, hey, we see the Coach's game plan, we all play together, we bring in passion. We trust one other then that the sky's the limit for us, I think coming to this tournament being a 7 seed it's definitely us against the world type of mentality for all of us. We keep playing the way we're playing, we'll definitely make a good run.
Q. Travis, defense obviously is something people were talking about all week, a lot of it was with Virginia. Can you talk about, I guess, what the challenge is when your program is built on that and hearing people talking about other programs' defense and does that raise your game to become a better stopping team on defense?
TRAVIS TRICE: To be honest with you, all, we've tried to improve defensively and honestly we're going up against one of the better teams statistically in the country against Virginia. But we don't try and get caught up in that. If you think about that, there's a hundred other mind games you could be playing with. Our thing is just concentrating on winning the game, listening to our coaches and doing what we need to do to win.
MODERATOR: Questions for Coach Izzo?
Q. So, Tom, fill us in. What was the major personality change?
COACH IZZO: Well, it really wasn't a personality, it was just the concepts. Usually we're a team that our guards, we call it jump to the ball, we're always giving help, we play kind of like they do, a little pack man defense. But because they run these flare screens and they're so good at it. This is a hard team to prepare for and a very well-coached team. A couple guys didn't have as good of games but because they flare those guards, we couldn't get caught up in that. So we used our bigs in the middle and we just kind of changed what we do and we did it in a day and a half. We did some things against Wisconsin where we changed how we played. Some guys are just concept guys that do the same thing and I respect that because we're just not quite as talented as we've normally been, so we're always cheating and trying to find a way to get an edge. Give my staff a lot of credit, they sat down and did it. But to have a team do that in one night change or two nights, kind of the things, like Branden and Trav have done the same thing for four years. It was interesting because we put Branden on the perimeter at the 3 because we were running out of bodies there in the first half. He jumped to the ball and he held like we normally do and they flared him and got a bucket and he kind of said, oh, it's different when I'm playing the three than the four. It was just something we did tactically and my assistants talked about it, we went with it, we implemented it, and boy, the credit goes to coaches can tell you what to do, but to do it when muscle memory tells you to do it a different way, that's where I think we all talked about, in factor, Earvin talked about it when he talked to them. At this time of year your focus has to be incredible and that was incredible focus if you ask me.
Q. You said yesterday that you've learned over the years you've got to look at the whole weekend, you can't just look at the first game. When did you see this in Virginia, when did you guys come up with this, was this earlier in the week, was this after watching them play Friday, how did it work?
COACH IZZO: I didn't go that far, we're not that good a team. We couldn't go in thinking — I watched some film on Virginia early, but I also know what we did last year and that probably helped us a little bit, too, I did forget to say that. We did similar things last year, but last year we didn't have to cheat as much because Harris and Appling were two of the best guards defensively in the country. We kind of talked about it on Tuesday, if we play them, here are some things we can look at, put it down, had our video guys pull some clips of when we played them, pull some clips of what we were trying to get across. And the minute we got back from the game, we gave them a half hour, we talked about it and we went with it.
Q. Tom, a couple of the guys said that you brought up the Wisconsin game down the stretch to them. What did you tell them and what did you see differently in this game from those guys versus last week?
COACH IZZO: Well, like I said, I've always been a guy that if there's an elephant in the room, I'm going to address it. You know, I made no bones about it. We didn't finish the job against Wisconsin, and so all I want them to do is learn from it, you know, because it wasn't a couple of plays; it was a couple of defensive lapses, it was not cutting out. So those are the things we emphasize, and that's the advantage of playing in championship-level games, because they hurt a little more, you remember them a little bit more and I think our guys, I might have said it once or twice, but they said it more. And don't forget, we didn't do this, we didn't do that. That's pretty cool when that happens.
Q. Coach, you talked a little about your team not being quite as talented this season. Do you consider them now overachieving or do you feel that they're sort of maximizing the potential that they've — that you've seen in them all season?
COACH IZZO: Well, that's not a cut to us. It is just that we're missing a few players that we started the year with. In all honesty, we're not as talented, but that happens to a lot of teams. I did say this is one of the more together teams we've had ever, ever. I mean, something funny happened the other night after the game. We watched a little film like we do and we give them a meal and we send them up and we do some stuff and we bring them back down. After the meal they just sat there and laughed and talked. Usually we had guys that would run up and grab their phones and text their girlfriends and call it a week. These guys just enjoy being around each other. I think that's the makeup of a team. And I give credit to our seniors and our junior. These three guys did that. Branden's an unbelievable teammate, sometimes too good of a teammate, got to get a little more selfish. And Trav and Zel are just special. I get a lot of credit from our football coach when he says you know, I look across, you've taught us how to win championships. The last couple years he's taught me that our seniors have to be good down the stretch and that's what he preaches to his team and it's been good for me and my team.
Q. Along those lines, when Branden had a marvelous game against Virginia last year, but he had Adreian Payne in the game, and there were other things. Can you talk about his performance in this setting today about with your roster as is it?
COACH IZZO: You know, that breakaway, I told him after in front of everybody that I'm really mad at him because that's what I think he has to give. To me, that was an unbelievable play, I would like to know what that 40 speed was. He looked like Secretariat, he just put in another gear. When he called Trav, he was 10 feet behind I was right in line, and when Trav threw it, I said what was he doing, and it was one step. Branden has got some special skills that he doesn't even know he has sometimes. But he is getting better and we shouldn't punish him because it's taken a little longer. Like Trav, I think he would have been a different player if he didn't miss two summers. And we had Branden miss two summers, and that's more difficult than people think. Just like Anderson, he's not the same player he was. That kid in the middle of January, I think, was one of the best players I saw play. Injuries are more difficult than people think to get over.
Q. Forgive me if you've answered this already, 5 point game with just under three minutes left, they've been fouling you, you hadn't taken many field goal attempts. Trice waves off the screener and hits a 3. Talk about that play.
COACH IZZO: Good coaching. I told him to do it. No, I didn't. You know, that's what you say, you rely on your seniors. They're a hard team to get around because we're trying to ball screen it, they trap that, jump it, so we started telling Trav just take them one-on-one and I wasn't expecting them to pull up from that distance. It's one of those oh, no, nice shot type things. But he's made a lot of those through his whole career, he's made a lot of those through high school. I've just got to run with him because the kid's an incredible kid and I'm just happy that he made it.
Q. I think that's 13 Sweet 16s for you now. You just beat a team that was 30-3 and it's Round of 32. Did that seem almost more like a regional final and what does that do for your team just getting started in a tournament to come through a war like that, if you had that type of experience in a third-round game?
COACH IZZO: I think people asked me yesterday about the chip on your shoulder because we beat them last year but these guys lost about as much as you could lose last year if you have 16 years or 18 years straight of a senior class going to a Final Four. And I know that record was meant to be broken, nobody's done that throughout their career, so it wasn't — I mean, it wasn't the record that was earth shattering to me but it was to them that they were part of the group that didn't so I think these guys had a lot more to play for than people give them credit. And to watch them and listen to our former guys, like they said today, I think that's a driving force you should have. I can't tell you how good I think Virginia is. I do not think they played well today for Virginia. I guess we get a little credit for that, but it's just one of those days some guys miss some shots, it happens. It's happened to us. But we've been a team all year that has banged around, probably lost more games than we should have just because of the free throw situation or dumb coaching with two, three seconds left to go in the game and people hitting 3s and tying it. But I think we've had to earn every single thing we've gotten because every game's been like that. So I think they felt comfortable in a game because that's the way not their whole tournament has gone or the Big Ten tournament, their whole season has gone that way. I'm just, I'm really proud of this team. I don't use that word lightly when I speak and I am.
Q. You look at Travis' development from last year to this year, you said he missed a few summers. Was there anything else that's led to what he's been able to do as a senior?
COACH IZZO: You know, I honestly believe the summer he's talking about, I mean, I think it was his first — you've got to realize he's 6-1 and a buck 50 when he started. He got up to about 172 or 3 and then that summer he got really sick. It was a virus of some kind, they didn't know. I was worried about his life for a while and it totaled him for the whole summer and he went down I think to 148 pounds. Then the next summer he had a couple injuries, too. He had a concussion. When you miss that much time, you can't get stronger, either. So this summer, if you looked at the spring, summer and fall, he had the best summer ever and I think I wore him down a little bit by the middle of December because we just played him to death at the point and guarding the best player, and we had some injuries then when we didn't have any subs in the perimeter and he went through a little bit of a tough time when I made the lineup change. I think it helped him because Tum took some of that pressure off of him and it let him be a scorer and now he can do both. I can't say enough about the job he's done but he has done it the old fashioned way, he's earned it. He's a gym rat, his dad's a coach, his mother was an athlete. Great family. When I didn't start him, I called his dad and he said yeah, I didn't start some guys on my team, either. Everybody gets it. When he says winning is the most important, winning is the most important.
UVA Basketball Fans!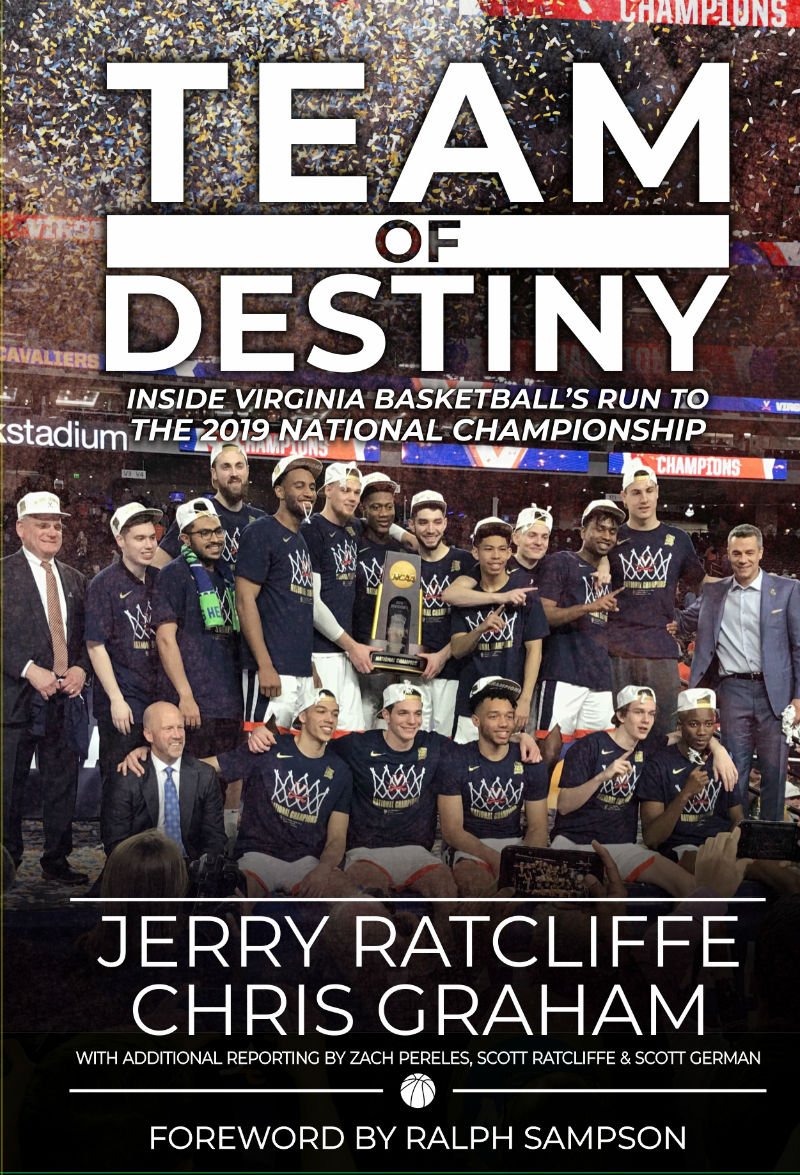 Team of Destiny: Inside Virginia Basketball's Run to the 2019 National Championship
, by Jerry Ratcliffe and Chris Graham, is available for $25. The book, with additional reporting by Zach Pereles, Scott Ratcliffe, and Scott German, will take you from the aftermath of the stunning first-round loss to UMBC in 2018 through to the thrilling overtime win over Texas Tech to win the 2019 national title, the first in school history.
Dick Vitale on Team of Destiny:
"This is a hoops story you will LOVE! Jerry and Chris capture the sensational and dramatic championship journey by Tony Bennett and his tenacious Cavalier team. UVA was Awesome Baby and so is this book!"
Ralph Sampson on Team of Destiny:
"Jerry and Chris have lived and seen it all, even before my time. I highly recommend this book to every basketball fan across the globe. This story translates to all who know defeat and how to overcome it!"
Feedback from buyers:
"Got the Book in the Mail Saturday, and could not put it down! Great read and great photography as well! Love all of the books I've received, but hands down, this is my favorite!" – Russell
Buy here.
Comments