Potomac offense silent in 5-0 shutout to Salem
In a repeat of the previous two nights, the Salem Red Sox (54-37, 14-8) shut out the Potomac Nationals (39-51, 6-14). After a 6-0 shutout Wednesday night, and a 4-0 shutout Thursday night, the Red Sox split the difference in a 5-0 victory over Potomac Friday evening. The Red Sox scored all five runs with one out in the sixth inning, the only half frame that either side scored in. The third straight shutout loss ran Potomac's offensive scoreless drought to 31 innings.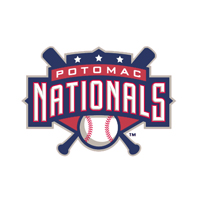 Both sides got dominant starting efforts through the first 5.5 innings. LHP Dedgar Jimenez (W, 10-3) allowed just three baserunners over seven-shutout frames in route to his league-leading 10th victory. For Potomac, LHP Grant Borne (L, 4-4) stranded a man at third base in three of the first four innings, but Salem finally broke through in the sixth.
Over the first 5.5 innings, Potomac sent just two over the minimum to the plate. CF Victor Robles led off the game with a single, but was left at second base. SS David Masters led off the fifth frame with a single but was erased on a double play. Robles drew a walk with two outs in the sixth inning, but was once again stranded at second base. Potomac finished the night 0-4 with RISP and is 1-21 with RISP over the first three games of the series.
The Red Sox finally gave Jimenez something to work with in the fifth inning, as they sent eight men to the plate. RF Chris Madera led off the inning with a ground ball to 3B Bryan Mejia, whose throw pulled 1B Ian Sagdaloff the bag. The error appeared to jumpstart the Salem offense. After a sacrifice bunt, C Austin Rei made it 1-0 with an RBI double, which proved to be the game-winning hit. Potomac intentionally walked 3B Jose Sermo, while CF Tate Matheny loaded the bases with a single to left field. With only one out, DH Tyler Spoon lined a triple into right field, which plated three runs, and a throwing error by 2B Austin Davidson on the relay to third base allowed Spoon to score and made it 5-0. Four of the five runs were earned.
Potomac's bullpen finished the game with 2.2 innings of perfect relief. RHP Kyle Schepel got a double play to get out of the sixth inning and then worked a perfect seventh frame. In the eighth, RHP Gilberto Mendez struck out two in a perfect inning.
Running with a season-high five-game losing streak, the P-Nats are seven games out of a playoff spot. To avoid the sweep, Potomac is set to turn to RHP Austen Williams (0-1, 0.00). Williams gave up an unearned run in his 2017 Potomac debut, a loss to Wilmington on Monday. For the Red Sox, All-Star LHP Matt Kent (6-3, 3.99) will make his second start of the year vs. Potomac. Kent surrendered five runs in five innings in a loss to Potomac in April.
First pitch is set for 6:05pm Saturday night. The Potomac broadcast will get underway at 5:50pm with the P-Nats Leadoff Show. You can listen to the Potomac broadcast at potomacnationals.com or on the TuneIn Radio App.
Comments