Potomac ends scoreless drought with 3-2 win
After three consecutive shutout losses, the Potomac Nationals (40-51, 7-14) scored four batters into the series finale Saturday night. A run in the first inning snapped a 31-inning scoreless drought, while what looked like an insurance run in the top of the ninth inning proved to be the difference in Potomac's 3-2 win over the Salem Red Sox (54-38, 14-9).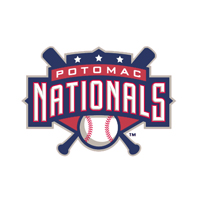 For the second straight night, CF Victor Robles led off the game with a single. DH Jack Sundberg followed with a bunt base hit. After the Salem middle infielders failed to turn a double play on a groundout by 2B Austin Davidson, they failed to do so again on a groundout by 3B Ian Sagdal. On Sagdal's groundout, Robles scored, which was the first run for Potomac in more than 31 innings.
In the second inning, LF Dale Carey tallied a one-out double off of LHP Matt Kent (L, 6-4). After Kent retired 1B Matt Page, RF Rhett Wiseman laced a two-out RBI single into centerfield, which made it 2-0.
A two-run advantage was more than enough for RHP Austen Williams (W, 1-1), who didn't allow an earned run for the second straight start. After joining the P-Nats following 10 starts for Double-A Harrisburg, Williams has allowed just one unearned run over nine innings in two starts. Williams allowed just two hits and struck out seven over five-shutout frames.
The score stayed at 2-0 in favor of Potomac until the ninth inning. RHP Adam Lau entered from the Salem bullpen to begin the inning and gave up a one-out single to Carey. After Page took a called third strike, Wiseman tallied his second two-out RBI to centerfield, which made it 3-0 and proved to be the game-winning hit.
After five innings from Williams, RHP Nolan Sanburn (SV, 1) entered for Potomac and pitched through the end of the matchup. Sanburn kept the Red Sox off the scoreboard until the ninth inning. C Austin Rei drew a walk with two outs, while DH Tyler Spoon followed with a two-run home run on a 1-2 pitch. The home run pulled Salem within one run, but 3B Jordan Betts immediately fouled out to first base to end the game.
After snapping their season-high five-game losing streak, the P-Nats will head to Wilmington, DE and begin a three-game series with the Blue Rocks. Sunday afternoon, Potomac LHP Taylor Guilbeau (2-2, 4.12) will try to record Potomac's second consecutive victory. The left-handed starter has recorded a quality start in three of his last four outings, though picked up a loss last time out vs. the Blue Rocks. For Wilmington, RHP A.J. Puckett (8-7, 4.18) will make his sixth start of the season vs. the P-Nats. The righty picked up a victory in his last start vs. Potomac, when he gave up three runs over five innings.
First pitch is set for 4:05pm Sunday night. The Potomac broadcast will get underway at 3:50pm with the P-Nats Leadoff Show. You can listen to the Potomac broadcast at potomacnationals.com or on the TuneIn Radio App.
Comments