Postgame: Virginia coach Tony Bennett, UVA players on win at Pitt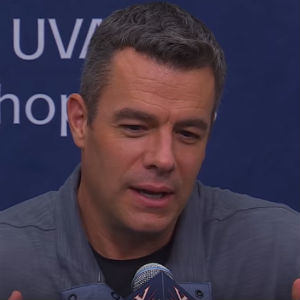 Tony Bennett, the head coach at #1 Virginia, and UVA players Isaiah Wilkins, Nigel Johnson and Devon Hall talk with reporters after the Cavs' 66-37 win at Pitt on Saturday.
Coach Tony Bennett
Opening Statement: "It's really sad [referring to college basketball], and it's so hard to know what's true and what's not, and I think ultimately from this – I'm hopeful that the truth will come out and in the long run it will be better for college basketball. Virginia's name was mentioned in something, and it had nothing to do with recruiting. It was something with Malcom Brogdon's mother, who I've known for eight years, and she has maybe the most integrity and is one of the kindest lady's that I know. She made a statement, and this is a non-story. I absolutely believe her and I just want to make it clear that that's it on that. We're trying to get this thing going, and keep going. It's a special day for us to win our outright ACC Championship. But, I do want to acknowledge this. It's so hard to know what's going on, and what's actually true and not. I think it's wise to not make too many comments or go into detail, but I hope in the long run the truth does come out. College basketball will be in a stronger place eventually, and it has to. So, with that, I think we'll leave it at that and move on to questions about the game or our players or anything else."
On holding Pitt to seven first half points: "I've been on the other side of that, [scoring] maybe nine or 10 or 12 [points]. That's a hard feeling. I have the utmost respect for Kevin Stallings. I think he has such a bright mind and he's such a great coach. I've coached against him when he was at Vanderbilt and he's so good. [Pitt] is so young and they've had some things happen. So, I certainly feel compassion. But, you're in the heat of the game and we were trying to be as focused as we can. They actually missed some [good] shots. When I saw [the box score] I was surprised that they had only one field goal made in that first half. They just missed some point-blank ones, and I think their inexperience and youth showed up, and for the most part we were in [defensive] position. I thought we tried to play it the right way. I thought our guys responded the right way and respected them, and respected the game."
On if anything changes moving forward with the ACC regular-season title already won: "Not at all. We've got to keep playing to the best of our abilities. We're going to try to improve, try to prepare the right way and play to win. We cannot get more complicated than that. We got the one seed last game and I said 'You're not starting over – let's push, let's be as good as we can and try to compete.' But, I'm very excited for the guys that have been in this program to win an outright title, that's no small feat."
Forward Isaiah Wilkins
On how it feels to outright clinch the ACC: "It's exciting. It was something that we knew about coming into this game, so it was exciting. It is a good feeling, but there is still a lot of basketball to be played.
On being able to play deep into the bench today: "It was a good feeling. It's obviously good for your body, and it's good for those guys to get out there and get some experience."
On holding Pitt to one field goal in the first half: "I think that they had shots and they just missed them. So, we have a lot of cleanup there."
Guard Nigel Johnson
On being part of an ACC regular season title team after transferring from Rutgers: "I knew that I was coming to a team that was going to be good and had the tradition of winning. I didn't even know it was going to be this good. We shattered my expectations. I expected to be somewhere in the top 4 or 5 in the ACC, but to be outright champs and No. 1 in the country – I didn't even expect that."
On holding Pitt to seven points in the first half: "At halftime, we didn't talk too much about it. We were just talking more about staying with it and to continue to do what we do. It was crazy. To hold a team to one field goal in a half and seven points just speaks volumes of our defense. That is what we do every day in practice. It showed today."
On being unbeaten in conference play: "It means a lot. At this level, road wins are hard to come by. When you can go undefeated at home and protect your home court – it's a recipe for a championship."
Guard Devon Hall 
On his reaction to finding out they held Pitt to one field goal at half: "I think Coach [Tony] Bennet said something about it, but it kind of went in one ear and out the other. I was just trying to keep the mentality of staying focused."