Postgame: UVA coach Tony Bennett, players after win over Boston College
UVA coach Tony Bennett
On ending of the game:
"First, let me say this. Coach Jim Christian has done a great job. After they [Boston College] beat Duke, I heard them say we believe we have one of the best backcourts in the country and I think those players, Jerome Robinson, Jordan Chatman, who doesn't miss, and Ky Bowman were terrific. But, what a special individual offensive game by Ty Jerome. I want to start by saying that. The explanation given to me was an incidental start of the clock by an official. I think they started it, before Isaiah [Wilkins] tapped it. So, the clock started before anyone touched the ball so they have to go back to the original point of entry. Then it was their ball with 3.1 seconds. That was tough, but our guys did a good job defending two out of bounds plays and mind you, we had given up a little bucket earlier in the game on their out of bounds so you just have to work hard. But this is conference play and we fought for it. Hard to guard for sure, but we made enough plays and, again, Ty's offensive performance carried us."
On sophomore guard Ty Jerome's performance:
"He has played well the last few games. He did a solid job. He can play. I hope he's getting healthier, he looked like he is. He's been battling some stuff but coming back. And he just works, just like Devon Hall works, just like Kyle Guy works, just like all these guys do. He sensed what we needed and he made the big shots. We had plenty of opportunities, missed some close-up ones and then they hit some tough shots and made it a one possession game. He sometimes takes those long shots and some people are like 'oh' but they were going in today and we needed it. He sensed it. One of his greatest attributes is his feel and mind for the game and I think he just knew it. They were switching their off-ball screen off the four and we were getting in there but we were having trouble finishing some of our drives. Devon wasn't himself today obviously. I think Kyle was not shooting it quite as well, although he was 3-of-6, but I think Ty just sensed that he had to take it over in some ways.  But I don't think that he forced any shots. I actually think that he should have had a couple more layups, he dropped a couple of passes right in front of the rim."
On defense in the final minutes:
"The first inbound play, Davidson actually runs something like it, and we did a good job with it, we were good on the ball. And the second one, I think they were looking for something up at the top and then it was a fake handoff and keep and they got the guy on the offensive foul. And he missed the shot. I thought maybe we would have to play a third time, to see if three times was the charm. But they were very different, one was look for the lob and it was a good one. I just said to our guys, we have to win it with our defense. Sometimes when you get in those spots, should we switch everything, should we do things that we do sometimes work on, but our guys said, lets win it how we are going to win it, the way we always play. They did the job. And Isaiah came out of nowhere and made that block fortunately. I wish he would have blocked it and launched it so it went out and had three seconds left. Fourteen rebounds for Isaiah too, impressive."
On defensive performance:
"Devon didn't have a great stat line offensively but he guarded Bowman hard. And then we put Devon on Robinson and Robinson made a tough shot with Devon draped all over him. It is not like we can say, let's go run at someone and double. You can't because they have so many weapons, but I thought that Ky Bowman had to work for everything he got, and that's the best you can do with players like that. A couple of times they got to the rim but, for the most part, they worked and we kept saying, make them chase us and see who is the last man standing."
On contributions of senior forward Isaiah Wilkins:
"He gives you everything he has. He almost made, a three at the end, and that was in and out. He had a career-high 14 boards. He made some nice post moves. I remember when we played Rhode Island and they did the same thing, they switched, and when we did get it in to Isaiah, he made a couple of nice post moves. I think he has to continue to be assertive and look for a perimeter shot or a post move but like Ty, like Isaiah, you have to trust guys' instincts and not over coach them. [After the Hampton game], my comment was, let's hook our wagons to that young man and his effort and his willingness to do whatever it takes. And again, there's another example of that. All of our guys work hard but he has something innate or something inside of him that just, the way his mind works, he's a great anticipator. And that is what great defenders are, they don't react, they anticipate. And he is so continuous. Those are the hardest things to teach young guys coming in from high school, can you anticipate defensively and can you be continuous, and he has both of them at the highest level."
Guard Kyle Guy
On Ty Jerome's performance and whether it was surprising:
"He's said it a million times in press conferences that his confidence never wavers. He plays very, very well in practice and very confidently, so it's not a new sight for us by any means."
On Ty Jerome's volume of shots and whether they have to convince him to shoot more:
"Sometimes. He tries to be a little passive, but when you're feeling it, you're not going to ask them to do that, so he is just going to do it himself, and he did that." 
On Isaiah Wilkins' final block:
"I did not think he was going to get there. I was nervous because if he did not block it, I was boxing out the center and that was not going to go well." 
On defending the Boston College guards:
"All their guards can play and shoot the ball and get downhill but, like Isaiah [Wilkins] said, when I am in the gap and I help over, they are already driving down the lane when they catch the ball. Our gaps had to be really good. For the most part we did good. [Jerome Robinson] hit a lot of tough shots."
On the difference between nonconference and ACC games:
"I think we had a good non-conference schedule. Played against some good teams, some tournament-caliber teams. There is nothing like the ACC. It was good to get out there and get a win in our first ACC game."
On getting to the rim and breaking down the Boston College defense off the dribble:
"I felt like I got the lane pretty easily today. I was trying to kick it out to Ty [Jerome] and Nigel [Johnson] a couple of times. I'm just trying to take what the defense gives me. I do not really believe in slumps, but I did not shoot it particularly well so I just tried to do other things."
Forward Isaiah Wilkins 
On the emotional swing of having to defend the inbounds play twice at the end of the game:
"That is what we were talking about in the huddle, so it was not a huge surprise because Coach Bennett told us that it was going to happen. We play defense and we play defense again. It is what it is."
On his career-high 14 rebounds:
"I was tired. I was trying to steal as many rebounds as I could. Kyle [Guy] or Ty [Jerome] stole a rebound from me at the beginning of the game, so I was like, 'I am stealing everyone else's.'"
On his block shot late in the game:
"I just went after the ball. I was trying to keep it inbounds, so the game would be over. We have lost like that too many times, I was just trying to block it."
On Boston College driving downhill and the difficulty guarding their players and anticipating on defense:
"When they catch the ball, they are sprinting downhill, which is different than a lot of teams. Once they get there, the guards do a good job of staying in front of them when they can. I tell them run through a little bit or move out of my way so I can go block it and time it up. It was working for me today."
On his missed three-point attempt:
"I had envisioned that on the bench in the timeout. I was thinking I was going to get the ball in the corner."
Center Jack Salt
On the trouble rebounding against a quicker team:
"We had an adjustment on our high ball-screen stuff where I was not going back to my man, but they are really fast coming off of those screens with a full head of steam. So, I was just trying to bounce it out a little bit and then run back to the four-man."
On the importance of the low-post scoring:
"Yeah, it is always important when me and Isaiah can score a little bit because we are definitely a guard-oriented scoring team. So, it always good when we can help contribute to the score."
Guard Ty Jerome
On if his improved shooting has been a relief compared to early season struggles:
"I keep getting this question and I keep answering it the same way: my confidence never wavers, so it is not really a relief. I expect it to fall. I am going to keep being aggressive no matter what."
On the impact of his meeting with Head Coach Tony Bennett following the WVU loss:
"Yeah, I remember after the West Virginia game he sat down with me and, besides, I think, two turnovers at the end of the game and picking up my third foul, he said I did a good job in that game, and even [Isaiah Wilkins] says I need to stay out of foul trouble. It is always good when I am on the same page as a coach like that, and he does a great job communicating with his players."
On the importance of celebrating success within the team:
"That is huge. You can't do it without good teammates. That is one thing that I think we have, and that is what makes us special; that is what makes this team a special team on and off the court. There is no jealously here. Whether it is with Kyle [Guy], if it is [Devon Hall], if it is Nigel [Johnson], if it is myself, Isaiah [Wilkins], down the line, or DeAndre [Hunter], or whoever it is, we are all happy for them. There is no jealousy at all. That is what makes this such a fun team to be a part of."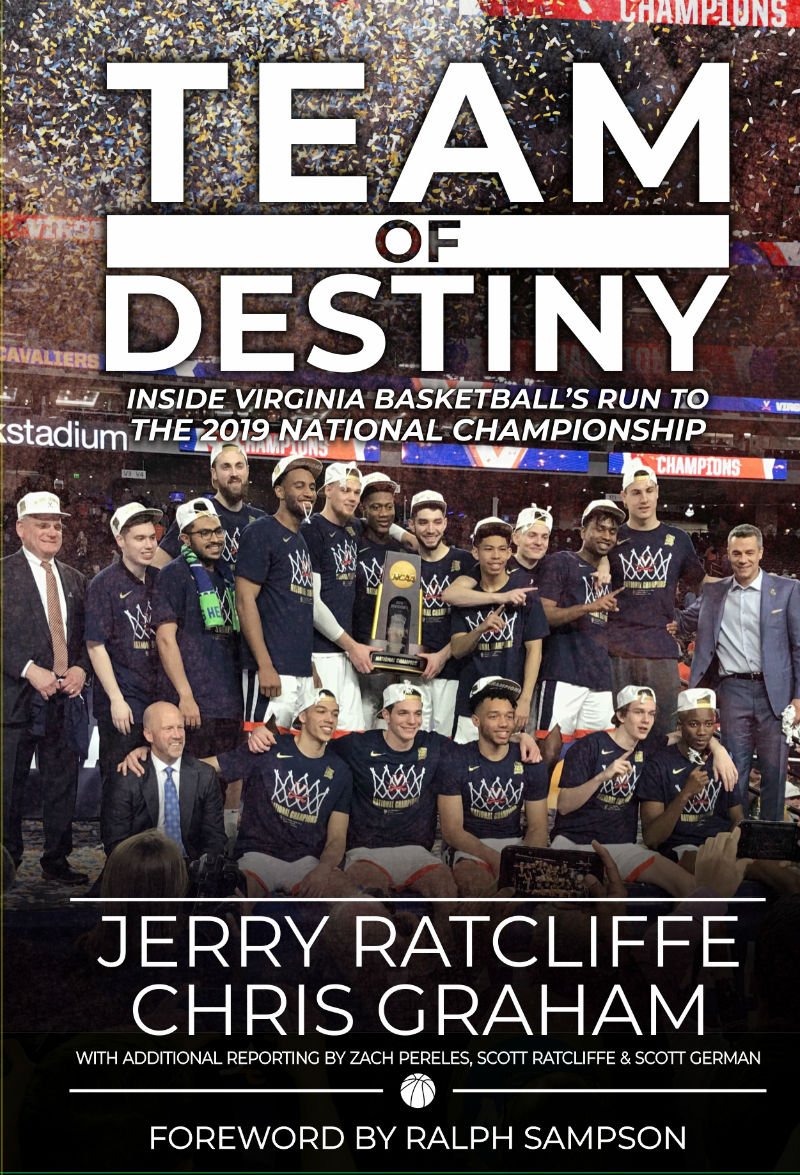 Team of Destiny: Inside Virginia Basketball's Run to the 2019 National Championship, by Jerry Ratcliffe and Chris Graham, is available for $25.
The book, with additional reporting by Zach Pereles, Scott Ratcliffe and Scott German, will take you from the aftermath of the stunning first-round loss to UMBC in 2018, and how coach Tony Bennett and his team used that loss as the source of strength, through to the ACC regular-season championship, the run to the Final Four, and the thrilling overtime win over Texas Tech to win the 2019 national title, the first in school history.

Related Content
Shop Google