Postgame: UVA coach Tony Bennett, players Ty Jerome, De'Andre Hunter, Kyle Guy, on win over Gardner-Webb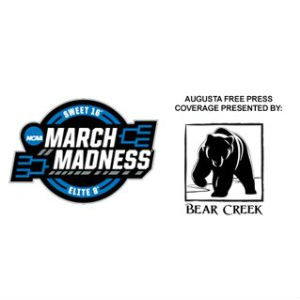 THE MODERATOR: We have Virginia head coach Tony Bennett, accompanied by student-athletes Kyle Guy, De'Andre Hunter, and Ty Jerome.
TONY BENNETT: I thought the way these guys on the last part of the first half to get it back to a six-point game was pivotal for us because Gardner-Webb's good. They move hard. They're quick. We understood that. They had a great backing, you could feel that.
But I thought the way these guys came out and fought.
And then the second half, there was a few adjustments that we did, but these guys really stepped up and played, and that's a pressure, there's no doubt about it. You know, when you're in that spot, you feel the crowd, but it's something we had to go through. I'm glad I'm up here this year feeling a little different than when I had Ty and Kyle with me last year.
But it's the beauty of the tournament. You just don't know. But we played well in the second half and the end of the first half, which we needed to do. I was proud of these guys the way they responded when it got a little — well, it was just intense. That's the reality of it.
Q. De'Andre, I know you said the other day you didn't really go through your head what you could have contributed last season, but it sure looked like you were trying to make up for lost time the second half. How much did you take it upon yourself to make sure you guys were going to advance this time?
DE'ANDRE HUNTER: I was just trying to score on the offense. I didn't play outside of it. I just tried to be aggressive when my team needed me and make shots.
Q. What did you learn from last year's disappointment that you think maybe helped to get you through the adversity that you went through first half today?
THE MODERATOR: Start with Ty.
TY JEROME: That's crazy. The first thing is we came into this game knowing real well we were going to be in for a battle. It wasn't going to be — last year was our first time being a 1 seed. So we came into this game knowing how capable Gardner-Webb was going to be. They punched us in the mouth, but we just said we've been in that position before. We were at Louisville down 14 or 15, and we came back and won that game.
It's just about doing what we do, staying united, not looking around. Just staying in the moment.
KYLE GUY: We had an author come and talk to us last year, Joshua Medcalf, and one of the things he said always stuck with me is be where your feet are. So some of those outside pressures that can creep into our minds is all external, and it comes from thinking too much about the future, too much about the past. So we just tried to be where our feet were and positive reinforcement all the time and stay united, like Ty said.

Augusta Free Press coverage of the 2019 postseason is presented by Bear Creek. Serving Waynesboro, Charlottesville, Harrisonburg and surrounding communities, Bear Creek provides a hassle-free process to help homeowners create outdoor living spaces that bring people together. Schedule a consultation at BearCreek.co.
Q. Ty and De'Andre, what kind of sparked your second halves, your second half individual performances, was one of those situations where things kind of snowballed for you when you saw some shots going. What was the spark for what you guys were able to do in the second half?
DE'ANDRE HUNTER: Like I said, I was just being more aggressive. Got some easy buckets at the rim, got a couple and ones, got the energy going up. I felt like that helped us in the second half, and he started to make shots, as well. So I feel like those shots helped our team a lot.
TY JEROME: For me it was coming out and being in attack mode, trying to touch the paint and get guys shots. If the shots didn't fall, keep telling them keep shooting them. As long as we get good shots, I could live with whatever happened. I just told my guys to keep on the fly, especially Kyle. He's been doing it all year. Key hit Kyle, Mamadi gave us a huge lift in the second half, and like you said, Dre was great. The main thing was stops. We knew, if we could get stops, the ball would eventually go in. So for us, it was really about getting spots.
Q. At each time-out, it seemed like Coach Bennett was saying things to keep you calm and keep your heads in the game. What was he saying during the first half, and what did you guys talk about at halftime that enabled you to come out and play as you did at the start of the second half?
KYLE GUY: These answers are going to become redundant, but that's what got us through the game. Like Ty said, we knew we were in for a battle, and Coach reminded us that we already knew that, and we've stood the test of time. Now we're just playing our game and staying in attack mode and getting stops and getting good looks, and we'll live with the outcome.
TY JEROME: Every time-out, we had a different mindset because, I mean, I remember last year, halftime against UMBC, one of our coaches came in screaming at us, and we — (laughter).
TONY BENNETT: I was out there doing an interview. So it wasn't me.
TY JEROME: We felt their panic last year at halftime, and that was one thing I remember, not doing a good job keeping everyone calm. That's what I pride myself on, too. Every time-out, it's just a matter of keeping guys calm, keeping guys calm, but also keeping our edge. You've got to find a balance. You can't come out, everything's going to be okay, stay calm. Just trying to find the right balance of staying calm and keeping our edge.
Q. De'Andre, after one of your three-pointers, you sort of spread your arms really wide and smiled. After not being able to play in this tournament last year, how gratifying was it for you to be able to contribute and hit some of those three-pointers?
DE'ANDRE HUNTER: It was great. I was having fun. As Kyle said, I was just being in the moment, being where my feet were in. I was happy because I was missing some, and when I made that one, I was really excited.
Q. Just want to ask Ty, you mentioned Mamadi. Talk about his development offensively, and do you look for him more now than you did maybe earlier in the year?
TY JEROME: I think the biggest difference — first of all, we don't necessarily look for certain people. We're never going to not throw a ball to somebody that's open, you know what I mean? For us, it's just about getting the best shot we possibly can. But I think the biggest difference, what I was most proud of Mamadi for, he did something today, and I don't know he could have done it at the beginning of the year. He came out and had a shaky start, and the way he responded was huge for us. We needed every bit of it, and that's something he definitely couldn't do last year, and that's just a testament to his growth as a person, really, more than a player, just his ability to respond and fight through adversity.
THE MODERATOR: Questions for coach?
Q. Tony, was that a conscious thing to try to stay a little calmer and keep everybody a little calmer in the halftime locker room this time around? And what was your message?
TONY BENNETT: It was a different halftime than last time. It was just the ability because I thought we had fought back, as I mentioned, at the end of the first half, to get ourselves in a spot where there was a lot of basketball left. It was one thing I said to my staff, and we just talked right before we went in there. I said, uplift them, and we talked about don't panic, but play with fight, because that's what got them back in.
When you look at the stat sheet, I think the difference was some offensive rebounds, some scrambling for loose balls. We had ten steals. I don't know how many we had in the second half versus the first half. Yes, we made some adjustments that I think helped the guys out there, but it was, you know, don't you dare leave anything in this locker room. You don't panic, but you play the right way with, I guess — I don't know if calm is the right word, but I thought that they did that with the fight. Last year, you could feel that. You could feel it at the game. You ask any coach who's been in that game, and it gets tight and we're the only one who's really experienced the other side of it, but that's real stuff.
I thought the guys just kept plugging, and Gardner-Webb missed some shots. Maybe they got fatigued. I thought the resolve of our team was good to weather that storm and have a good second half.
Q. You guys outscored them 22-5 to start the second half. To build that lead, it looked like you were attacking inside. Was that part of your strategy at halftime?
TONY BENNETT: Yeah, we wanted to give them something where they could be assertive and not mix things up, and say run this, run that. Just here's our base and play out of it, and get on the glass. I thought we did that. If there's something inside, yes, try to get to the lane. Then, obviously, some shots went down, and it was definitely part of it. We had to, without forcing or taking too many bad shots. So I thought there was a good balance.
Q. What did you know about Gardner-Webb, and what did they do that was so effective for them early on?
TONY BENNETT: I knew — one of our assistant coaches, Kyle Getter, was at Liberty with Coach McKay. Just watching them play, I watched them against Georgia Tech, Wake Forest, even Virginia Tech. They didn't have D.J. the first half against them. But then in the tournament, how — when you play teams that are five guards or four guards that shoot 40 percent from the three, their offense is fast. They slip ball screens. That was hard. We tried to prepare as well as we could, and we struggled. I think the nerves were there, but they were banging shots and had us chasing, and they did a good job defensively.
So we had all the respect. Those guys said it right. You know that. Certain teams in matchups are challenging. I mean, they all are at this level, but that's a tough one. You don't play a lot of teams like that in the ACC. Their quickness was noticeable, how fast they played offensively, and then again we turned it over. We were a little tight, I think, early with our turnovers, and all of that started feeding in. In some ways it felt like a road game with the crowd, too. Being less than two hours, Gardner-Webb people came out and supported them, but the Virginia faithful were there, too. You had a lot of those dynamics going. Much respect for Coach Craft. He's good, really good.
Q. Tony, do you feel like today's win kind of, I don't know, gets you past what happened last year, and now these guys maybe can relax a little bit and play in the NCAA Tournament?
TONY BENNETT: Did you watch Oklahoma play? I didn't get to watch it, but my staff said they were impressive. So that will always be part of our story. I understand that. I'm sure a lot of people thought it was going to be part of our story the second year in a row. But it's just now, this is a new year. This is trying to be in the moment, and that's a challenge to the best of your ability. So now you get your rest, you prepare for Oklahoma, and get ready.
So I'll tell you that after the game on Sunday, but I think it was important for those guys, a lot of them were hoping to be in this position again, and they stepped to the challenge even though it was a little wobbly at times.
Q. Tony, you were talking about scrambling for loose balls and being more aggressive. One guy who seemed to be really doing that quite a bit was Kihei. Would you mind talking about what he gave you today and what Mamadi gave you today?
TONY BENNETT: When you go against these quick teams, you have to sometimes match the quickness to the best of your abilities. Last year, we didn't have Kihei or De'Andre, so that allowed us to be a little more versatile to match their quickness and then to switch some of those ball screens. I thought his competitiveness and his ability to come up with loose balls was significant — banged a three, just did some things that were good. He played, obviously, very poised and well for a first-year.
And then Mamadi, I think Ty hit it on the head, and it wasn't all Mamadi's fault. It was just a little hard early, getting used to their pace. Again, we made some adjustments that helped him defensively, but, boy, he really did a good job on the glass playing hard, finishing some stuff, and that lift was huge because you have to get some easy baskets. You can't just live and die by the three. I thought we tried to do a little better this time.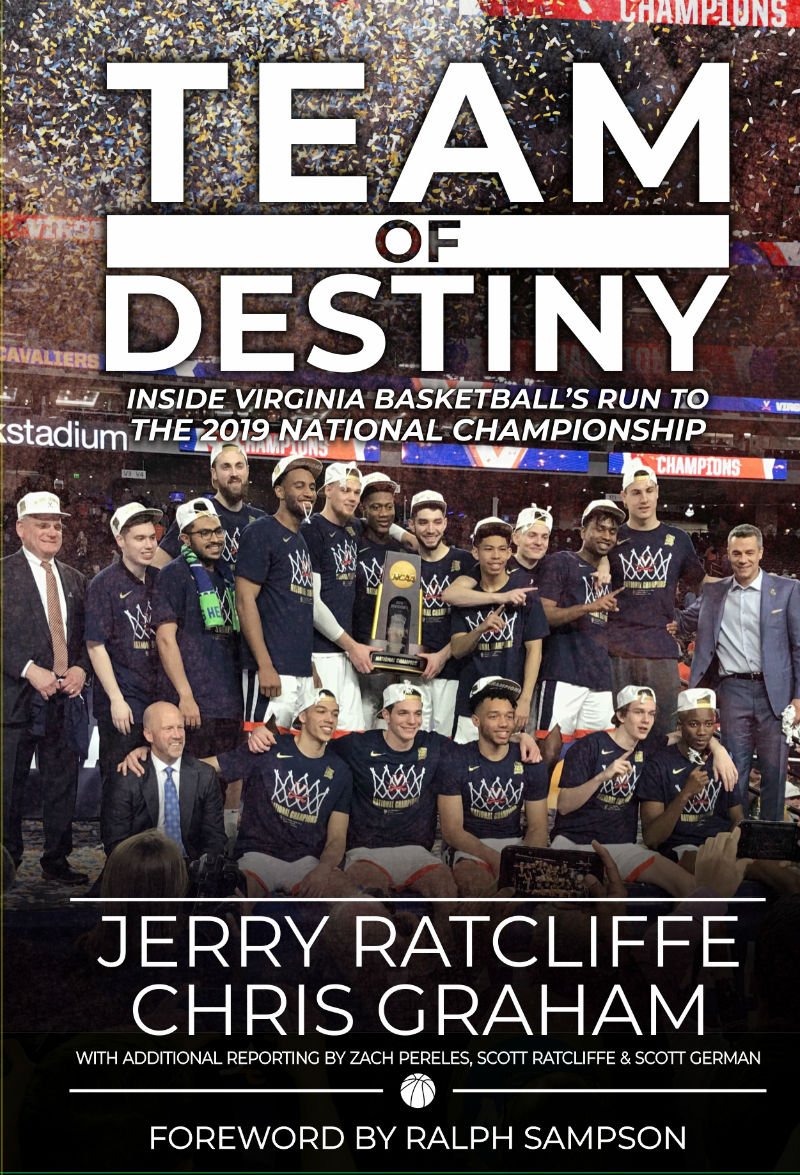 Team of Destiny: Inside UVA Basketball's improbable run
Team of Destiny: Inside Virginia Basketball's Run to the 2019 National Championship
, by Jerry Ratcliffe and Chris Graham, is available for $25.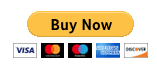 The book, with additional reporting by Zach Pereles, Scott Ratcliffe and Scott German, will take you from the aftermath of the stunning first-round loss to UMBC in 2018, and how coach Tony Bennett and his team used that loss as the source of strength, through to the ACC regular-season championship, the run to the Final Four, and the thrilling overtime win over Texas Tech to win the 2019 national title, the first in school history.