Postgame: Interviews with Washington players, coach Jay Gruden
Interviews with coach Jay Gruden and Washington players after the team's 41-10 win over Jacksonville on Sunday.
Head Coach Jay Gruden
On the injuries during the game:
"First off, I will announce that [quarterback] Robert [Griffin III] has a dislocated ankle. He will undergo more tests tomorrow and we will know more about the injury tomorrow after his MRI. We don't know the length of time he is going to miss as of today. We will know more tomorrow. [Wide receiver] DeSean Jackson has an AC joint sprain and he is going to be day-to-day. He landed on the shoulder and is a little sore right now, obviously, but we will see how he is next week. [Running back] Roy Helu [Jr.] had a quad strain and he is going to be day-to-day also. [Guard Shawn] Lauvao has knee inflammation but looks like he will be day-to-day. [Fullback Darrel Young] DY has a back sprain. He kind of got folded in half and hurt his chest and his back. It looks like he will be day-to-day."
On if any injury update on wide receiver Andre Roberts:
"He's OK. I don't know what happened. He tried to cut off the backside from a block and got stuck in the turf but he is going to be OK. He finished the game."
On the timetable for Griffin III's return:
"I have no idea. We are going to get an MRI tomorrow like I said. These dislocations and fractures are all different. We will wait to see what the doctor says – the MRI says."
On the play of quarterback Kirk Cousins:
"Kirk's had a great training camp and a great season. We feel good about our two quarterbacks and that's why we wanted to keep Kirk here. He's a heck of a quarterback and good quarterbacks are hard to find. We are sick about Robert [and his injury]. He started the game hot and had some great energy. It is very unfortunate. He put a lot of effort, time and mental anguish to get ready for this year and have a bounce-back year. Things happen in pro football. Starters get hurt and backups have to come in. This is an extreme circumstance but Kirk is more than ready to take over."
On how the game plan changes when Cousins is playing quarterback:
"It changes considerably. We have a group of plays, obviously, that are really good for Robert that aren't so good for Kirk, as we all know. We started out running a couple of zone reads and then when Kirk comes in, we can still run them but they obviously aren't as good."
On the doctors giving a best case scenario for Griffin to return:
"No, they don't want to get my hopes up or my hopes down. I'd rather wait. I don't want to hear any scenarios until we have the final results on the X-ray and MRI."
On what he knows about dislocated ankles:
"You are asking the wrong guy on that one. I got a communication degree."
On Cousins' strengths as a quarterback:
"We will cater to his strengths. He is a darn good quarterback and he can do a lot of good things. He is good on the run and throws in the pocket. We just have to give him the reps. The unfortunate thing about Kirk is Robert has taken most of the reps for the last three and a half weeks, so now he has to play fast, get back in the scheme and really do a great job. We will not make it any easier from here on out. We have Philadelphia and then the Giants after that. He has to get himself ready and I know he will."
On how Griffin III is holding up mentally after the injury:
"He's obviously very disappointed, he's sick. You know, everybody knows what kind of competitor Robert is, and he wants to do great things, and he has his sights set on a great year, a magical year so to speak. When you get hurt and your season gets cut short, it's devastating. People don't understand how much time and work goes into being a starting quarterback in the National Football League. It's not easy by any stretch. I know he's sick about it, and I'm sick about it for him, but he will get well, and he will get well as soon as he can. He'll probably beat all the odds and be back quicker than anybody in the history of dislocated ankles. We're sick about it, but now we have to move forward, and that's what you do in the NFL when people go down, you have to have good backup plans. That's why Kirk [Cousins] is here. We feel very strongly about his role as a quarterback."
On Cousins' preparation and stepping in after Griffin III's injury:
"That's not easy to do when you don't get the reps, but that's what backup quarterbacks have to do. They have to pay attention in meetings. The reps that they don't get, they have to get them on the mental side of it. They have to pay attention when we're talking to Robert and you've got to act like you're getting all the reps when you're not out there. But Kirk is a true pro. He's handled being a backup like a pro, he's waited patiently, and now his time is going to come to really take this thing and run with it."
On if running the zone read is a feature of the offense or just because of the matchup with Jacksonville:
"Both. We game planned. The zone read works better against some teams than others and we felt very strongly that this was a good team to run it on. Plus, it is good for Robert's skill set. Obviously, he's very fast. He does a nice job of reading those ends or backers or whoever he's reading and does a nice job. When he went out and we had the lead with only one quarterback on the roster, I thought it was important not to put Kirk in harm's way running a zone read. Our third quarterback was [wide receiver] Andre [Roberts] and he hasn't taken many snaps at quarterback."
On the defense's performance:
"It was great. The defense was unbelievable – 10 sacks. [Linebacker] Ryan Kerrigan had four. We created a turnover. When we get a lead and I've said it before, I said it to our defense, when we get a lead we give our defense lineman the chance to rush the passer, and we've got some guys who can get after it. Kerrigan, [Brian] Orakpo… I felt his presence out there. Obviously, [Jason] Hatcher I felt a lot. Chris Baker I felt out there, even Frank Kearse had a couple pressures in there. Obviously, Perry Riley [Jr.] on those blitzes, and Ryan Clark had a blitz sack, so everybody is getting involved and they all feel the momentum and they all feel like we've got a great opportunity to do some great things from a defensive standpoint as long as we get teams in third down and long and get a lead, which we did today."
On rallying the team after Griffin III's injury and staying focused:
"It's what you have to do, unfortunately. It sounds like it's cold, but it's not. You know, when a guy goes down, it's a very tough, physical football game and that's why we dress 46 guys. We have to almost anticipate certain guys getting down and you have to plan for their backups getting an opportunity. With ones like your starting quarterback, that's something that you don't expect to happen but once in a while it does and unfortunately for Robert, it happened and Kirk [Cousins], he's been chomping at the bit to get an opportunity to play, and now he's got it."
On if there will be many roster changes:
"No, we have a great group. We've got [wide receiver] Santana [Moss], who didn't even dress today. So, Santana steps right up.  Ryan Grant [wide receiver] had some great plays today, he moves up to number three. Aldrick [Robinson], who I feel like, is a good receiver, is four, and Santana will come in there and compete also. We are covered at the wide receiver position, if DeSean [Jackson] can't go."
On if he can win any game with Cousins:
"Yeah, it is, of course. I feel like we can win any game with kirk cousins. And if DeSean goes out, I feel like we can win any game with Ryan Grant or Aldrick Robinson. That's why we take training camp very seriously, and try to mix the reps up to try to give everybody the opportunity to play. But Kirk is a special guy. He started four games last year and didn't have great success, but obviously has a skill set that I feel like is very much suited for what we do. He can handle it mentally, and obviously, physically. I feel that he can make every throw in the book and we are going to move forward with Kirk. And we have [quarterback] Colt [McCoy] now as a back-up. We feel that Colt had a good pre-season and he is a darn good back-up in my eyes, also."
On how gratifying it was to bounce back in the game:
"Very, very. You know what, talk about starting fast and getting the home field involved. That's what we did. The first drive in we threw the bomb to DeSean and I thought he caught it, I challenged it, but we lost the challenge, had to punt, and our defense got the ball right back for us. We went down and scored, went 7-0, got immediate pressure on [quarterback] Chad [Henne], and forced a sack and got the ball back. It's 14-0. Really got the crowd involved, the energy was there. Obviously, [quarterback] Robert [Griffin III] got hurt, which sucked a little bit out of it, but Kirk coming off the bench and getting 14-0; 21-0, I thought was a great start, and great for the home [crowd]."
On Cousins:
"He was outstanding. Like I said, when you come off the bench, and you don't get any reps, other than throwing the scout team football passes, it's not easy. He came out there, and executed the offense very well. We only had one false start penalty and that was on [left tackle] Trent [Williams]. Other than that, I think he executed great. He was 22 for 33 with two touchdowns and no turnovers. That's the thing that we preach all week, obviously everybody does, but no turnovers was outstanding for Kirk and the offense."
On how it feels to have his first win at home:
"It's great. Obviously, it's exciting and I'm trying to make this very habitual for our football team and get used to the feeling. Winning at home is very important. We preach that it is a must win for us today. Coming out and playing in front of our home field and winning all our games at home is going to be important. It's a special day for me, personally, a special day for this team, getting out to a great start with a home victory, unfortunately, a man out there hurt his ankle, but we just have to move on."
Quarterback Robert Griffin III
On his ankle injury:
"I did it before the throw to [wide receiver] DeSean [Jackson]. I was trying to stiff arm [Jaguars linebacker] [Paul] Posluszny and my ankle got caught in the ground. So, I just kept it off the ground and made the throw. When I landed, I wanted to look at my ankle because I felt something. When I looked at it, it didn't look in a great position so I kind of knew something was wrong then. So, I just called the trainers over."
On his mindset:
"You never want to get hurt. You want to be out there and be available for your teammates. It's just an unfortunate situation because it wasn't on a hit or anything. It's just something that happened. In moments like these, you've just got to keep the faith, stay with it and just believe that everything happens for a reason and God has a plan. Aside from that, when DeSean came in there, we had a chance to watch the game like fans. It was good to see everybody go out there and play at a high level. Kirk [Cousins] did a great job. Offensive line protected him. He threw the ball well. All the playmakers were out there making plays. It was good to see our defense get 10 sacks. I don't know how many times you see that…ever. It was real exciting."
On his prognosis:
"I'll get more tests tomorrow, but right now I'm just trying to stay in a good place. Like DeSean was saying, our spirits are high. We're always thinking positive. We'll see what happens tomorrow and whatever information comes out, we'll know what the timetable is from there. Right now, we're just focused on Philly. I'm trying to do what I can to help this team win and help Kirk and Colt [McCoy] go out there and be prepared to play football. I believe that Kirk is going to go out there and play extremely well. This team is going to win games because we have a very good team that's on that field. One guy doesn't define this team; that includes me."
On the pain he experienced:
"It's an excruciating pain, but I think anytime you look at your ankle and it's in a different direction, you're probably not going to try to get up. I was just trying to make sure I wasn't doing any more damage to it, so I just stayed there and waited for the trainers to come and help me get up and on the cart to get the X-rays. We're thinking positive, let the doctors and everybody do their job to help us understand what's actually going on with my ankle."
On if there was an element of his game he had to return to when asked about looking like his "old self":
"You can sit here and we can have football talk and about taking what the defense gives you, but sometimes in offense you have to take it too and you have to take what you want. That was kind of our focus going into the game. We got off to a great start, got in a roll and then of course the injury happened, but the offense stayed in a groove, put up a lot of points on the board. Like I said, that's a big complement to what kirk cousins was able to go out there and do. It's a big complement to everybody rallying behind him – the whole team was. So, as I'm getting carried off the field, they told me that they got me and they're going to play for me. So, I appreciate that from my teammates, I appreciate that from the fans and from everyone wishing me well.
On if he felt like he was on the verge of a very big day prior to injury:
"Yeah, I think we were going to have a great day if I was able to stay out there the entire time. Like I said, and like DeSean [Jackson] said, it was great to see our teammates go out there. We had a lot of injuries and a lot of guys had to step up. From Kirk to [tight end] Niles [Paul] to [wide receiver] Ryan Grant, [wide receiver] Andre Roberts – all those guys did a good job stepping up. We're all professionals, so when one guy goes down, it's next man up. We thought we were on the verge of a big day. It was going to be fun, but it was still fun to see them go out there and succeed."
On if the trainers put the dislocation back into place and whether or not he has a frame of reference to get over a dislocated ankle:
"I have no frame of reference for myself, but I talked to some of the guys and they told me how long it takes with certain injuries and how they play out. I'll leave the details of what happened for the doctors to say what happened and didn't happen."
On how it felt to have fans chanting his name while leaving the field:
"This city has really embraced me. You know, obviously this team is always going to be the team for this city and this area, but the city has also embraced me and my family. So, it meant a lot to have them cheering as we were going off the field. That's why we play. We play for them. They're the reason that we're even in this league. Coaches told us multiple times we are entertainers and our job is to entertain and these fans are the ones who back us in everything we do on and off the field so I appreciate that. Thank you."
Wide Receiver DeSean Jackson
On how he feels:
"I feel a little better from when it first happened. The player actually just fell right on my shoulder. It was kind of like an AC joint. I'm glad my team still went out there and got the win. That actually made me feel a little better as well, too. Sitting in the locker room with [quarterback] Robert Griffin III was frustrating for the both of us, but we have great teammates and we have a lot of competition out there. We push each other every day and go out there and do great things. We were able to watch – from the locker room – our boys get the win. "
On if this was a similar injury to the one he had in Philadelphia:
"I mean I've had it before, an AC sprain. This one was a little vicious [with] the pain right on the bone and things like that, so I'm day-to-day and hopefully I can get back for practice next week. Big week next week versus Philadelphia. I'm just looking forward to getting treated and doing the things I need to do every day. Even tomorrow, coming in and getting my treatment."
On if he's going to play next week:
"I mean, it's still early, but you know I say day-to-day. Where I feel now, the pain has eased up a little bit. I look forward to coming back next week and playing. It's always frustrating not to finish the game out and go out there and battle with my teammates, but we still got the win so I feel good about that."
On talking to Griffin III in the locker room:
"We didn't necessarily discuss the injuries. Obviously, we're both in pain. [It's] unfortunate, but that's part of the game we play. We just have to move on with it and hopefully you can pray for a speedy recovery and do everything we need to do to get back out there and play and help this team win. At the end of the day, it's very frustrating for us not to be out there because we love to play this game and go out there and compete and play at a high level. Good feeling to see our boys win, though."
On Griffin III's frame of mind:
"He had high spirits. At the end of the day, we just have to pray and wish for the best. We're not going to ever get too down. With his injury, I'm hoping he can get back as soon as possible because he's a big addition to our team and things like that. [Quarterback] Kirk [Cousins] went out there and had a great game. He stepped in. That's things we as professional athletes understand. If we go down, we can't do nothing but hope for the best for whoever fills in for us, like Ryan Grant, Andre [Roberts], Aldrick [Robinson] Pierre [Garçon] and all the guys made me happy sitting there and actually seeing them go out there and be productive. We need that to win games."
On his possible catch on the first series ruled incomplete on replay:
"It was a great throw, obviously, first off. I was able to come in motion, run a deep go. I felt like I caught the ball and went down and had possession of it. The guy falls on top of me and hits the ball out. It's just unfortunate, pretty mad about that. It was kind of a deep pass, probably longest of the season if it would have stood. I just have to keep playing. Things happen like that and, you know, it's just unfortunate we didn't get that one."
On playing the Philadelphia Eagles next week:
"Regardless of whoever we would play, I'm going to do my best to get out there and play. I'm going to put on this uniform and go out there and help my team win. It's a process. It's still early, I need to figure out. Being Sunday, you have a full week to look at it. It feels a little better. I'm not really in that much pain anymore. Hopefully it will just get better every day."
Quarterback Kirk Cousins
On coming in under the circumstances of an injury:
"Yeah, just the life of a backup quarterback. You've got to stay ready [and] whenever the opportunity comes, be able to help your football team. I was glad we were able to get the win today. I was able to help us get there. That's the job I've been in now for three seasons – just trying to make the most of every opportunity I get."
On his initial reaction when he saw quarterback Robert Griffin III injured:
"It's the same reaction whenever you feel like you have to go in. You've got to go get your helmet. I think my first thought is, 'Where's my helmet?' The next thought is, 'I better get my right shoulder loose.' You always say, 'Where's my helmet and where's the football?' Try to get warmed up as fast as possible and go in there. Your heart starts beating faster than it was 10 seconds before. That's part of playing quarterback. You have to be able to channel that energy, those nerves and that excitement, and channel it to play well. Today, thankfully the great defense and a lot of players around me we were able to put together a nice offensive game."
On starting off 12-for-12 with one touchdown:
"That kind of efficiency goes back to play calling. If you call a play that gives you a chance to get completions and get rhythm going, it always put you in a better place. So, I got to credit [head coach] Jay [Gruden] and [offensive coordinator] Sean [McVay] for that, and then when you have that type of efficiency, it's a total team thing. Guys are catching the football. Guys are disciplined with what they're doing."
On training to be ready for a game not knowing when to play:
"That's the question I've had to ask myself coming out of college, 'how am I going to get ready for an NFL game if I'm not going to be able to practice with the starters during the week?' It's staying after practice, and looking at the practice reps on air. It's staying after and watching film to critique your mechanics and fundamentals. It's a constant process of staying late, watching film, drawing plays over and over. That's the life of a back-up quarterback. You can't be unprepared because if that's your one shot to someday prove what you got you can't be unprepared to show what you got."
On if the injury of Robert Griffin III is an opportunity to show he's worth being a starter:
"The focus right now is to just help the Washington Redskins get a win next week. Take it one week at a time, even one day at a time. We have two divisional opponents coming up. A lot of importance on these games and we need to get wins."
On if working with back-up receivers in practice translated to working with them on the field:
"I'm just throwing to the open guy and going where my reads take me. [Wide receiver] Ryan Grant and [tight end] Niles Paul are certainly talented players, and we're really excited to have them, and I feel confident having them on the field, but I'm just going wherever my reads take me. Today it seemed to take me a lot to those two guys."
On if starting games last year helped out with performance today:
"Every time you go out there you gain confidence, and you gain experience. When I do have to go in there, the fact that I've been there a little bit in those three games last year and done it for weeks in a row, it does give you confidence. Good or bad, I've been here before so it does help me."
On how his heart goes out to Robert Griffin III:
"This is Robert's team. My job is to be the back-up quarterback, and if called upon to come in and play, then I better play and help this team win. That job doesn't change. This is Robert's team."
Linebacker Ryan Kerrigan
On what was different this week from the defense:
"Last week, we definitely didn't put enough pressure on the quarterback, so that was a big goal this week to put them in passing situations. Kudos to our DBs for forcing the quarterback to hold onto the ball for a long time and the defense got there."
On the defensive effort today:
"This was definitely one of the most fun days I've had playing defense and it was a great day for all of us. We had 10 sacks. That's unbelievable… We would have liked to have more turnovers. We only had one, but when you're holding them to that few yards and getting great pressure on the quarterback, you can't complain too much."
On why he had such a great day:
"We liked our matchups upfront. We feel with the pass rush that we have guys like Hatch [defensive end Jason Hatcher], 'Rak [linebacker Brian Orakpo], myself, [linebacker] Trent [Murphy], we feel like we can win a lot of one-on-one matchups in this league and that's what it comes down to – guys beating blockers and getting to the quarterback."
On the mentality of the defense:
"We were joking around on the sideline like, "Who is going to be next?" It was such a great feeling, unlike anything I've ever been a part of, getting that many sacks and to play the type of defense we played."
On the defense confusing the quarterback:
"We definitely wanted to come out and be aggressive today. We knew when we can get teams in passing situations, we can have a lot of success and we were able to do that today.  And when they did try and run the ball, we stopped that, so it was a good overall effort."
On his sack dance:
"[Linebacker] Will Compton has been in my ear for a while to do the Sean Michaels from HBK. All he's been saying is, "Do the HBK." Finally, I did right by him and hit the HBK a couple of times. The second and third time, I didn't do it. I got some hell from him. After, he said to me, 'Why didn't you do it? You need to trademark it!' I told him, 'Well, I can't trademark it, it's HBK.'  But that's where it came from. You can thank Will Compton."
On how many sacks he's had in a single game:
"I had five in high school. In college, I had four in one game. But in the NFL, I haven't even had three, so getting four felt awesome."
On how players take major injuries:
"When you see any of your teammates go down, it really hurts because you know the work they put in and you know what it takes to have that success at this level and how hard you have to work. To see anyone go down with an injury, whether it's your teammate or not, you don't want to see that because it's a bad deal."
On defensive end Jason Hatcher and pressure from the interior defensive line:
"Well, it's helping the whole team. It seemed like every time [Jaguars quarterback Chad] Henne dropped back, Hatcher was back there. It's kind of crazy, normally defensive tackles aren't getting tons of pressure, but for Hatch to get that kind of pressure was amazing."
On nose tackle Chris Baker:
"He did really well – had good pressure on the quarterback and  played the run really well, had a nice tackle on [Jaguars running back Toby] Gerhart on the run for a loss and he had that one sack that unfortunately got taken away from that penalty. But that's what we've come to expect from Baker. He played really well towards the end of last season and he's carried that over."
On the defense's dominance:
"When we started racking up those sacks in the first half, we kind of thought this was going to be a good day for us. When the offense was moving the ball like they were and we were getting off the field on third down, we knew this was going to be a great win for the Redskins."
On if his play will carry over into fundraising at his charity event tomorrow and if the upcoming event gave him extra motivation:
"I did not, but hopefully it can. Maybe I'll throw in a plug there. Ruth's Chris in Arlington tomorrow, having a little event for my foundation – Blitz for the Better Foundation – around 6:30 [p.m]. It should be a great time. Thank you for that nice little segue there."
Defensive End Jason Hatcher
On quarterback Robert Griffin III's injury:
"We're going to wait for Robert to come back healthy in 4-6 weeks. We've got to keep pressing and going through adversity and just keep going."
On his celebration dance:
"You all don't like the 'Big Daddy Hump?' That's the Big Daddy Hump. Yes, that came from Dallas. I was going to leave Big Daddy in Dallas, but I was doing an interview one time, [Chris] Baker comes by and says, 'Big Daddy.' So, he brought Big Daddy to Washington. It's my alter ego and he shows up on Sundays. That's the dance he likes."
On the Redskins tying a team record with 10 sacks:
"Oh, we were just trying to win a ball game, man. We took the approach of coming into this thing, putting it on our shoulders as I must win – because it was. We didn't want to get 0-2 behind the 8-ball. So, we just kind of bought in as a team. We didn't come out trying to set records. We just played sound, fundamentally on defense."
On the defense's mentality:
"There was just a sense of urgency, man. We were just trying to get to the quarterback. Every call we try to dominate. I think we did a good job at it. Like I said, we haven't done nothing at all. We've just got to go back to the drawing board, stay healthy and start putting these weeks together and get this winning back into this football program."
On playing against a team that has Robert Griffin III and playing on a team with him:
"You know, Robert is the type of player to take it the distance. His speed is awesome. He can get outside the pocket and make plays. So, you've got to be aware of your pass rushing lanes versus a mobile quarterback and just get after him. So, you can't really rush him like you would a regular quarterback."
On the Redskins' defense:
"I think we're just mediocre. It was mediocre. We have a long way to go. We haven't done anything. At the end of the day, we can't get too high on this game because we got another one coming up this week. So, we've just got to enjoy the win, enjoy what we did. We need to hone what we've got to do and stay hungry. So that's what I'm going to do and the rest of the leaders going to do… I don't feel like we've done anything. It's the second game of the season. I don't think we have done anything at all. It was a hell of a game we played, but we having done anything. Unless we get a consistently, doing it week in and week out, then you can kind of say we had a good game."
Running Back Alfred Morris
On if the victory was bittersweet:
"It is. It's unfortunate, but that's part of the game. People get injured, people go down and people have to be ready to step in. Coaches always say you are one play away from being a starter, because you never know what's going to happen. A lot of guys stepped up today and I guess you can say it's bittersweet."
On his excitement about having depth on offense:
"It's a great job and I'm so excited. Like you said, we do have a lot of depth and just [exciting] to see those guys get in and from working so hard from offseason, doing it through camp and now in the season to get an opportunity to get on the field and do what they know they can do. They get the opportunity to make the most of it, so I am excited about that and just looking forward to what they can do. We put a lot of good things out on tape and still have a lot of things to correct, but overall it was a great day."
On scoring touchdowns:
"It's good, I guess. The only thing I care about is winning, so if that means scoring a couple touchdowns, that's cool. I'm down with that, but I am just more so excited about our overall performance."
On if he would have wanted to play against the Redskins' defense today:
"No. They were having a sack fest today. Everybody was getting sacks. I started to get on defense to get me a sack, too, but I decided not to. I'm just excited to see them. We definitely have a great defense. Special teams has been doing great and I've been saying that us as an offense has to step up and I feel like we stepped up today and we played a complete game today on special teams, defense and offense."
On playing with quarterback Kirk Cousins:
"Like I said, you have to be prepared when your number is called and he has been preparing for this and it just so happened today. It's unfortunate [to have an injury], but he stepped in and did a great job and helped us to victory, and once again, that just goes back to the depth we have at every position."
On Head Coach Jay Gruden's first win and Gruden's feelings after the game:
"He was excited. He got Bake [nose tackle Chris Baker] dancing, so it's always funny when Bake is dancing. So he was excited and I'm glad we finally got our first win. It had to be at home, so we got our first win in front of our home crowd."
Fullback Darrel Young
On his touchdown catch:
"Fullbacks get no respect. Even our corners do that in practice and it kind of happened in practice this week. Before the game it was kind of weird because [Offensive Coordinator] Sean McVay was like, 'Hey, if we do that play, be alert,' and I was like, 'Yeah, alright, whatever, cool.' Then he threw it and I was like, 'Oh.' I think it's just a credit to the coaches for trusting me out there."
On his injury:
"Yeah, I'm alright. My back hurts a little bit, but I will be alright. I've never been through something like that, so I was a little nervous. I was just glad I was able to get up and jog off the field."
On where he felt the pain:
"Just my back. That is just where he hit me at. I don't even remember. Everyone said it was dirty. I don't think it was dirty, I don't know. I just think I was falling and he just made a good football play. To see my guys fighting for me is pretty exciting."
On feelings after winning big in spite of quarterback Robert Griffin III's injury:
"It is just a credit to Kirk for being prepared for everything and anything. I think he came in and did a really good job, you know, and switched some things. And everyone says, 'Well, you are going to lose your running dynamic.' No, Alfred still ran the ball, we still scored some touchdowns and I think it is just a credit to him."
On people stepping up after Griffin III went down:
"He will be back next week. I have seen him rehab before. It's unfortunate, but I don't know, guys just have to step up and make plays. We are 1-1 right now so…"
On players stepping up:
"That's what you have to do. That is what football is about, it is always about the next man, you know, what your starters are going to get. Not saying [tight end] Niles [Paul] and [wide receiver] Andre [Roberts] aren't starters, but on the depth chart, they aren't starters, so them coming in and doing a really good job on the running game and passing game…. Even some things that Andre doesn't get credit for. He was out there blocking on the corners and stuff like that, so I think it's a credit to the coaching staff for bringing him in and we will see what happens."
Wide Receiver Andre Roberts
On having backup quarterback Kirk Cousins replacing injured quarterback Robert Griffin III:
"We have three really good quarterbacks – Colt McCoy, too. They prepared well, and I think we saw that in the preseason. You know, we have that 'next man up' mentality. Kirk came in, played well. We expect him to be that way."
On the differences in play calls between Griffin III and Cousins:
"We'll see some changes in the offense this week. Robert's better at options and things of that nature, and Kirk is better in the pocket. We'll see some changes. We don't know what they'll be, but obviously we'll change the game plan to what we do best."
Tight End Niles Paul
On his touchdown catch:
"It was literally the look we have been seeing all week and we knew they were going to put a linebacker out there, which obviously would be a mismatch, and [quarterback] Kirk [Cousins] gave me an opportunity to make a play."
On tight end Jordan Reed and his status:
"Jordan Reed is the guy as far as I know and when he comes back, I don't know. It could be this week, it could be next week. I mean, I honestly don't know because hamstrings are tricky. I just take on the role that comes as the coaches give them to me."
On his relationship with Cousins:
"I'm used to catching passes from Kirk and I'm used to catching passes from Colt [McCoy]. It's just how our reps and our offense has been set up dating back to minicamp."
On a productive day and a victory:
"It's an amazing feeling. The most amazing part about that is the victory, and a much needed victory, and we got it and we did it in very good fashion."
On guys stepping up:
"Yeah, it was an exciting day for the Redskins offense and defense."
On seeing 41 points put on the scoreboard:
"It's a good feeling. Hopefully, we can build from that."
On what happened during quarterback Robert Griffin III's injury:
"I was out on the field, so I didn't even see what happened, but I knew it had to be serious if they had like 10 trainers huddled around him. Hopefully, he is alright. I haven't really seen him since the game has been over but Kirk came in there and did what the backup quarterback should do in that situation – play good."
On Griffin III coming back from this injury:
"Robert is a tough kid and you have seen him in his life, obviously in his life, overcome a lot of adversity and I am sure he will bounce back just fine."
UVA Basketball Fans!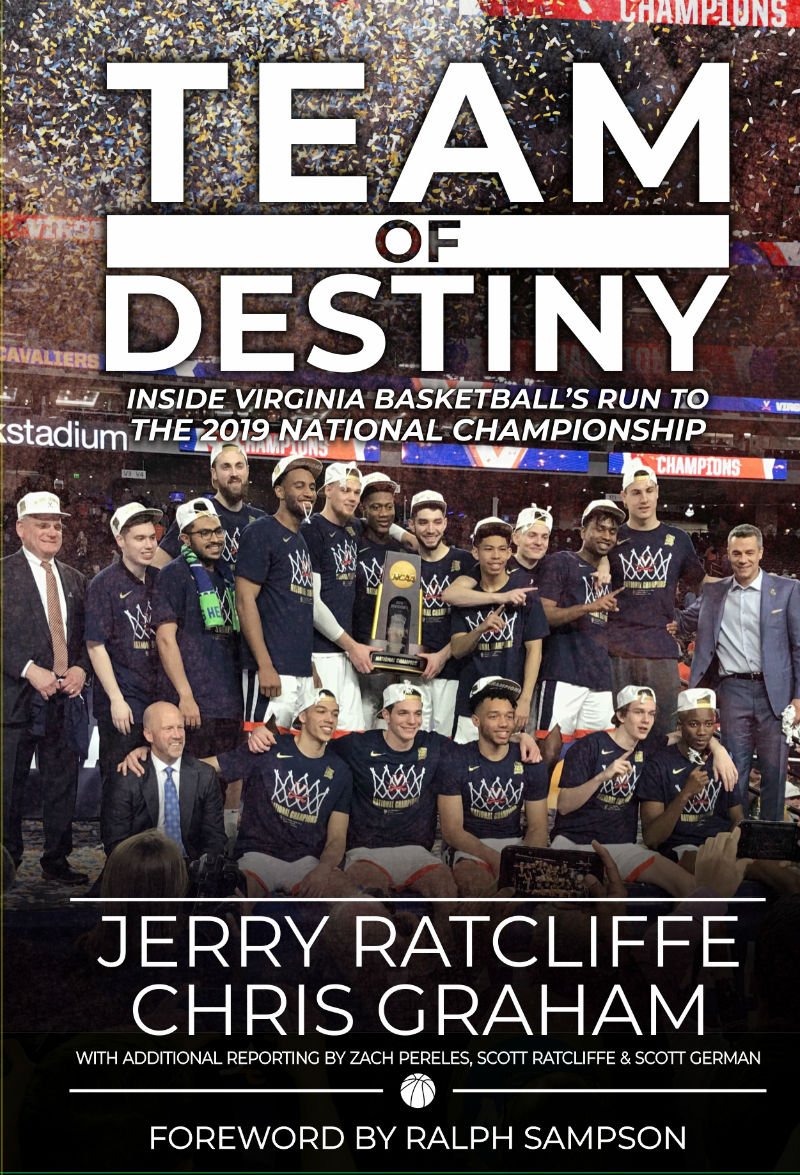 Team of Destiny: Inside Virginia Basketball's Run to the 2019 National Championship
, by Jerry Ratcliffe and Chris Graham, is available for $25. The book, with additional reporting by Zach Pereles, Scott Ratcliffe, and Scott German, will take you from the aftermath of the stunning first-round loss to UMBC in 2018 through to the thrilling overtime win over Texas Tech to win the 2019 national title, the first in school history.
Dick Vitale on Team of Destiny:
"This is a hoops story you will LOVE! Jerry and Chris capture the sensational and dramatic championship journey by Tony Bennett and his tenacious Cavalier team. UVA was Awesome Baby and so is this book!"
Ralph Sampson on Team of Destiny:
"Jerry and Chris have lived and seen it all, even before my time. I highly recommend this book to every basketball fan across the globe. This story translates to all who know defeat and how to overcome it!"
Feedback from buyers:
"Got the Book in the Mail Saturday, and could not put it down! Great read and great photography as well! Love all of the books I've received, but hands down, this is my favorite!" – Russell
Buy here.
Comments