Poll: Hurt leads GOP race in Fifth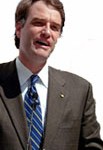 Edited by Chris Graham
[email protected]
 
State Sen. Robert Hurt appears to be breaking away from the crowded field of candidates for the Republican nomination in the Fifth District.
The Hurt campaign released today a poll conducted by Public Opinion Strategies that has Hurt registering the support of 35 percent of likely June GOP primary voters. Ken Boyd is running a distant second according to the poll, with 10 percent saying that they will support Boyd.
"These numbers are incredibly encouraging," Hurt said in a statement. "Our strong showing proves that our message and my record of limited government, tax cuts for Virginia small businesses and families and cutting wasteful government spending is resonating with voters. It's obvious that my opponents are aware of these results as some are already launching negative attacks. We will not be deterred by campaigns desperate to make an impact through negative campaigning."
There were a couple of soft spots for Hurt in the poll numbers. His name identification among voters increased from 47 percent in a February Public Opinion Strategies poll to 70 percent in the May poll, but his favorability rating is still only at 38 percent of those surveyed.
The other soft spot: 34 percent of those surveyed are still undecided. it would appear that the undecideds would have to break to Boyd or one of the other second-tier candidates en masse to knock Hurt from his frontrunner perch, but that possibility would seem to remain just based on the relatively high number of undecideds.
"Over the course of the next three weeks, we will take nothing for granted," Hurt said. "We will continue to travel The Fifth District listening to Virginians' concerns about an out-of-control Washington that taxes too much, borrows too much and spends too much. We will work around the clock to make sure voters know I'm the pro-jobs, pro-life, pro-Second Amendment conservative with a record to prove it. There's a lot of work to be done, but we're running the kind of grass roots campaign that will win this primary and defeat Tom Perriello in the fall."