Pipeline resistance movements join together June 10
Opponents of the proposed Mountain Valley and Atlantic Coast fracked gas pipelines have come together to help raise deeper awareness within the larger community with "Defend the Sacred: A Celebration of Land, Life and Water" – a day-long event on June 10th that will celebrate our persistence and honor shared struggles in harmony with Native peoples, environmentalists, landowners, property rights proponents, and grassroots community groups.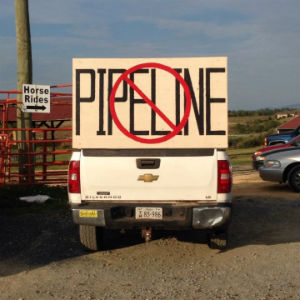 Through live music, the arts, a host of speakers, dance and creative expression, the event will offer empowering actions, encourage creative solidarity and celebrate the people who have been battling pipelines for years.
WHAT: "Defend the Sacred: A Celebration of Land, Life and Water"
WHEN: Saturday, June 10, 2017; 3pm-10pm
WHERE: Elmwood Park (outdoor amphitheater) in Downtown Roanoke
Sponsored by Bold Alliance, a national organization with roots in fighting the Keystone XL pipeline, this event offers respect for the energetic efforts in Appalachia to work together both regionally and within the national pipeline movement.
With support from the local grassroots organization Preserve Floyd and Standing Rock activist, William Adams, "Defend the Sacred" will be an opportunity to celebrate the work already accomplished and to amplify the voices of the many people who continue to fight. The event is free, but a donation of $5 per person is suggested to contribute towards the Bold Appalachia Landowner Alliance.
Comments