Phils flex muscles, power past Squirrels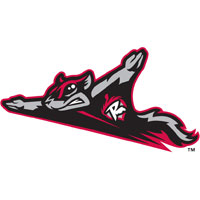 The Reading Fightin Phils (10-14) pounded out 15 hits, including four home runs, to down the Richmond Flying Squirrels (14-12) 7-6 on Friday at FirstEnergy Stadium. Ronnie Jebavy connected on his first Double-A home run for the Flying Squirrels in the defeat and Ryan Howard contributed three hits. Richmond has now dropped a season-high four consecutive games and will continue the series on Saturday at 6:15 p.m.
The Reading Fightin Phils worked across a run in the bottom of the second to grab an early 1-0 lead. Squirrels starting pitcher Cory Taylor retired the first three batters in the first inning on eight pitches. He then allowed a leadoff double to Kyle Martin in the second. Martin took third base on a fielder's choice and scored on a base hit into left field off the bat of Jan Hernandez
Taylor scuffled in the third inning, relinquishing a pair of runs to fall behind, 3-0. With one out, Cord Sandberg singled and was brought around on Damek Tomscha's fifth home run of the season. Reading put up four hits in the inning and forced Taylor to throw 25 pitches in the frame.
The Squirrels erupted for five runs in the fourth, their largest inning of the season, to take a 5-3 lead. Aramis Garica, Dylan Davis and Jerry Sands all singled to load the bases. After Matt Lipka flew out to shallow centerfield, Reading hurler JoJo Romero released a wild pitch, scorning Garcia from third base. Ronnie Jebavy then dealt the big blow by lining a three-run homer in the seats in leftfield.
Reading chipped away at the Squirrels two-run advantage with a solo home run from Jan Hernandez in the fourth and a Jiandido Tromp double in the fifth. Tromp's double tied the game, 5-5. The fighting Phils regained the lead in the sixth on Malquin Canelo's third home run of the season. Canelo's took reliever Will LaMarche deep in his second inning of relief.
Taylor lasted five innings in the outing and received a no-decision. The righty allowed five runs on a season-high ten hits, he walked two and struck out three. Taylor tossed 93 pitches in his sixth start of the season.
JoJo Romero took the game for Reading into the seventh inning. Ryan Howard and Miguel Gomez connected on back-to-back doubles, tying the game once again and forcing Reading into the bullpen. Romero worked a season-high 6.1 innings and allowed six runs (five earned) on nine hits in a no-decision.
Catcher Deivi Grulllon put Reading ahead for good with a solo blast off LaMarche in the eighth. LaMarche (0-1) suffered the loss in his second outing of the year for Richmond, tossing three innings in the defeat. Reading reliever Edgar Garcia (1-1) earned the win. He tossed two scoreless innings to finish the game.
Comments