Pericles with The Motley Shakespeare Players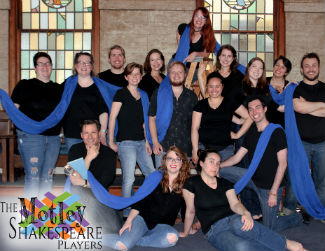 The Motley Shakespeare Players (Motley Shakes), the MFA Company of Mary Baldwin University's Shakespeare and Performance program, tell the story of Pericles, William Shakespeare's great romantic odyssey.
The guest director for Pericles is Vanessa Morosco, a New York-based director and actor whose work appeared at theaters across the country, including The Shakespeare Theatre, Yale Rep, Alabama Shakespeare Festival,  Colorado Shakespeare Festival, and the Shakespeare Theatre of NJ.  This April, Morosco will direct the American Shakespeare Center's upcoming production Equivocation.
In bringing to life the story of Pericles, Morosco's vision will focus on how Pericles, the Prince of Tyre, embarks on a epic voyage to foreign lands, encountering a wild diversity of cultures and ideas, and how, in witnessing their stories and perspectives, his quest transforms him. Under the watchful eye of the goddess Diana, this magical production will bring to life the grand adventure of Pericles, his wife Thaisa, and his daughter Marina as they are separated and forced to find their own way in the world.  With shipwrecks, dances, riddles, and pirates, Pericles and his family navigate a whirlwind journey towards revelation and reunion.
Join Motley Shakes for their performances of Pericles at 8:00 PM on Monday, March 19th and Tuesday, March 20th at the American Shakespeare Center's Blackfriars Playhouse, located at 10 S. Market Street, Staunton, VA.
Admission is pay-what-you-will, and half of all donations received will go towards The Polaris Project which combats human trafficking. This production of Pericles begins the Motley Festival, which includes reprisals all of their shows and runs March 22nd through March 26th at the Blackfriars Playhouse and the Masonic Building.  For more information on the Motley Festival, visit www.motleyshakes.com/Festival.
For more information on Pericles, visit The Motley Shakespeare Players at www.motleyshakes.com/Pericles or email them at [email protected].