P-Nats walked off by Mudcats in finale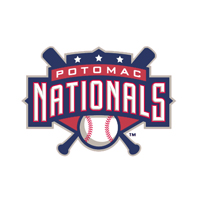 The Potomac Nationals (9-15) missed an opportunity to win their first road series of the season on Sunday, falling 2-1 to the Carolina Mudcats (14-10) in walk-off fashion. DH Pat McInerney won the game for Carolina with a bases-loaded single in the ninth inning.
It was a change of pace from the first two games of the series, which saw a combined 41 runs scored between the teams. It marked the first walk-off loss of the season for the P-Nats, who fell to six games below the .500 mark for the first time.
Potomac got a stellar spot start from LHP Grant Borne, who turned in 5.0 innings of two-hit, one-run ball. They briefly took a 1-0 lead in the third inning off RHP Drew Rasmussen when CF Armond Upshaw reached on an infield single and RF Nick Banks brought him home with an RBI double to right-center.
The lead would be short-lived, as Mudcats CF Tristen Lutz broke up Borne's nascent no-hit bid with one out in the fourth inning with a solo home run to left. Borne finished strong, retiring the final five batters he faced for his longest outing of the year.
Rasmussen, limited by a pitch count in his continued return from injury, departed after 3.0 innings. Carolina's bullpen took over from there, with RHPs Matt Smith and Rodrigo Benoit (W, 1-0) combining for 6.0 innings of hitless relief. Potomac got 3.0 innings of shutout ball from RHP Steven Fuentes, who lowered his season ERA to 0.60 in the process.
In the ninth inning, RHP Frankie Bartow (L, 0-1) hit Lutz to put the leadoff man aboard. C Payton Henry flew to left, but RF Rob Henry and 1B Ryan Aguilar drew walks to load the bases. McInerney ran the count to 3-2 before lining a single to center field, scoring Lutz to win the game.
The P-Nats move on to Winston-Salem as they continue their weeklong road trip against the Dash on Monday. The Potomac Broadcast will get underway at 6:45 p.m. with the P-Nats Leadoff Show before a scheduled 7:00 first pitch from BB&T Ballpark. You can listen to the Potomac broadcast at potomacnationals.com or on the TuneIn Radio App.
Comments