P-Nats top Salem Red Sox in pitchers' duel, 2-1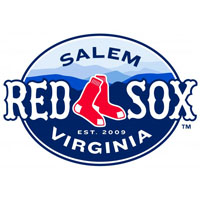 Daniel McGrath yielded just four hits over eight phenomenal innings, but was on the wrong side of a 2-1 score as the Potomac Nationals bested the Salem Red Sox on Wednesday afternoon at Pfitzner Stadium.
McGrath (4-5) faced the minimum through the first 3.1 innings before allowing a bloop single to Osvaldo Abreu. The lone mistake for McGrath came in the fifth inning, when he walked Austin Davidson with one away. Bryan Mejia then jumped on the first pitch he saw and sliced a two-run shot around the left field foul pole for a 2-0 lead.
McGrath only allowed two hits the rest of the way, retiring 11 of the final 13 hitters he faced. It was the second complete game for the Australian this season, and the first time he has completed eight innings in his professional career. In total, McGrath allowed two runs on four hits in eight frames, striking out two and walking one. He needed only 91 pitches to complete his outing.
Meanwhile, Potomac starter Whit Mayberry held Salem's offense in check. The Sox had two runners on with one out in the fifth, but failed to score before finally breaking through in the sixth. Two walks and a single loaded the bases with one out for Jose Sermo, who lifted a sacrifice fly to right field, cutting the deficit to 2-1. Deiner Lopez flew out to end the threat.
Mayberry (3-1) left after six innings, giving up a run on five hits with three walks and four strikeouts. He gave way to Neil Holland, who worked two scoreless frames before running into trouble in the ninth. Holland gave up a single to Lopez and walked Bryan Hudson with one away. Danny Mars then scorched a line drive back at Holland, who somehow snared the liner and doubled off Lopez at second to end the game.
Holland limited Salem to two hits in three innings to pick up his first save in a Potomac uniform this season.
Salem now returns home for a four-game series with the Myrtle Beach Pelicans starting Thursday at 7:05 pm. Michael Kopech (0-1, 1.50) makes his fifth start of the year for the Red Sox while the Pelicans will counter with Trevor Clifton (5-6, 3.32). As part of Thirsty Thursday at LewisGale Field, fans can enjoy beverage specials presented by Bud Light and WFXR. Follow along with all the action on the Salem Red Sox Baseball Network, with pre-game coverage beginning at 6:45 pm.
Comments