P-Nats scuffle in 11-5 loss to Salem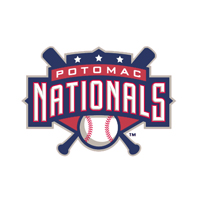 Following a 2-0 shutout at the hands of the Salem Red Sox (7-12) on Tuesday night, the Potomac Nationals (8-12) jumped out to an early 3-0 lead on Wednesday evening, but saw the Red Sox score four runs in the next half inning and later bust the game open with a five-run sixth frame.
RHP Bryan Mata (ND) struggled with his command for the Red Sox in the second inning, as a leadoff walk led to a three-run frame for Potomac. CF Armond Upshaw made it 2-0 Potomac with a two-run double, while 2B Cole Freeman extended his hit streak to 10 games with an RBI single. Freeman's first of two hits on the night gave Potomac a 3-0 lead, which evaporated in the top of the third inning.
Salem strung together four consecutive two-out hits off of LHP Nick Raquet (L, 1-3) in the third frame, as a three-run deficit for the Red Sox turned into a one run lead. SS Marco Hernandez got Salem on the board with an RBI single, while 1B Pedro Castellanos tied the game with a two-run double. 2B Ryan Fitzgerald followed with an RBI single, which gave the Red Sox a 4-3 lead and knocked Raquet out of the game. The teams then exchanged single runs in the fourth and fifth frames, as each side scored in each trip to the plate.
The Red Sox took a 6-5 lead into the sixth inning, as LHP Grant Borne worked his second inning of relief for Potomac. Salem sent 10 men to the plate in the frame, five of whom scored. Borne allowed six runs, five earned, over two frames.
Over the final third of the game, both bullpens were nearly flawless, as RHP Eduard Bazardo (SV, 1) issued a walk to the first man that he faced, but then retired the next nine batters that he faced, as he secured Salem's 11-5 win.
For Potomac, RHP Justin Miller worked one inning out of the bullpen on rehab assignment from the Washington Nationals. Miller surrendered a solo home run to 3B Garrett Benge in the fourth inning and struck out two in his first ever appearance for the P-Nats.
In need of a win on Thursday night to avoid a sweep, Potomac will send RHP Luis Reyes (0-2, 12.00) to the mound. Reyes has allowed at least five runs in each of his first three starts, none of which went longer than 4.1 innings. For the Red Sox, RHP Daniel Gonzalez (1-2, 3.78) is scheduled for his fourth start of 2019. Last time out, Gonzalez didn't allow a run over six innings in a victory over Frederick.
First pitch at Northwest Federal Field on Thursday night is set for 7:05pm. The Potomac broadcast will get underway at 6:50pm with the P-Nats Leadoff Show. You can listen to the Potomac broadcast at potomacnationals.com or on the TuneIn Radio App.
Comments