P-Nats drop opener to Wilmington, 5-3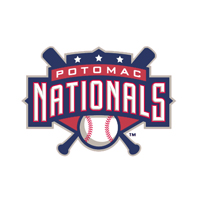 Despite an early lead, the Potomac Nationals (17-14) failed to come away with a series opening win, as the Wilmington Blue Rocks (14-16) used a two-run sixth inning in route to a 5-3 victory. Potomac led after half an inning, but trailed nearly the rest of the night.
RHP Arnaldo Hernandez (W, 4-0) faced the P-Nats for the third consecutive start and tallied his third straight win. The righty gave up a run in the top of the first inning, but then kept Potomac scoreless until the sixth frame. SS Carter Kieboom doubled with one out in the first inning, while 3B Jake Noll gave Potomac its only lead with a two-out RBI single in the frame.
Opposite Hernandez, LHP Matthew Crownover (ND) matched up with the Blue Rocks for the fourth time in his seven starts. Though he pitched five full frames, it was a rocky start for the lefty. Crownover walked a career high six batters, but surrendered only three runs. RF Kort Peterson led off the bottom of the third inning with a single, while SS D.J. Burt followed with a walk. After a sacrifice bunt, Crownover got CF Khalil Lee to pop up to Kieboom, but 3B Emmanuel Rivera followed with a two-run, two-strike, two-out single to left field, which gave Wilmington the lead. Two innings later, Crownover issued a leadoff walk to Burt, who eventually scored on a sacrifice fly.
The P-Nats tied the game with two runs against Hernandez in the sixth inning. Kieboom drew a leadoff walk, while RF Juan Soto followed with a single. Noll grounded out to 2B Gabriel Cancel, who got an out at second base, but Burt's relay throw to first base went past 1B Chris DeVito. It plated a run and allowed Noll to get to third base. Two batters later, C Tres Barrera then tied the game with an RBI double. Hernandez allowed three runs, two earned, over six innings.
Right after Potomac tied the game, the Blue Rocks took the lead back for good. RHP Mariano Rivera III (L, 0-1) entered for Crownover to begin the home half of the sixth inning and quickly struck out DH Chase Vallot. Peterson followed the strikeout with a solo home run, his fourth home run of the season. The home run proved to be the game-winning hit. Rivera then walked Burt and gave up a single to Cancel, before Potomac went back to the bullpen. LHP Taylor Guilbeau entered and walked Lee, which loaded the bases. Rivera followed with a fielder's choice RBI groundout, which made it 5-3 Wilmington, the eventual final.
Out of the Wilmington bullpen, RHP Justin Camp allowed just one hit over 1.2 scoreless frames, while RHP Bryan Brickhouse (SV, 5) picked up a four-out save, his league leading fifth save of the season.
In the loss, Soto extended his hit streak to seven games with another multi-hit game. DH Telmito Agustin extended his hit streak to nine games with his fifth inning single. Agustin leads the Carolina League in batting average.
Off of the loss, the P-Nats will turn to RHP Sterling Sharp (3-2, 4.45) in an effort to level the series. Sharp has picked up the win in two straight starts, one of which came against the Blue Rocks. For Wilmington, LHP Cristian Castillo (1-3, 8.78) will take the ball with an opportunity for the series win. Castillo is 0-2 with a 15.89 ERA in his last three starts.
First pitch at Frawley Stadium on Tuesday night is set for 6:35pm. The Potomac broadcast will get underway at 6:20pm with the P-Nats Leadoff Show. You can listen to the Potomac broadcast at potomacnationals.com or on the TuneIn Radio App.
Comments