P-Nats blanked by Winston-Salem, 3-0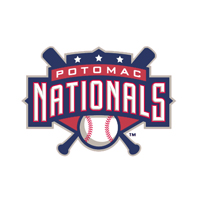 For the just the third time in 2018, the Potomac Nationals (25-19) failed to push a run across the plate, as the Winston-Salem Dash (26-22) picked up a 3-0 shutout win in the series opener. Potomac had just two runners advance past second base in the loss.
The P-Nats had the first scoring chance of the night, as SS Carter Kieboom doubled with one out in the first inning against RHP Luis Martinez (W, 3-3). After DH Alec Keller reached on an error, Martinez got both 1B Jake Noll and RF Rhett Wiseman to fly out, which kept the game scoreless.
RHP Tyler Mapes (L, 3-1) retired the first five hitters that he faced in the game, but ran into trouble with two outs in the second inning. Mapes hit 3B Zach Remillard on the first pitch of the plate appearance with two outs, while the next three batters in the order tallied a single. C Daniel Gonzalez made it 1-0 with a base hit, CF Joel Booker made it 2-0 with a single, and a throwing error by Mapes on a stolen base attempt by Booker plated the third run of the frame. The top of the second inning was the only frame in the game where either side had a man cross the plate.
Both starters pitched through the sixth inning, as Martinez allowed only two hits over six-shutout frames, while Mapes allowed three runs, two earned, over six innings in his first loss of the season.
The bullpen for each side worked three scoreless innings to close out the game. RHP Ronald Pena needed just seven pitches in a scoreless seventh inning for Potomac, while RHP James Bourque allowed one hit over two shutout frames. For the Dash, RHP Zach Thompson walked two batters and gave up two hits over two innings, but stranded three men on base, while RHP Matt Foster (SV, 3) worked around a two-out single from CF Blake Perkins in a scoreless ninth frame.
Despite the loss, Potomac's lead in the Northern Division standings remains at 2.5 games, as the Lynchburg Hillcats dropped their series opener vs. the Buies Creek Astros.
In an effort to level the series, RHP Sterling Sharp (4-2, 3.21) is set to take the ball for Potomac. Sharp has allowed just two total earned runs in his last three starts. For the Dash, LHP Bernardo Flores (3-3, 2.90) will make his ninth start of the season. Flores allowed a season high 10 hits in his last start, as loss to Buies Creek.
First pitch at Northwest Federal Field on Saturday night is set for 6:35pm. The Potomac broadcast will get underway at 6:20pm with the P-Nats Leadoff Show. You can listen to the Potomac broadcast at potomacnationals.com or on the TuneIn Radio App.
Comments