Oregon State takes over as No. 1 in the NCBWA Division I poll: UVA slides to 22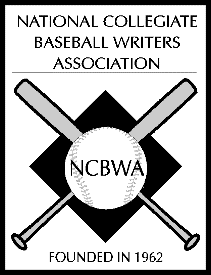 The National Collegiate Baseball Writers Association continues its tradition of NCAA Division I polls for the 21st year with its 2018 weekly surveys. This week there is a new No. 1, as Oregon State takes over the position after Florida held down the spot for the first three weeks of the season.
Oregon State is the new No. 1 after going 3-1 last week, including a series win over Cal State Fullerton at home. The Beavers are now 15-1 overall.
The Gators dropped down to No. 2 after going 3-2 last week, sweeping Rhode Island in a three-game series, but dropping both midweek contests to UCF.
Lots of shuffling from spots three through 10 this week, starting with Stanford joining the top three for the first time this season after they went 3-1 in a series at Texas last week. Overall they are 14-2 on the season.
Kentucky also moved up a spot to No. 4 after taking two-of-three from last week's No. 3, Texas Tech at home. The Red Raiders moved down to No. 5 after the series loss at Kentucky.
Florida State also dropped two spots, down to No. 6 after losing a series against Wake Forest on the road.
Texas A&M and Ole Miss each jumped up a spot, to No. 7 and No. 8, respectively, after each going 5-0 last week.
Arkansas also moved up one spot to No. 9 after a series win at home over Kent State.
Clemson joins the top 10 this week, jumping up from No. 13 after an impressive 5-0 mark last week, including a sweep of conference foe Georgia Tech.
Newcomers into the rankings this week include Duke at No. 24, UNLV at No. 25, Alabama at No. 27, Stetson at No. 28 and Oregon at No. 30.
The 2018 poll voters come from among 35 college baseball writers and related media persons from throughout the nation. After a preseason Top 35 listing, the remainder of the polls will feature a national Top 30 beginning with the Feb. 19 NCBWA DI survey.
The current survey has representation by 12 different conferences among the 299 baseball-playing schools in the 2018 NCAA Division I ranks. The rankings of 2017 had 13 different DI conferences rated at least one week. For more information or to join the NCBWA, please go to www.ncbwa.com.
2018 March 12 NCBWA Poll
1 Oregon State 15 – 1 Pac-12
2 Florida 15 – 3 SEC
3 Stanford 14 – 2 Pac-12
4 Kentucky 14 – 3 SEC
5 Texas Tech 15 – 2 Big 12
6 Florida State 14 – 2 ACC
7 Texas A&M 16 – 1 SEC
8 Ole Miss 15 – 1 SEC
9 Arkansas 11 – 4 SEC
10 Clemson 15 – 1 ACC
11 TCU 9 – 4 Big 12
12 Louisville 14 – 1 ACC
13 Auburn 15 – 1 SEC
14 Vanderbilt 12 – 4 SEC
15 Southern Miss 11 – 4 Conference USA
16 UCLA 10 – 4 Pac-12
17 Indiana 11 – 4 Big Ten
18 East Carolina 12 – 3 American Athletic
19 LSU 11 – 6 SEC
20 North Carolina State 13 – 3 ACC
21 Mississippi State 10 – 6 SEC
22 Virginia 10 – 6 ACC
23 UCF 13 – 3 American Athletic
24 Duke 12 – 3 ACC
25 UNLV 15 – 2 Mountain West
26 North Carolina 8 – 7 ACC
27 Alabama 13 – 3 SEC
28 Stetson 13 – 1 A-Sun
29 Texas 9 – 7 Big 12
30 Oregon 11 – 4 Pac-12
Also Receiving Votes:
Arkansas State (7 – 5), Butler (12 – 2), California (11 – 4), Coastal Carolina (12 – 6), College of Charleston (13 – 3), Dallas Baptist (8 – 6), Florida Atlantic (11 – 4), Florida Gulf Coast University (13 – 2), Georgia (11 – 5), Gonzaga (9 – 5), Illinois (8 – 4), Jackson State (9 – 3), Kansas (11 – 4), Kansas State (10 – 5), Kent State (7 – 5), Louisiana Tech (12 – 5), Missouri (13 – 3), Missouri State (8 – 5), North Carolina Central (12 – 4), Northern Colorado (8 – 4), Oklahoma (10 – 7), Purdue (9 – 4), Saint John's (8 – 4), Saint Mary's College (9 – 5), Sam Houston State (12 – 4), San Diego State (10 – 5), South Alabama (9 – 7), South Carolina (11 – 5), UC Irvine (9 – 6), UNC Wilmington (11 – 4), USC (9 – 4), West Virginia (7 – 6), Wichita State (12 – 2)