Local
Orange County couple wins Excellence in Agriculture award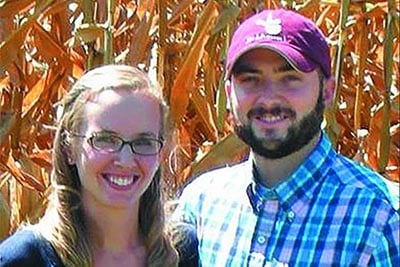 Jacob and Jennifer Gilley of Orange County recently were named this year's Virginia Farm Bureau Federation Young Farmers Excellence in Agriculture award winners.
They were honored last month during the VFBF Young Farmers Summer Expo in Wytheville.
The Excellence in Agriculture award recognizes individuals and couples for involvement in supporting agriculture, leadership ability, and involvement and participation in Farm Bureau and other organizations.
As Excellence in Agriculture Award winners, the Gilleys will receive a farm utility vehicle courtesy of Virginia Farm Bureau Insurance Services, $500 courtesy of Montgomery County Farm Bureau, and a travel package to the 2023 American Farm Bureau Federation Annual Convention in San Juan, Puerto Rico.
Thomas and Rachel Henley of Goochland County were runners up and will receive $500 and a travel package to the AFBF convention.
Other finalists were:
John Benner of Augusta County
Thomas French of Shenandoah County
Kari Sponaugle of Highland County
Courtney Umbarger of Smyth County
About the Gilleys
The Gilleys are the third generation to operate Heaven's Hollow Farm in Orange and Madison counties.
Together, they oversee a cow-calf operation; raise cattle, hair sheep, feeder pigs and pastured broilers; and market meat and eggs under the Heaven's Hollow Farm brand.
The farm's products carry the Homegrown by Heroes label, used to certify goods produced by military veterans.
They also represent District 7 on the VFBF Young Farmers committee.
Jacob serves as president of Orange County Farm Bureau and holds the position of mid-Atlantic sustainable grazing manager with American Farmland Trust. He holds a bachelor's degree in animal and poultry science and a master's degree in career and technical education from Virginia Tech. He also is a veteran of the Air National Guard.
Jennifer, who holds a bachelor's degree in nursing from the University of Virginia, manages the operation's direct marketing and customer engagement. She also homeschools the couple's three children.
In their presentation to the award judges, the Gilleys shared some of their experiences engaging with the public through various channels to promote Virginia agriculture.
Jacob noted their involvement in the Virginia Cattlemen's Association, Virginia Forage and Grassland Council, Virginia Beginning Farmer & Rancher Coalition, Minority and Veteran Farmers of the Piedmont, and the Mountains-to-Bay Grazing Alliance.
They also discussed their participation local involvement in their county Farm Bureau, area schools and efforts to support 4-H and FFA groups with scholarship money.
At the state level, the Gilleys mentor young agriculturalists through the VFBF Young Farmers Program, and Jacob promotes careers in agriculture and conservation to students in Virginia Tech's agricultural technology program.
They also frequently engage with elected officials through VFBF's annual legislative day event, and in 2021, they welcomed Rep. Abigail Spanberger (D-7th) to their farm to discuss conservation practices.
Their Excellence in Agriculture presentation also touched on the topics of strengthening food systems through local food banks, educating consumers about farmland conservation and connecting the public with agriculture through direct marketing.
Jacob said their outreach activities allow him and his wife to share their story, and that of their farm, with both the farming and non-farming public.
"It was great to reflect on all that we've been doing for the past many years," he said. "We've dedicated a lot of time and energy toward Virginia Farm Bureau and agricultural advocacy, and we hope it will help inspire the next generation of leaders and producers."