ODU rips VMI in finale for Keydets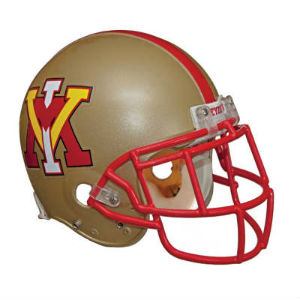 Closing out the 2018 season, the VMI football team fell by a 77-14 score to host Old Dominion Saturday afternoon at Foreman Field at SB Ballard Stadium in Norfolk.
Playing its second FBS team of the season, the Keydets found the going tough early as ODU capitalized on four VMI turnovers and a misplayed kick return – converting all into scores.
The Monarchs rolled up 339 yards rushing on the day and set the tone with two long scoring drives. Senior running back Jeremy Cox scored on touchdown runs of one and two yards to cap 61 and 72-yard possessions and took a 14-0 lead with 3:23 left in the first quarter.
The Monarchs 4-7 quickly jumped the lead to 21-0 on VMI's next possession when safety Justin Noye jumped in front of a screen pass in the right flat and returned it 37 yards for a touchdown.
Another takeaway produced on a sack and fumble of VMI quarterback Reece Udinski at the ODU 49 led to another Monarch touchdown. Redshirt junior running back Kesean Strong ripped off a 40-yard gain on the drive and slashed in four plays later to make it 28-0 early in the second quarter.
The Monarchs took a 49-0 lead at the half after dominating time of possession in the first half 19:36 to 10:28. ODU Blake LaRussa was precision sound in the first half completing 14 of 18 passes for 117 yards and two touchdowns in the first half.
The Keydets (1-10) generated back-to-back scoring drives late in the third quarter when quarterback Chance Newman threw a pass that was tipped to a wide open sophomore wide receiver Kris Thornton who raced to the end zone for a 67-yard scoring play.
The Keydets successfully converted an onside kick on the ensuing kickoff and assembled an 11-play, 66-yard drive capped by freshman Korey Bridy's two-yard run.
Udinski was limited to a season-low 75 yards on 10 of 27 passing attempts before giving way to Newman who was 8 of 15 for 141 yards and a touchdown in his most extensive action of the season.
Thornton caught six passes for 105 yards and a touchdown for his sixth 100-yard receiving game this year and moved past the 1,000 yard receiving mark for the season – only the third time in school history that had been accomplished.
Redshirt sophomore Elliott Brewster led the Keydets in tackles with 11 tackles while Ethan Casselberry and A.J. Smith finished with nine stops.
Comments