'Nothing else mattered except celebrating this': Virginia brings championship home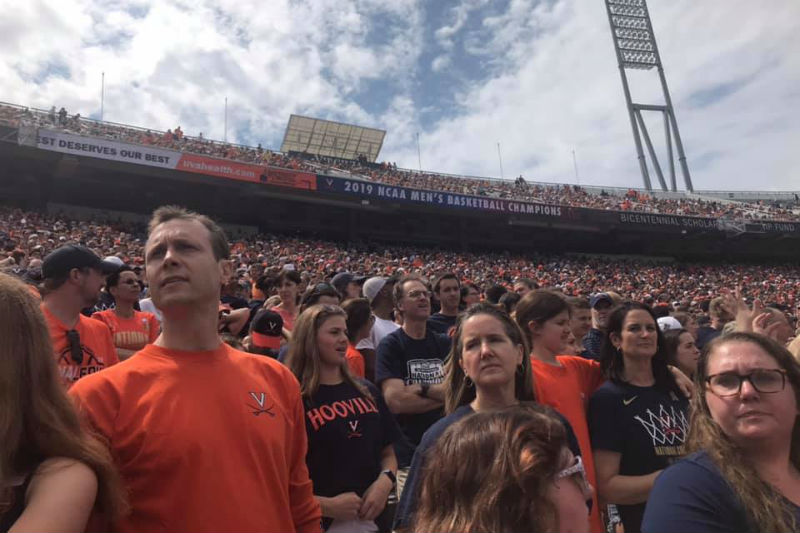 CHARLOTTESVILLE, VA — At 12:32 p.m., they flooded in, a sea of orange and blue and white and grey. They came in jerseys and t-shirts and sweatshirts and hats — lots of hats. They wore the national championship gear. They donned the jerseys of today's stars, with the 5 of Kyle Guy and the 11 of Ty Jerome and the 12 of De'Andre Hunter dotting the crowd, but also of earlier stars, back to Akil Mitchell and Malcolm Brogdon and Joe Harris, back to Mike Scott before them, back to Sean Singletary before him, and, yes, all the way back to the iconic 50 of Ralph Sampson.
They clutched onto posters and towels commemorating the history they had just witnessed days earlier. They came in father and son, in mother and daughter, in families, in couples, in friend groups and as singles. They came in old and young, some able to recall all the years of heartbreak, some too young to even know the alphabet, much less what the four-letter combination "UMBC" means. They snapped selfies and posed for pictures. They exchanged high-fives, handshakes and hugs. They entered from all over — from the West entrances, where lines extended through the parking lots, and from the East entrances, where the wait was decidedly shorter but the walk to the west-side lower bowl decidedly longer. They mingled and chatted, found old friends and made new ones. They danced to the music pumping in over the loudspeakers. They, eventually, found their seats, and when they couldn't, they moved to the upper deck. They smiled wide, and some even shed a tear of two.
They stood through rain, because if anyone knows how to weather a storm, it's this group of fans and the team for which they cheered.
No matter where they traveled from, or what they wore, or what their connection to the university is, they came together at Scott Stadium on Saturday to take part in the celebration of celebrations for University of Virginia athletics: a national championship for their beloved basketball-playing Cavaliers.
At 2:24 p.m., the team and the coach they had been waiting for finally emerged out of the tunnel on the south side of David A. Harrison III Field, and a standing ovation ensued. This day may have been dedicated to an unprecedented event — Virginia basketball's national championship — but Tony Bennett had seen the scene before.
"We played at Clemson, and we're riding up on the bus, and it was the time they were gonna celebrate the football national championship," Bennett said. "And we're riding up on the bus, and the stadium's full, and we're getting ready for our game, and I remember thinking, 'Man, what would that be like if we ever won a national championship?'
"And you know what? That day is now!"
Bennett may have seen scenes like this before on other campuses, but he still could hardly believe what he saw Saturday in Charlottesville before an estimated crowd of 21,000.
"I'm blown away by it," Bennett said simply.
It's not the only time Bennett has sat in awe at what he and the people around him had accomplished. Five days earlier, he had that same experience — one of the many that will stick with him for a long, long time.
"When the final horn went off after these guys had won the national championship, just sitting in that stool," Bennett said. "Observing these guys … They're part of one of the greatest stories that I've ever seen written, and it'll be told over and over again."
Over the following minutes, the key seven players — first Kihei Clark and then Mamadi Diakite, Jack Salt, Braxton Key, De'Andre Hunter, Kyle Guy and finally Ty Jerome — took questions. When asked about how Virginia overcame the doubters, Jerome's answer received one of the loudest cheers on a plenty-boisterous afternoon.
"Honestly, it's not even about them," Jerome said. "It was about us. About our coaches … It was a dream come true."
For a day, it certainly was a dream come true — or perhaps a dream realized as true once again. That the event was even held at Scott Stadium, rather than at the Cavaliers' basketball home of John Paul Jones, which was hosting "Hot Wheels Monster Trucks Live" on Saturday, was a dream come true for Bennett, a dream that took a decade 10 years to realize.
"When I first got the job, there was a Dave Matthews [Band] concert going on, and I remember I was maybe a week on the job, in my office, and I just snuck out, and I looked at the stadium, and I remember saying, 'Someday it's gonna be like this for basketball," Bennett said at the press conference that followed the celebration. "And then to walk out here. They said we can't do it at JPJ … They said it won't be able to hold enough people. And I was like, 'Come on there's gonna be enough room in there.'
For what it's worth, Bennett would have been wrong. John Paul Jones holds roughly 15,000.
"This community has been through a lot, and then to see this come together and celebrate with them, it was a united celebration," Bennett said, harkening back to the team's "United Pursuit" motto. "Nothing else mattered but celebrating this."
For Guy, the Final Four's Most Outstanding Player, the magnitude of the championship is only beginning to hit him. He's had to stay after class to grant picture requests and has talked to plenty of media outlets since the victory. But he still didn't quite have the words Saturday.
"I'm kind of at a loss for words for what we've accomplished," Guy said.
Bennett shared in that feeling.
"I don't think, really it has sunk in," Bennett said. "It's just little things like this … I just think it'll get better and better."
Ahead of the national championship Monday, Virginia went through its walkthrough to the tune of one of the songs it has used all season, Andy Grammer's "Back Home." In the hook, Grammer sings, "And no matter where we go, we always find our way back home."
On Saturday, the Cavaliers did find their way back home, and the fans followed them there.
At 3:05 p.m., the players and coaches were leaving the stage, and the fans that had flocked in would just as quickly find the exits in the following minutes as well. Some traveled great distances to get here. Others had walked down the street.
But for one Saturday afternoon, they all had called Scott Stadium their home, even if for just a few hours, alongside their fellow fans, the team and coaches that led them to a championship and a trophy that will soon find its home, for the first time, in Charlottesville.
Comments