Norfolk State holds off Howard 79-74 to set up wild regular-season finish in MEAC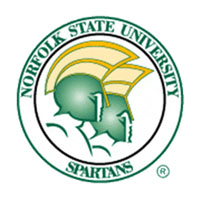 Junior Alex Long totaled a double-double of 16 points and 15 rebounds, and seniors Preston Bungei and Kyle Williams combined for 20 points in the second half to lead the Norfolk State men's basketball team to a 79-74 win over Howard on Monday night at Burr Gymnasium.
The Bison got a combined 53 points from R.J. Cole and Charles Williams, although Howard shot just 31 percent for the game. Nevertheless, they were able to get to within two late in the game before NSU held on in the end.
The Spartans used a big advantage down low, as they outscored HU 40-12 in points in the paint and were +13 on the glass. Bungei totaled 14 points on 6-of-8 shooting and 10 rebounds to give NSU its fifth win in a row. He was one of five Spartans in double figures in scoring.
The Spartans improved to 11-4 in the MEAC as well as 13-17 overall. Howard fell to 6-9 in the league and 9-22 overall.
As a result of Bethune-Cookman's loss to North Carolina A&T on Monday night, NSU moved into a five-way tie for first place in the league. Along with NSU and those two schools, idle Hampton and Savannah State are also tied at 11-4.
They led the entire first half, but the second half proved to be a tight battle. Long, who had 10 points and nine rebounds at the break, kept it going early in the second stanza. His layup erased Howard's first lead of the game two and a half minutes into the period.
Kyle Williams got on the board with a pair of shots to keep the Spartans ahead before Kyle Foster made a trey and Charles Williams sank two from the line for a 51-48 Howard advantage.
Senior Dan Robinson made a layup and sank two from the free throw line during a 10-2 run for the Spartans that made it 58-53 as the 10-minute mark arrived. Cole ended the run with a 3-pointer, but Bungei completed a 3-point play and made a layup to push the advantage to eight, 70-62, with 6:15 left.
Cole's 3-point play with 2:49 left made it a four-point game, 74-70, still in favor of NSU. Charles Williams and Zion Cousins each went 2-of-2 from the line late in the game to get the Bison to within two, but the Spartans held on as Cole missed a potential game-tying 3 with 11 seconds left.
Charles Williams ended the night with 32 points, shooting just 8-of-28 from the floor but 13-of-14 from the free throw line. Cole shot 7-of-21 for a 21-point night with seven assists, four rebounds and four steals.
The Spartans led from the start and pushed the advantage to 14-7 after sophomores Steven Whitley and Nic Thomas each made 1-of-2 from the foul line. The Bison got 3-pointers from three different players to cut the deficit to one a little more than midway through the first half.
A couple of buckets by both senior Stavian Allen and Long kept the Spartans ahead, and junior Derrik Jamerson Jr. sank a 3-pointer for a 35-28 lead with a little more than a minute left. Charles Williams made one of his own on the other end with time ticking down to cut the NSU lead to four heading into the locker room.
The Spartans shot 28-of-61 from the floor (45.9 percent) despite struggles from beyond the arc. They made just four treys in the game and less than 60 percent from the foul line (19-of-33).
Long made 7-of-15 and added four assists. Robinson, Kyle Williams, and freshman Mastadi Pitt each scored 10 points. Howard made 10 treys, although it took 36 shots to get there. It was part of an overall 22-of-70 shooting night (31.4 percent). They stayed close in the second half thanks to an 18-of-21 effort from the foul line in those last 20 minutes of play.
NSU, winners of nine of its last 10, will close out the regular season on Thursday against the team that handed the Spartans their only loss during that time. The Battle of the Bay at home against Hampton will tip off from Joseph Echols Hall at 8 p.m.