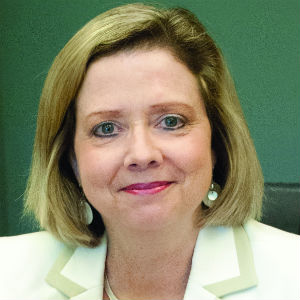 Susan Schultz Huxman, Ph.D., has been appointed as Eastern Mennonite University's ninth president by unanimous vote from both the university's Board of Trustees and the Board of Mennonite Education Agency.
Huxman is currently president of Conrad Grebel University College in Waterloo, Ontario, Canada. She will officially assume office on Jan. 1, 2017.
Her selection follows a 10-month process conducted by a Presidential Search Committee of representatives from the EMU Board, faculty, staff, students and alumni, MEA Board and Mennonite Church USA.
"We are delighted that Dr. Huxman has accepted this call," said Evon L. Bergey, chair of the Presidential Search Committee and an EMU board member. "She was a top choice for many reasons. Her deeply rooted Anabaptist faith, commitment to Mennonite higher education, innovative spirit, administrative experience and scholarly abilities will be great gifts to our students and the campus community."
"As an academic and passionate ambassador of Mennonite education, I see EMU as a real gift to the church and our world today as it prepares students `to serve and lead in a global context,'" said Huxman. "I enjoyed the visits in both Virginia and Pennsylvania with many engaged constituencies. I sensed much confidence and excitement around EMU's people and purpose. Jesse and I look forward to joining this faith-inspired community."
On April 13, Huxman was announced as the candidate of choice by the Presidential Search Committee. Last week, she visited EMU's Harrisonburg campus and the Lancaster, Pennsylvania, site to speak in a chapel service and participate in campus forums, interviews and meetings with administrators, faculty, staff and students.
The Presidential Search Committee reviewed feedback received following the visits and presented their final recommendation to the EMU and MEA boards.
"A rigorous selection process, as well as very positive feedback after her visits with faculty, staff and students, has confirmed that she is the right leader for EMU today and in the future," adds Kay Nussbaum, chair of the EMU Board of Trustees. "It is clear that she understands and is passionate about EMU's mission and values, and will provide strong, confident leadership. We are honored to welcome Dr. Huxman as our ninth president. Dr. Huxman and her husband, Jesse Huxman, will be tremendous assets to EMU, its Lancaster site and the broader communities we engage with."
Huxman will succeed Loren E. Swartzendruber, D. Min., who has served as university president since 2003. His term ends June 30, 2016. Lee Snyder, Ph.D. — former academic dean and professor at EMU as well as former president of Bluffton (Ohio) University — will serve six months as interim president.
Huxman has served for more than 25 years in higher education in a variety of academic and administrative roles. Prior to her appointment at Conrad Grebel, she was director of the Elliott School of Communication at Wichita (Kansas) State University.
She earned her M.A. and Ph.D. in communication studies from the University of Kansas. Her involvements in Mennonite education include serving on the board of MEA from 2001 to 2007, and on the board of Western District Conference of Mennonite Church USA. She graduated from Bethel College in North Newton, Kansas.
Huxman is the first woman to be appointed president at EMU. EMU was led by female interim president Beryl Brubaker, for eight months in 2003, and will be led by Snyder during the transition.
"On behalf of the MEA Board, I offer thanks to the members of the Presidential Search Committee—and particularly its chair, Evon Bergey — for their dedication to this important task. Because of their exceptional work and discernment, we have found the ideal candidate to lead EMU into its second century," said Judy Miller, Ph.D., MEA Board Chair.
"Mennonite education has grown to become an approach that is appreciated across faiths and around the world," says MEA Executive Director Carlos Romero, who has been an ex-officio member of the Presidential Search Committee. "Dr. Huxman's communications expertise and academic background will help to articulate to the larger community the value of an Anabaptist education."
Founded in 1917 in the Shenandoah Valley of Virginia, Eastern Mennonite University is a private liberal arts institution rooted in the Anabaptist tradition. The institution enrolls more than 1,900 students in undergraduate, graduate and seminary programs with curricular emphases on peacebuilding, creation care, experiential learning and cross-cultural engagement.  EMU prepares students to serve and lead globally through an explicitly Christian formation that engages the full diversity of human experience and identity. The university celebrates its Centennial in 2017.