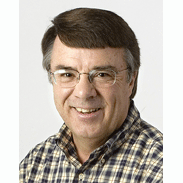 I've long tilted toward doing things differently, being my own person, not always giving assent to conventional wisdom on certain topics.
I inherited this trait, I believe, from my late father, J. Vernon Bishop, who marched to the tune of a different drummer most of his life. Under his yearbook photo, Doylestown (PA) class of 1939, was a line that read, "Takes everyone's advice, then does as he pleases."
In the same yearbook, he and a buddy were pictured washing school windows and named joint recipients of the "Least Likely to Succeed" recognition. Can't speak for his classmate, but I believe Dad proved 'em wrong. He was a loving spouse and father, excellent provider, devout church member and contributing citizen in the local community. He had an outrageous sense of humor; others enjoyed being around him.
So, I've deemed it a compliment along the way to be on the receiving end of an affirming comment that hearkens back to some similar quality in Dad. He clung to life after being diagnosed with a terminal illness, but didn't experience prolonged physical pain and died peacefully at home. Even when his pastor, the late Truman Brunk, came to his bedside the night before his death, Dad greeted him with, "That sure is an ugly tie you're wearing, Truman!"
I find myself saying and doing a lot of ridiculous things these days, not because of trying to emulate Dad, but rather, I suspect, directly related to the aging process.
I'm routinely dropping (and breaking) things, misplacing my lens cap on my camera, even forgetting where I last used it; ditto for my cell phone. Recently, I was miles away from a restaurant before realizing I'd left it at the table. Daughter Sara called my cell number on her phone and a restaurant employee answered it! They had my phone, and I was able to swing by and claim it on our return trip.
I often come out to a shopping center parking lot and have nary a clue where I'm parked (especially with the Miata that gets lost when parked between two SUV's. The other morning I poured orange juice on my cereal (hmmmm, doesn't taste half bad!), am introduced to someone and as we talk I realize I've already forgotten the other person's name. At this same moment I have no problem recalling the words to an obscure oldies song, the artist, the year released and maybe even the label name.
Last weekend, I stretched out on the sofa for "just a few minutes," and next thing I knew, my long-suffering spouse whispered sweet nothings in my ear: "Hey, it's 10:30. Are you coming to bed?"
Getting up, feeling groggier than before I initially lay me down to sleep, I grope around for my glasses. I find them all right, broken in half. Apparently I rolled over during my siesta and made a spectacle of myself. Try as I may, there was no way they would stay reconnected, not even with a generous portion of duct tape binding the broken bridge.
I located an old pair of glasses, but the prescription was different and I walked around in a foggy haze with a dull headache. Plus, I couldn't believe I actually wore such hideous specs (guess they matched my long hair, leisure jacket and flared double-knit slacks). When the optician's shop opened Monday, I was right there soliciting help. The replacement frames were expensive, but so worth it. I appreciated anew the gift of clear vision that a good pair of corrective lenses makes.
I've resolved not to let this present state of affairs overwhelm me, and if I could pinpoint the cause, apart from the reality and ravages of aging, I'd take whatever course of action is required to slow down, if not reverse, the process. Er, let's see, what am I talking about? And do I know you?
The one consolation: my ever-so-supportive spouse Anna and I are in this together. She hasn't yet put my name on the waiting list at the local nursing home or threatened to disassociate herself from her hapless hubby. Yet, I ask: Is this how it's going to be for whatever time I have remaining on this fragile but indifferent planet?
Dad, if you're reading this, I imagine you're laughing up your celestial sleeve. I'd welcome some advice, even if I turn around and do what I please.
Jim (Remember Him?) Bishop is public information officer at Eastern Mennonite University. He can be contacted at [email protected].