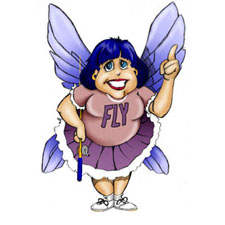 The opening ceremonies for the London 2012 Summer Games were last Friday. We all watched as the athletes entered with their flags flying high and their smiles guiding them.
Those smiles are evidence of the dedication to their life's work. At a very early age they decided that they wanted to be and compete with the world's best athletes for the gold medal. Do you want to know what got them there? It was not just talking about their goal, it was putting together a plan and implementing it every day of their lives.
Do you want to smile too? Many of you came to FlyLady.net with one goal in mind; to get your home in order. That is an honorable goal but that is not the be all and end all. It is just the stepping stone to opening up your world to many wonderful things. Getting my home in order has allowed me to be who I was put on Earth to be! I am fulfilling my life's mission and I would not have ever been able to find my reason for being if I had stayed in my clutter and CHAOS.
CHAOS separates us from our goals. We may not even know what they are when we first start, but if we will practice our routines every day then we will begin to see what is waiting for us once we get out of our clutter and CHAOS. These skillful athletes practice every single day. God gave them a talent and they have taken that talent to its highest levels. They did not hide it under a bushel or go bury it under the clutter. They set up a plan and each day, each week and each month they took the BabySteps to help them accomplish their goal of being the best in the world.
We have established the FlyLady Declutter Games that will be full of challenge events, supportive words, testimonials, bonus events and so much fun. We are going to spend the next 16 days getting that clutter out of your homes and celebrating every day with claiming our medals!
All of the athletes have a coach. They didn't have to sit down and figure this all out for themselves. They had someone who had done it before them to help guide them and tell them what to do! We all need a coach and you have a whole coaching team!
Meet FlyLady! She is the bossiest coach, but she has your best interest at heart and she loves you as if you were her own. She is tough but this will help you too. She guides you with the combination of her personalities; The loudest cheerleader, a fairy godmother, a strict drill sergeant and a loving but firm parent shaking her Mommy finger when you need that attitude adjustment.
Then there is Kelly! She gives us what we need to help us get through our days and feel good about something. She is our sprinting coach and at the end of the day she sends us to the showers to take care of ourselves.
You have a whole FLY Crew to help you from your head to your toes. We have a lifetime of being able to stand up on the platform and accept our gold medal for a sport that was not the most glamorous but for a blessing that we have performed out of love for ourselves and for our families. Take your bows friends and put that smile in your face! Get out your timers!
We are going to have fun with our FlyLady Declutter Games! Join us at www.flylady.net/d/flylady-games-2012.
For more help getting rid of your CHAOS, check out Marla Cilley's website and join her free mentoring group at www.FlyLady.net, or her book, Sink Reflections, published by Random House, and her New York Times Best Selling book, Body Clutter, published by Simon and Schuster. Copyright 2012 Marla Cilley Used by permission in this publication.