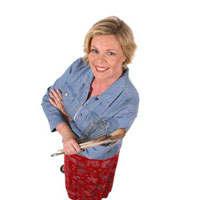 Dinner Diva column by Leanne Ely/SavingDinner.com
Oh lazy, hazy beach days. One of the most wonderful things about summer. And what's a day at the beach without a cooler full of goodies?
But one must be strategic when it comes to packing food for the beach. Because at the beach, there is sand. And hot sun. And wind.
You want to make sure to bring along some protein that will hold up in the cooler and that every-one can eat with their hands.
You should also try to avoid taking too many salty foods because you'll already be dehydrated and salty from the sea. And chocolate and beaches do not go together because melty pile of goo.
It's best to pack healthy snacks to keep your energy up if you're in and out of the water. Even if you're just reading on the beach and not swimming, you don't want to feel bloated because of too many greasy treats.
So, what do you bring to eat at the beach?
Here are some great, simple, healthy ideas!
Fresh fruit. Whole fruits are better than cut up fruit when it comes to sandy fingers. Apples, peaches, bananas (though they can get mushy in the heat so put them in the cooler)… all good choices. A container of watermelon or cantaloupe slices you can pick up from the rind is also fabulous for the beach. These foods are all hydrating, too, which is a bonus!
Nuts. A great quick source of protein. You can make up a little trail mix of dried fruit and nuts if you think you can eat this without crunching on sand (challenge!).
Crackers. If you need to bring along some carbs, try crackers instead of chips. Less salty and better for you if you choose whole grain crackers.
Wraps. Whether it's a tortilla or your favorite gluten-free leaf, a sandwich filling is more fun to eat when it's wrapped up in something, than when it's between two pieces of bread. Kids can also eat a wrap more easily with one hand, so their second is free for holding their juice box. Wraps are easier to … well, wrap, too—place a cloth napkin or even a paper towel on the bottom half, allowing sandy fingers to still hold onto the wrap without getting sand in the food itself.
Fried chicken. Yum. Need I say more? Fried chicken is perfect for the beach because it will hold up in the cooler, and you can eat it with your hands. (But you can also pack paper plates and utensils, too, if you wish … )
Food on skewers. From boiled eggs and cheese to cured meats and veggies, kabobs are always a hit. Especially for the beach so you have no worries of sandy hands touching the foods.
Salad wraps. Salad is not considered a fun food by many people. (I know.) But veggies are important. Instead of going through the effort of fixing a big Tupperware bowl full of salad that no-body will want to eat, wrap the salad toppings inside of lettuce leafs and fasten with toothpicks. Spread a little dressing inside with the cucumbers, tomatoes, carrots, or whatever else you like in your salads, and you have handy little easy to eat salads disguised as lettuce wraps.
Beef jerky. Another great source of protein, beef jerky doesn't spoil in a beach bag, and even if it falls in the sand, it can be easily wiped off. The perfect beach protein!
Tradition. All of the above ideas are great, but there's a lot to be said for tradition. If your mother packed egg salad sandwiches and iced tea for the beach, and you can't eat an egg salad sandwich to this day without thinking and smiling about the beach, then pack that. Even if it's not the most strategic of beach snacks, go for it. Sometimes memories have to be made, even if it means sand in your teeth. (Just make sure to keep it stored in a cooler, for health reasons!)