If you have Christmas dinner leftovers in your refrigerator, I'm going to give you some of my family's recipes to help use them up in the absolute most delicious ways.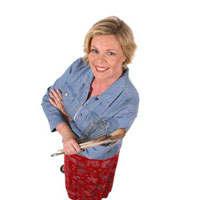 Now, my family generally starts requesting turkey dinner leftovers even before Thanksgiving and we love these meals so much that nobody is tired of eating them even when we make them all over again with Christmas leftovers a few weeks later!
If you have an abundance of turkey and you're sick of Christmas and Thanksgiving flavors, try my beanless turkey chili recipe to spice things up!
Beanless Turkey Chili (Paleo-friendly)
Serves 4
2 tablespoons olive oil
1 large onion, chopped
4 cloves garlic, pressed
1 red bell pepper, chopped (seeded and deribbed)
1 stalk celery, chopped
2 jalapeno peppers*, chopped (seeded and deribbed)
1–2 teaspoons ground cumin
2 teaspoons ground coriander
1/2 teaspoon cayenne pepper
Salt and pepper to taste
1 (28-oz.) can tomatoes, broken up
4–5 cups cooked turkey, chopped
2 tablespoons fresh cilantro, chopped
Juice of one lime
*Optional
In a large saucepan or skillet, heat oil over medium heat. Sauté onion, garlic, celery, peppers and seasonings over medium–low heat for about 5 minutes.
Add tomatoes. Simmer gently for 20 minutes. Stir in cooked turkey and cook until heated through. Before serving, add lime juice and fresh cilantro and stir gently.
Serve in bowls and top with shredded cheddar cheese and a dollop of sour cream. Serve with a big green salad.
Bet you don't often think pasta when you think of leftover turkey dinner, but this recipe will be a welcome treat for your whole family!
Barbecued Turkey Pasta
Serves 6
1 pound gluten-free fusilli or other medium pasta shape, uncooked
1 tablespoon olive oil
3 cups leftover turkey, cubed
1 small green bell pepper, sliced thin
1 small red onion, sliced thin
2 cloves garlic, pressed
1/2 cup spaghetti sauce
1/4 cup barbecue sauce
1 cup grated Provolone cheese
3 green onions, chopped
1/4 cup cilantro, chopped
Prepare pasta according to package directions. Meanwhile, heat oil in a large skillet over medium heat. Add turkey and sauté, stirring occasionally, until starting to brown on all sides, about 1 minute. Add the bell pepper, onion and garlic, and cook until pepper turns bright green, about 1 minute. Now add your favorite spaghetti sauce and barbecue sauce, and heat just to a simmer. Remove from heat.
Drain pasta, reserving 1/4 cup of water and return pasta to the pot. Add turkey mixture and cheese to the pot. Stir over a low heat until pasta is coated with sauce. Add enough of the reserved cooking water, if needed, to make the sauce lightly coat the pasta (you don't want it too thin, however). Serve up the pasta in bowls, and top with green onions and chopped cilantro. Enjoy with a great big spinach salad.
If you hosted dinner and you have a lot of everything leftover, you must make Alice Johnston's Fabulous Thanksgiving Pie.
Alice Johnston's Fabulous Thanksgiving Pie
Serves 4 to 6
Leftover gravy, heated
Leftover turkey, chopped
Leftover stuffing/dressing
Leftover mashed potatoes
Leftover veggies
Leftover cranberries
Preheat oven 375 degrees. In an 8 to 9 inch pie pan, press the leftover stuffing into a bottom to make a pie shell of sorts. Next, make a layer of potatoes, then veggies. Add the chopped turkey to the heated gravy and mix well. Pour that turkey mixture into the middle of your pie and put it in the oven. Bake for 20 minutes or so until completely heated through. Serve with leftover cranberries.
Boy my stomach is growling! That Thanksgiving Pie is just the best. Almost worth making more of everything so you have plenty of leftovers!