New Waynesboro YMCA sports director Melvin Garrison: Sports teaches life lessons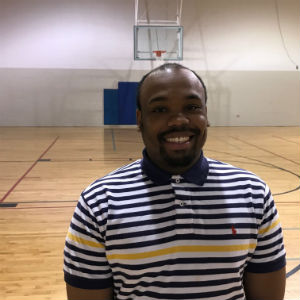 Melvin Garrison brings energy to the sports director job at the Waynesboro YMCA that you would expect from a former college point guard.
"The Y is home. It's always going to be home. Jeff and the staff here have welcomed me with open arms. I appreciate that. It's a family. I've been working in youth sports for five years, and I look forward to being able to bring my experiences here to what we have going on here in Waynesboro," said Garrison, who joined the staff at the Waynesboro Y on Feb. 19.
A Richmond native, Garrison is a 2014 graduate of Averett University, where he was a four-year member of the basketball program, starting 24 games as a senior in 2013-2014.
He earned a degree in sports administration from Averett, and completed a master's in sports administration at Liberty University in 2017.
It all started for Garrison as a third-grader at the Manchester YMCA in the Richmond area.
"That's when I fell in love with basketball, and I also played soccer and baseball there," Garrison said. "That carried me through my middle-school years to high school. Sports has had a tremendous impact in my life, and I want to give back what I learned, the life lessons instilled in me."
Before coming to Waynesboro, Garrison was the sports director at the Patrick Henry YMCA in the Richmond area. His work there impressed Jeff Fife, the executive director of the Waynesboro Y.
"Every time we talked to Melvin during the interview process, I had the 'Rocky' theme song playing in my head," Fife said. "He had me so fired up. Because he has lived it, the life skills through sport.
"We're very excited to bring Melvin into our community. He's a young man who grew up in the Y network, has been giving back to his Y family in Richmond, and he's creating a new network and family here in Waynesboro," Fife said.
To Garrison, his focus is on helping the next third-grader signing up for basketball, soccer and baseball get excited about sports and get excited about life.
"If I can have an impact on even just one child's life through sports programming, whether it's Friday night basketball, a clinic, a sports sampler, it will have been worth it. Sports can teach you life lessons. I feel like that's my job here," Garrison said.
Story by Chris Graham