New postgraduate program in business analytics launches in India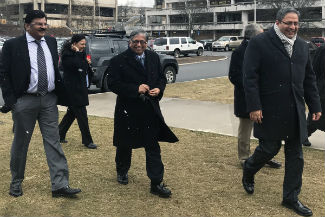 The Virginia Tech, India, Postgraduate Program in Business Analytics is scheduled to launch in June with courses held online and on the campus of the program's first partner, the N.L. Dalmia Institute of Management Studies and Research.
Under the yearlong program, students in India will earn a Virginia Tech certificate in business analytics, designed to prepare them for careers in government or industries that operate in big-data environments.
Virginia Tech faculty members from the College of Engineering and the Pamplin College of Business will teach along with the institute's instructors. Other adjunct faculty members will be drawn from Indian institutions and senior industry executives from the fields of information technology, computer science, engineering, marketing, statistics, finance, and management.
Guru Ghosh, vice president for Outreach and International Affairs, said the program represents not just an interdisciplinary effort at Virginia Tech but also a major step toward creating international collaborations for Virginia Tech focused on the Beyond Boundaries initiative. Virginia Tech has named Data and Decisions" one of its Destination Areas and areas of strategic growth.
"We are living in a society that is increasingly becoming reliant on data, predictive analytics, and machine learning," Ghosh said. "Globally, employers seek a workforce with a sophisticated understanding of this complex modeling. Virginia Tech's innovative international certificate program will prepare students and professionals to gain mastery in the many elements of business analytics."
Shailesh Dalmia, president of the N.L. Dalmia Centre for Excellence, called the association with Virginia Tech "landmark" and added, "Students can enhance their analytical skills to become globally conversant with deciphering data to improve productivity."
The program offers a dozen courses, including classes in data security, big-data technologies, cloud application development, machine learning, and advanced statistics. At least 45 students will make up the program's first cohort; students will apply via the institute's business analytics website. Portions of the coursework will be online so students who've begun careers can continue working at their jobs.
Tarun Sen, professor emeritus of accounting and information systems and managing director of the Virginia Tech, India, Postgraduate Program in Business Analytics, said the certificate program springs from Virginia Tech's track record and strength in information technology. "Virginia Tech was one of the first universities to develop an integrated, multidisciplinary program and one of the first to offer it fully online," Sen said. "What's more, the fact that this is a certificate, not a degree, gives us greater flexibility in collaborating closely with industry. This is a highly applied program."
Raja Roy Choudhury, director of the institute in Mumbai, also pointed to the way advances in the field of big data have made sweeping changes in business. "This strategic partnership will help empower young engineering graduates or business enthusiasts to move away from gut-feel-based decisions to data-driven decisions, as it is an imperative that today's managers know how to harness the benefits of emerging technologies," he said.
Virginia Tech's postgraduate program in business analytics is expected to develop and add new partners throughout India, Ghosh said. "Society has reached an inflection point where the volume of data to be mined for insights has become essential to businesses that wish to increase productivity, automate business processes, and guide design of future strategies," he said.
The N.L. Dalmia Institute of Management Studies and Research is a management-studies college approved by All India Council for Technical Education and accredited by National Board of Accreditation in India. For more information about Virginia Tech's postgraduate program in business analytics, please contact Priya Goutham, deputy director of VT, India, based in Maduravoyal, Chennai.