New Dominion Bookshop announces Independent Bookstore Day celebration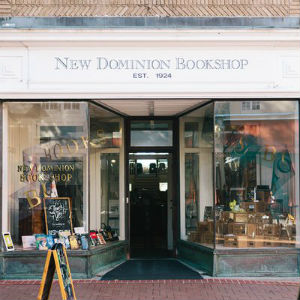 Independent Bookstore Day marks its fourth year of celebrating independent bookstores nationwide on Saturday, April 28th, with literary parties around the country.
New Dominion Bookshop at 404 E Main St will be celebrating the holiday with its first annual Rose Garden Tea Party, guest booksellers, children's storytimes and activities, a scavenger hunt, in-store giveaways, and themed discounts. "This is our chance, as a local business, to give back to the Charlottesville community and celebrate the role that stories and books have in our lives," says owner Julia Kudravetz.
New Dominion Bookshop will also offer exclusive day-of merchandise created especially for Independent Bookstore Day by major publishers and authors. Since Independent Bookstore Day's inception in 2014, more than 200 authors have demonstrated their support for independent bookstores by donating work.
The fourth annual National Independent Bookstore Day is sponsored in part by Penguin Random House, Ingram, and The American Booksellers Association. Last year participating bookstores saw an average increase in sales of 200% on Independent Bookstore Day, with some stores up as much as 1000% over their average Saturday sales in April. "Indie bookstores play a crucial role in society—they are spaces where ideas live freely, thought and conversation flourish, and communities are nurtured and strengthened. Independent Bookstore Day is a national party to celebrate this significance. We love to celebrate with our customers and toast to the vitality of indies, as well the enthusiasm and support of avid readers everywhere!" says Katie Eelman at Papercuts J.P. in Boston.
The 2018 IBD author ambassador Celeste Ng says, "My favorite thing about independent bookstores is that they all have their own distinct personalities: each reflects not just the tastes but also the ideals of its community. From the second you walk in, you get a sense of what the people who shop there know and enjoy—as well as what's currently on their minds, what they want to learn, and what they value: in short, what kinds of people they want to be. Bookstores are more than just repositories of knowledge, they're living, breathing, evolving representations of our best selves. I love Independent Bookstore Day because it asks readers, writers, and booksellers to join in celebrating all that bookstores represent. It's a gathering to remind ourselves that the written word can change both us and the world, and of what's possible when we all come together."
About Independent Bookstore Day
Independent Bookstore Day began in California in 2014 and became a national event the next year. A host of publishers and authors such as Neil Gaiman, George Saunders, Roxane Gay, Lauren Groff, James Patterson, Stephen King and many others have donated work in support of the event. Independent Bookstore Day (IBD) is produced by writer and former bookseller Samantha Schoech in partnership with the Northern California Independent Booksellers Association. Its sponsors include Penguin Random House, Ingram, and the American Bookseller's Association. www.indiebookstoreday.com