My Name is Mud: And how my life turned out differently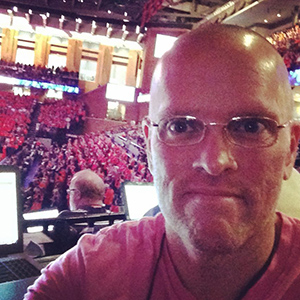 The reason I'm not a lawyer today: I couldn't get the song "My Name is Mud" by Primus out of my head.
Oddest thing. I was cramming for the LSATs, this is 1993, fourth year at UVA. The video was in heavy rotation on MTV at the time, back when videos were a thing, when MTV was a thing.
For whatever reason, the song stuck. I'd walk to class to the rhythm. I didn't know it word-for-word, but Primus songs weren't about the words.
This went on for about a week. The LSATs were on a Saturday morning, in the Chem building, within crowd-roar distance of Scott Stadium.
Which, it so happened, was the host to a UVA football game on that particular Saturday, against Ohio U.
The game had a noon kickoff, so the last 30 minutes or so of the test time was done up against that backdrop.
For me, the first three hours were spent trying to get that damn song out of my head.
I'm not sure we'll ever know how or why a song can get stuck in one's head for any amount of time. For me, it might have been because that time in my life was full of stress.
The end goal was to get into the UVA law school, and my grades were right on the cutoff line for where they needed to be.
The LSATs would be key. I had a number in mind that I needed to score, and I dutifully took the several practice tests you could get ahead of time, and I was in range of what I needed.
"My Name is Mud."
The song was about a guy who killed his best friend with an aluminum baseball bat and is trying to bury him before, well, before fate has its way.
Over and over and over, Alowishus, the narrator, the murderer, droned on in my head about his name being Mud, and it didn't dawn on me until years later that it was my name that was Mud.
All my life, to that point, anyway, I thought I wanted to be a lawyer. That's what had motivated me to get out of the trailer park.
But it was already becoming clear that, actually, no, I wouldn't be able to afford to return to Waynesboro after graduation, throw up a shingle on Main Street and save the world, the River City's Atticus Finch.
Law school was going to be expensive; to pay back the $100,000 that I was going to have to borrow, I'd take the first job that came my way from some megafirm in Richmond or Washington, work 80 hours a week for 10 years until I made partner, and slog on from there toward death a couple of decades later.
OK, that's me throwing 25 years of perspective to what ended up happening onto what I was thinking then. At the time, I had pretty given up on the Atticus Finch stuff, but I still thought, hey, become a lawyer, maybe go into politics, change the world, that's all still possible.
It all hinged on me getting into UVA law school, and getting the good score on the LSATs that seemed preordained based on my progress on the practice tests.
As things played out, I didn't get into UVA law, then I dropped out of T.C. Williams after deciding that my heart wasn't in it anymore. I applied for the MFA creative-writing program at UVA, was accepted for the following fall, got my first job at a local newspaper in the meantime, thinking, wow, somebody will pay me to write?
I ended up blowing off the MFA program, and started down the road to whatever it is I'm doing now.
Which, as it turns out, is what I was supposed to be doing all along.
I occasionally let my mind wonder about how things would have turned out differently for me had I gotten the LSAT score that would have led me to UVA law.
There's no way I wouldn't have gone down that road as far as it would have taken me; of that I am sure.
I don't meet my wife at the newspaper; we don't quit our jobs a few years later to launch Augusta Free Press; or spend our days writing, designing, letting our five dogs dictate to us the rest of what we do in the day.
All because of that stupid song.
Primus is in Portsmouth on May 18, and I will be there.
And when I hear the first chords of "My Name is Mud" come across the loudspeakers, I'll raise whatever number hard cider I'm drinking at the time and say, thanks.
Column by Chris Graham